Overnight Recap -- Philadelphia 2018
21 Jun 2018 — 3 min read
By AFSP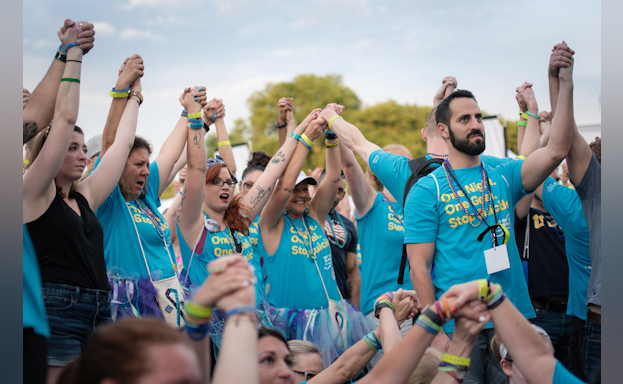 Jun 21, 2018- On June 16, 2018, over 1,600 people participated in the American Foundation for Suicide Prevention's Out of the Darkness Overnight Walk in Philadelphia. Walking through the night from dusk to dawn, participants raised over $2 million to support the work of AFSP in funding education, research, advocacy, and support for those affected by suicide.
The event began at the Philadelphia Museum of Art, with AFSP CEO Robert Gebbia welcoming participants, telling them, "Tonight, we walk to bring a message of hope to Philadelphia." He also commented on recent events that impact the fight to #StopSuicide: "We are saddened by the recent tragic loss of CNN reporter Anthony Bourdain and designer Kate Spade. Last week was a difficult week for suicide prevention as the CDC also issued a report on the increase in suicide. It's a vivid reminder of how much more we need to do as a nation to better understand mental health, and to take the steps necessary to prevent this tragic loss of lives, whether they be well known names in the news, or our neighbors, friends and those we love."
Gebbia then introduced actor Gideon Glick, who is the face of AFSP's current PSA campaign (with the Ad Council and Jed Foundation) Seize the Awkward, which encourages young people to open up to their friends about mental health. "The importance of mental health and suicide prevention is often overlooked in our society, and yet it is absolutely vital," Glick commented. "For those who have lost someone, grief is deeply personal – but I've always found that it is through sharing our experiences that we come out the other end with deeper understanding and compassion for others, and also for ourselves. That's why I'm here."
Several participants, each representing a different honor bead color for different types of loss, were brought to the stage, sharing their stories of how they have personally been affected by suicide.
At 8 pm, walkers began their journey. Making their way through the city and forging connections with each other and cheering each other on, participants passed notable Philadelphia landmarks including City Hall, the Liberty Bell, Betsy Ross's house, and the University of Pennsylvania.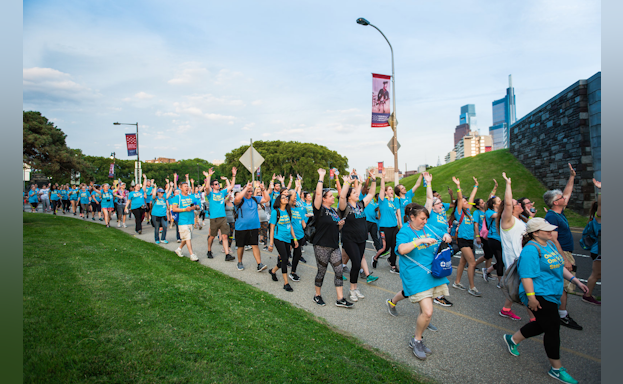 As the sun rose, walkers arrived back at the Philadelphia Museum of Art. "Welcome back," Gebbia said, addressing the participants once again. "You did it – you walked 16 miles through the night. What you did last night was nothing less than extraordinary. You brought our message of hope to the streets of Philadelphia."
The 2018 Philadelphia Overnight Walk would not have been possible without all those who walked, as well as each volunteer, crew member, and donor who participated in the event. AFSP would also like to extend a special thanks to our Silver Sponsor, Sunovion Pharmaceuticals, Inc.
For more photos from the event, check out our Facebook page.
You may also view the opening and closing ceremonies:
Opening Ceremony: https://www.facebook.com/overnightwalk/videos/1885548521509034/
Closing Ceremony: https://www.facebook.com/overnightwalk/videos/1886071208123432/
The 2019 Overnight Walk dates will be announced in just a few months. Please visit https://www.theovernight.org/saveaspot to reserve your place and to receive a discount when registration opens.
We hope to see you in 2019!