Overnight Walker Coach Profile: Erin
1 Jun 2018 — 2 min read
By AFSP
Tagged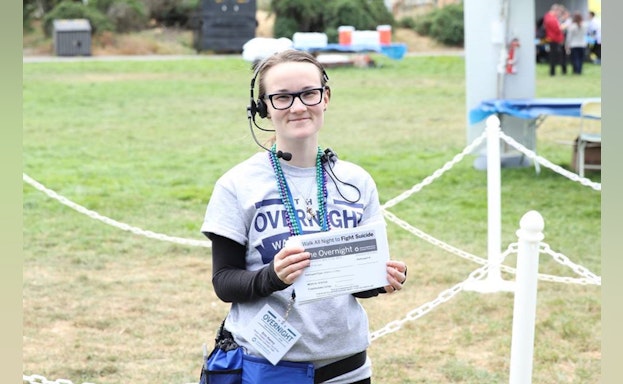 The 2018 Out of the Darkness Overnight Walks will be in Dallas on June 2 and Philadelphia on June 16.
Each participant is assigned to a Walker Coach who supports and helps them with any questions they might have along the way.
How long have you worked for AFSP?

I started as a Walker Coach in 2013. Dallas and Philadelphia will be my eighth and ninth Overnight Walks.
How do you describe your job to other people?
I always give my actual title, Senior Walker Coach, then remember that no one actually knows what that means! I go on to tell people I personally work with hundreds of Overnight Walkers on their fundraising and training. I get to hear beautiful and heartbreaking stories of loss and hope. It's my job to make sure our Walkers have a positive Overnight experience and that our event helps heal them.
What is your favorite part of your job?
Hugging my Walkers in person on the day of the Overnight will always be my absolute favorite part of my job. But every day when talking with Walkers on the phone, I hear about the hardest moments of our participants' lives. It means so much that this person has chosen to share something so personal with me. I know tragedy brought us together, but the strength of my Walkers, both during the Overnight season and after is inspiring.
Tell us about a favorite moment on the job.
My amazing Walker, Lisa, was our Dallas 2015 Opening Ceremony speaker. Lisa eloquently shared her journey as a loss survivor. She took time to thank her mother, stepfather, brother and friends. And then, she thanked me. There in front of 1,000 people, Lisa took a second to thank me. I had been praising her weekly for making the season hopeful and exciting and meaningful. To my wonder, Lisa felt the same way. That moment will stay in my heart always.
Why should people do the Overnight Walk?
The Overnight Walk truly shifted my life when I volunteered at the New York City 2011 event. It may have even saved it. This is a resilient community made up of fighters, survivors and heroes. Being a part of it reminds me how grateful I am every day to be here. I believe the Overnight Walk can change your life. You just have to experience the magic for yourself.
Fun fact about you!
I was born on my front lawn.
What are your honor bead colors?
Green (personally struggled or attempted), purple (relative or friend), teal (friends and family of someone who struggles), and blue (support the cause).
Click here to register for the 2018 Out of the Darkness Overnight Walks in Dallas on June 2 and Philadelphia on June 16.