Overnight Walker Coach Profile -- Heather
24 May 2018 — 2 min read
By AFSP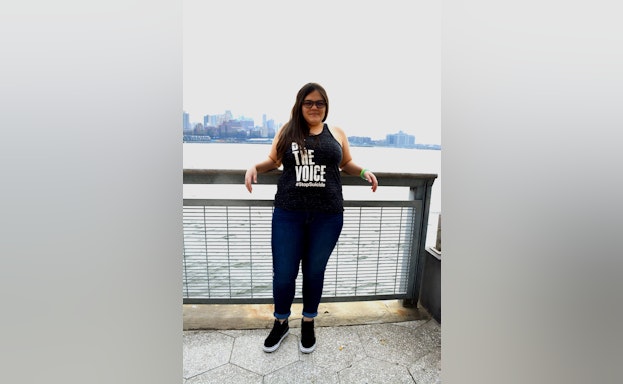 The 2018 Out of the Darkness Overnight Walks will be in Dallas on June 2 and Philadelphia on June 16.
Each participant is assigned to a Walker Coach who supports and helps them with any questions they might have along the way.
How long have you worked for AFSP?
I've worked for AFSP for a little over a year. I started in February of 2017.
How do you describe your job to other people?
I always start off by telling people I work at the American Foundation for Suicide Prevention in fundraising and development. When I tell people I am a Walker Coach, people are usually really confused, because it's a really unique job that most people have never heard of – so I explain to them that I follow-up with Walkers in the Overnight to check in on them and see if there's anything I can help them with to prepare for the event, including training, emotional support, what to expect, fundraising, etc. Most people end up hearing way more about the Overnight than they needed or wanted to know.
What is your favorite part of your job?
My favorite part of my job is hearing my Walkers' stories and connecting with them. It's really awesome to have a great conversation with people. I love hearing Walkers' stories about how a friend or someone spoke to them about suicide because of their participation in the Overnight, and how it's really made such a difference to them to be able to participate in the event.
Tell us about a favorite moment on the job.
There are so many! It's always so great to meet my Walkers in person. One specific moment that sticks out from one of last year's Overnights is that one of my Walkers jumped up and down when she met me at check-in. I was sweating profusely and pretty tired, but she was so genuinely excited that it perked me up for the rest of the day! Also, any time a Walker tells me the Overnight has made a difference in their personal journey, whether it's been healing or cathartic in some way, is gratifying.
Why should people do the Overnight Walk?
The Overnight is really a one-of-a-kind experience. It's truly inspiring and so rewarding. You will meet people who just "get it." It feels so wonderful to be part of this community and part of this event. And to top that off, you're helping AFSP in the fight against suicide, which is truly amazing.
Fun fact about you!
I read all of my Walkers' fundraising pages.
What are your honor bead colors?