#RealConvo Illustration Spotlight: Jordan Sondler
6 Sep 2019 — 1 min read
By AFSP
Tagged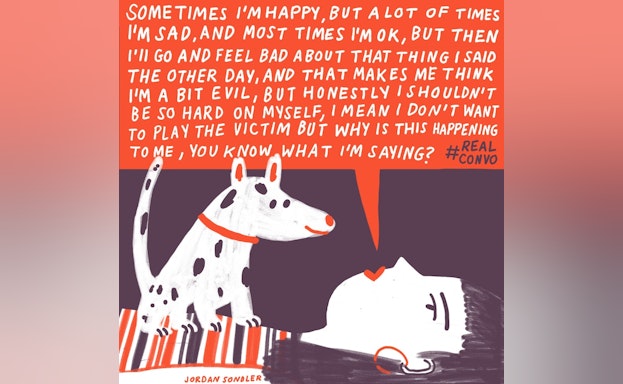 Sept. 6, 2019- In May, for Mental Health Awareness Month, the American Foundation for Suicide Prevention worked with a variety of illustrators and content creators to create images related to the concept of having a #RealConvo.
Jordan Sondler is a self-described "illustrator who loves to talk about her feelings," and a mental health advocate with over 23,000 followers on her Instagram. For National Suicide Prevention Week we asked Jordan to share her thoughts, in her own words, about how important it is to reach out and have a #RealConvo.
"Guys it's important to reach out. Take stock of where you are emotionally, and get vulnerable with someone in your time of need. Or get vulnerable with someone regularly, for maintenance's sake. Sometimes it's just too much to keep inside, and that's exactly the right time to let someone know, "Hey I'm not ok, can we talk?" If you're not regularly seeing a therapist this is even more important. Reach out, I bet a lot of pets and humans will show up who you weren't expecting."
***
Follow Jordan on Instagram to see more of her creative and inspiring original content — and be sure to follow AFSP on Facebook, Twitter and Instagram, so you don't miss all the exciting things happening during National Suicide Prevention Week!
---
For further reading, check out AFSP's #RealConvo Guides! Arranged in an easy-to-read, step-by-step format, these #RealConvo Guides cover the following topics:
tips for starting and continuing a conversation about mental health
how to respond if someone tells you they're thinking about suicide
strategies for reaching out for help when you need it
how to talk to someone who's lost a loved one to suicide