#RealConvo Illustration Spotlight: Mary Purdie
13 Sep 2019 — 2 min read
By AFSP
Tagged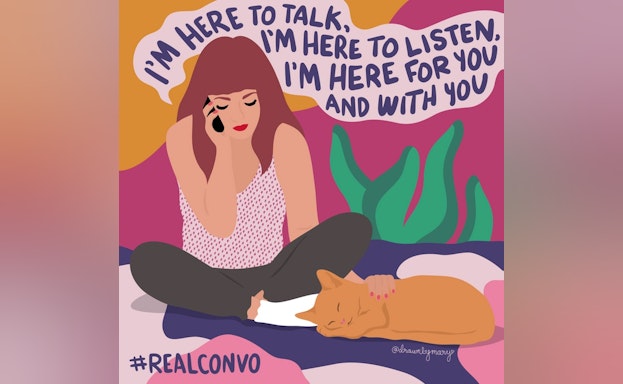 Sept. 13, 2019- In May, for Mental Health Awareness Month, the American Foundation for Suicide Prevention worked with a variety of illustrators and content creators to create images related to the concept of having a #RealConvo.
Mary Purdie is an illustrator and mental health advocate with over 33,000 followers on Instagram. For National Suicide Prevention Week we asked Mary to share her thoughts, in her own words, about how important it is to reach out and have a #RealConvo.
What does a #RealConvo sound like to you? To me, it's listening without fixing, holding space without overstepping, it's unconditional support without judgment.
When AFSP asked me to create a piece for their #RealConvo campaign, it wasn't even a question in my mind. My life was first personally impacted by suicide when I was 16. I found out that a girl my age, who I had only met twice but already deeply admired, had taken her life. I remember feeling heartbroken, thinking that I wished I had done more to befriend her, not because I thought it would have changed anything but, maybe selfishly, because we were mere acquaintances yet she had been such a bright light to me as an awkward and insecure teenager. In the extremely short time I had known her, she left such a memorable impression on me. She should've had more time, she deserved better.
That was 20 years ago.
Six months ago, I received news that someone who I love very much was in that same dark and painful place. The vague details coming through piece by piece that night via text from the chain reaction of those who were responding had me thinking about all of the words I wish I had said to her, hoping I'd get the chance to say them. Every day I am so thankful for her, for her bravery, and everyone who recognized her suffering and made the calls that saved her life.
Have the uncomfortable conversations. Check in on each other often. Listen and hold space for all feelings. You are not alone.
***
Follow Mary's Instagram to see more of her creative and inspiring original content — and be sure to follow AFSP on Facebook, Twitter and Instagram, so you don't miss all the exciting things happening during National Suicide Prevention Week!
---
For further reading, check out AFSP's #RealConvo Guides! Arranged in an easy-to-read, step-by-step format, these #RealConvo Guides cover the following topics:
tips for starting and continuing a conversation about mental health
how to respond if someone tells you they're thinking about suicide
strategies for reaching out for help when you need it
how to talk to someone who's lost a loved one to suicide