"The Overnight is a like a warm hug."
- Mary Anne Burke, participant in all 27 Overnight Walks
I once wrote that The Overnight, the American Foundation for Suicide Prevention's flagship Out of the Darkness Walk event, was like coming home to a safe place. I described the Overnight Walk as a powerful, life-changing, and even life-saving event that welcomes you back year after year. Here, those who have been affected by suicide can bring their grief and sorrow and joy and love. Here, you can say your loved one's name and share your own stories. Here, you can be your true, authentic yourself.
The 2022 New York City Overnight Walk welcomed us home into its arms with a warm, tight hug. It's been two years since AFSP hosted its national Overnight Walk in-person, where participants walk 16+ miles, overnight, in a different city after individually fundraising $1,000 which goes to suicide prevention education, research, advocacy, and loss support. (Students and military members need to raise $700.) For our big return, we came back strong with over 1,500 Walkers, Crew, Volunteers, Donors, and Staff. We collectively raised just over $2.9 million – funds we know will make a difference. We also had three special sponsors support us: Boehringer Ingelheim, Scimentum, and the South Street Seaport Museum. CBS and NBC both covered this special, inspiring event. We're so grateful for so many people's support in our home city.
It's hard to put into words the feeling of returning to The Overnight and a community we missed so much. At our Opening Ceremony Site, the Intrepid Sea, Air and Space Museum, you could see teams and families gathering, old friends finding each other and embracing after two long years, and new participants eagerly waiting to honor the reason they came to their first Overnight. There was magic in the air: a palpable feeling of joy, excitement, healing, and hope. All 1,500 of us exhaled a collective sigh in recognition that we were back home, together.
Our Opening Ceremony was the perfect combination of beauty, sentiment, honor, and pride. Long-time alumni, Catharyn Turner II and her sister Kimberley Turner read us a heartfelt poem, "Vigil", Catharyn had written after her first Overnight experience. The poem brought tears to alumni participants' eyes and held a special significance for first-time participants stepping into their first event.
Our Honor Bead Ceremony was narrated by NYC CBS's anchor and reporter Cindy Hsu, who courageously shared her personal story of struggle and a suicide attempt. Cindy also shared the story of 10 individuals representing each Honor Bead color (each color representing their unique or connection to the cause) including the introduction of our newest bead, Rainbow, in honor of the LGBTQ Community. AFSP's CEO, Robert Gebbia, offered heartening words of encouragement, and most importantly, shared with the crowd that the suicide rate has decreased two years in a row since 2019. What we are doing matters and we are saving lives.
Top fundraisers and top teams led Walkers out on the 17.3 mile route that took participants up the west side of Manhattan, back down under Central Park, by Grand Central, and downtown to our Midnight Snack, Pier 16. AFSP's National Office is just across the street from Pier 16, so it was a perfect spot for participants to rest and take in the first 11 or so miles they had already accomplished. Walkers then headed back uptown toward the Intrepid on the westside. Upon return to the Intrepid, lit luminaria lined the finish line and our Closing Ceremony allowed participants the space and time to reflect on their night and their loved ones and selves: the miles, fundraising, and hard work they put into their return to the in-person Overnight. During our Closing Ceremony, Robert Gebbia and acapella group Mezzo welcomed participants back after a long and impassioned night. Alumni Walker Kari Mikesell shared her story of loss, personal struggle, and supporting a loved one with mental health conditions. Kari reminded our resilient community that together, we can accomplish anything.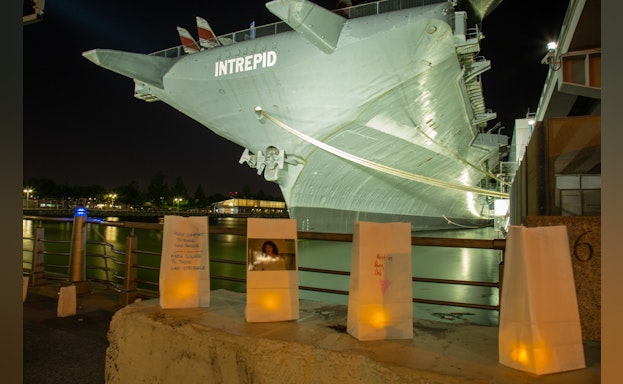 Community is a powerful thing for someone who is a suicide loss survivor or who has experienced suicidal ideation. When asked about the most important part of The Overnight, we often answer with community. The Overnight is a community based on healing and hugs. We are a community that comes together for one night, with one goal: to #StopSuicide. We are a community who hurt and grieve and remember and fight. We know we are not alone because of the hundreds of people walking beside us. And we know those people will be right there with us for the next Overnight and the one after that. Community continues to be the heart of The Overnight and we will continue on, together.
It's safe to say The Overnight is back and we can't wait to see you next year. Save your spot for the 2023 Overnight Walk. You'll be the first to know the location and date, as well as receive a special discounted registration fee!
Thank you for a beautiful and memorable return home.
Read past blogs by AFSP Overnight Senior Manager Erin Kenny.