Sharing My Story – and My Father's – at The Overnight
14 Apr 2022 — 2 min read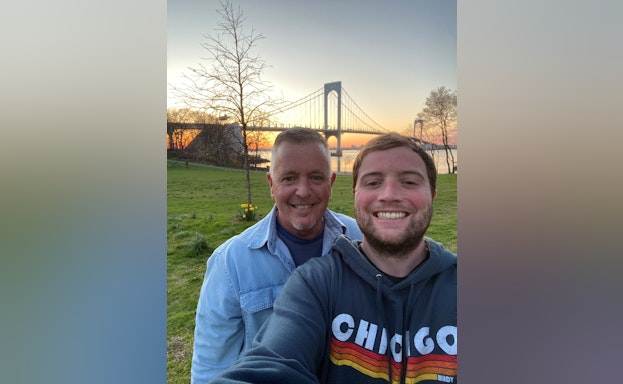 The Overnight takes place June 4, 2022 in New York City. Register now.
"Stories create community, enable us to see through the eyes of other people, and open us to the claims of others" ─Peter Forbes, photographer and author
On April 7, 2021, my father lost the battle he had silently fought for many years and died by suicide.
So often, mental health conditions can be muted by stigma, shame and misinformation. I participate in the American Foundation for Suicide Prevention's Overnight Walk to challenge this silence by sharing my story and by sharing my father's story: To bring hope, courage and support to everyone touched by suicide.
The Overnight is AFSP's flagship fundraising event, bringing people together to walk 16+ miles from dusk to dawn. This year will be the third Overnight I have participated in. I "virtually" walked in my first two Overnights because of my own journey of living with bipolar disorder: To help show support and bring awareness to the many people who manage a mental health condition. Before receiving my diagnosis in 2015, I fought in silence, too proud to ask for help and too ashamed to admit I was not feeling well. I spent so much time in the darkness that I started to believe it was what I deserved in life.
After revealing my mental health condition to my family and friends, I received such widespread support that I became inspired to become an agent of change. I knew it was my time to be the light many people need. I started telling my story and experiences: The good, the bad and the ugly.
Although I will still share my own story at The Overnight as I speak with other Walks participants, now I will also tell my father's. It's not something I ever planned to do─at least, not yet. My dad was the storyteller of all storytellers. Whether it be his corny jokes or his heartfelt stories, he always knew how to make people feel safe and welcomed. The support and resources AFSP provides through The Overnight are unmatched and echo the space my father always created. With unconditional love and support from my partner, Chris, alongside my brother, sister and mother: We as a team are determined to save lives and bring hope to those affected by suicide in the name of my father, Kevin Sheridan.
The Overnight is an opportunity for everyone to become their own storytellers. Whether through word of mouth, our personalized Walker Shirts, or the Honor Beads we wear to represent those we've lost, it's the AFSP and Overnight community who are the keepers of hope. We have the honor to tell the stories of ourselves or loved ones. To laugh or cry; to be angry or joyful─we are the storytellers.
I look forward to the stories we will share in June as we walk to honor the past and embrace the future together.