Spotlight Interview: A Conversation with Elyse Fox
3 min read
By Elyse Fox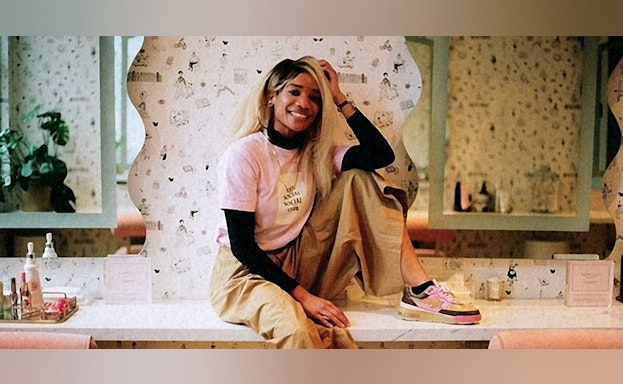 Elyse Fox is the creator of Sad Girls Club, a space for women on Instagram to share openly about mental health, which has flourished into a real life community with events held across the country.
At AFSP's annual Lifesavers Gala this past May, Elyse presented the Public Service Award to Instagram, for their work in providing resources for those experiencing emotional distress.

Elyse, could you tell us a little about your involvement in creating a community on Instagram to shine a light on depression?
I created Sad Girls Club as a place for girls of all ages to feel comfortable in speaking out openly about their personal relationship with mental health. I created SGC in February 2017, a couple months after releasing a personal film that documented what I felt was the worst year of my own depression. I used the film as a tool to "come out" about depression to my family and friends. Once the film was released, I received messages from dozens of girls who related to my story. I created SGC for them.
I then had the honor of Sad Girls Club being one of three platforms chosen by Instagram for their month-long #HereForYou campaign. The campaign was created to highlight communities who use Instagram to promote mental health awareness.
July is Minority Mental Health Awareness Month. Do you think there are any particular challenges for women of color in managing their mental health?
I think the topic of mental health isn't spoken about freely in many minority-led homes. I remember growing up not even knowing what depression and anxiety were. I had no idea what those words truly meant until I was a preteen. There's also little to no representation in the media of women of color speaking out openly about mental health. I feel like THAT should be on the cover of the magazines: the fact that one in five people in the U.S. experience some form of mental health condition. I believe more knowledge and representation will make girls feel more comfortable in their skin.
Has being so open about your struggles with depression affected your own experience in how you manage your own mental health?
ABSOLUTELY. I've become a lot more regimented with my self-care routine. I want to set an example and create change for girls around the world, and that begins with me. I always make sure I try a product/service/coping mechanism before I recommend it to the girls. Some self-care tips I'd recommend include setting social media restrictions, incorporating healthy eating habits, and learning how to say no to unnecessary commitments when you need time to decompress. Creating SGC has truly helped me with my mental health. I learn something new every day! Being open definitely has its woes: some people think I'm somehow suddenly "healed" now that Sad Girls Club has become a major mental health platform. Many people felt comfortable saying really awful things to me after the campaign launched. Some called me a fraud. Now I just brush it off because I know these people need Sad Girls Club just as much as our members. I hope they learn from our tips and community-building efforts or can help a friend in need one day. I've never wanted to be 'popular' or 'insta-famous,' but I'm happy to lead this discussion with pride.
Do you have any advice for anyone out there from a minority group, or otherwise, in what they can do to find their own community or support systems?
I recommend anyone searching for a community to begin with a close relative or friend you trust. A friend who cares for you and loves you would only want the best for you. Know that you matter and there are resources around 24/7 if you ever need immediate assistance. If you'd like to find resources in your city, state you can email us and we will help!
What's next for you, and Sad Girls Club?
I'm passionate about taking Sad Girls Club on the road. Our most popular FAQ is, "When is Sad Girls Club coming to my city?" I want to create an ambassador program and create communities all around the world! #SadGirlsClubBangkok will be our first international ambassador launch. We're creating a podcast this fall! I'll also be releasing a follow-up to "Conversations with Friends", the film that ignited the creation of Sad Girls Club. "Convos 2" launches in September. You can stay updated with Sad Girls Club by following us on Instagram @sadgirlsclubpbg!