Suicide Prevention Advocates to Visit Helena
29 Jan 2019 — 2 min read
By AFSP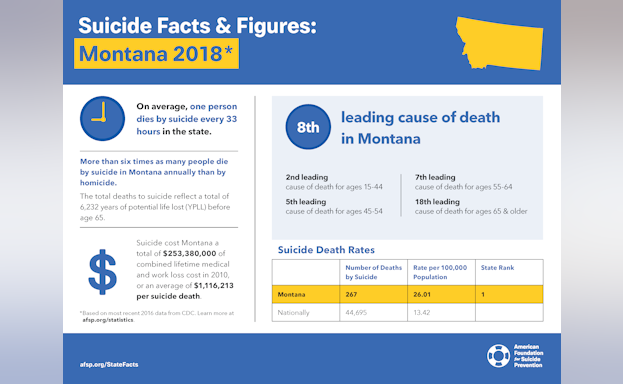 Contact: Jennifer Preble ([email protected])
Suicide Prevention Advocates to Visit Helena
Helena, MT (January 29, 2019) – Suicide is the tenth leading cause of death in the United States, and it is the sixth leading cause of death in Montana. On Friday, February 1, 2019, advocates from the American Foundation for Suicide Prevention, the largest suicide prevention organization in the United States, will arrive at the state capitol to meet with lawmakers to encourage them to prioritize suicide prevention initiatives for Montana's youth including HB 187, that would appropriate $1.6 million to the Department of Public Health and Human Services (DPHHS) for youth suicide prevention grants, and HB 186 to establish a student mental health screening pilot program.
"I advocate for those I've lost to suicide that aren't able to. I advocate because we must have elected senators and representatives invest in us, our communities and in suicide prevention. I advocate because it's not just the number of lives lost but also the number of family and loved ones that are able to identify as survivors of suicide loss. I advocate to build and foster relationships, recognizing so many of us have been touched by suicide and it's time Montana strives to no longer be recognized as holding the top five spots for rates of suicide for over 30 years," said Jennifer Preble AFSP National Public Policy Council Member and Montana Chapter Advocacy and Policy Chair.
The AFSP Montana State Capitol Day is a special day for all who have a connection with or a personal story around the topic of suicide. Volunteers will meet with their state legislators and share their stories about why they participate in this advocacy effort, giving a human face to this important health problem. Advocates hope that by sharing their stories, they will help legislators understand that state investments in youth mental health and suicide prevention can save lives.
AFSP Montana Chapter advocates are part of a larger national movement of AFSP volunteer advocates who will be visiting over 40 state capitols across the United States in 2019 to bring best practices in suicide prevention to state legislators and their staff. To learn more about AFSP's advocacy efforts, visit here: https://afsp.org/our-work/advocacy/.
One American dies by suicide every 11.69 minutes and 90% of those who die by suicide had a diagnosable mental health condition at the time of their death. AFSP volunteers will urge state lawmakers to be the voice for the thousands of Montana residents affected by suicide each year.
The American Foundation for Suicide Prevention is dedicated to saving lives and bringing hope to those affected by suicide. AFSP creates a culture that's smart about mental health through education and community programs, develops suicide prevention through research and advocacy, and provides support for those affected by suicide. Led by CEO Robert Gebbia and headquartered in New York, AFSP has local chapters in all 50 states with programs and events nationwide. Learn more about AFSP in its latest Annual Report, and join the conversation on suicide prevention by following AFSP on Facebook, Twitter, Instagram, and YouTube.