Taking a Virtual Campus Walk for Suicide Prevention
1 May 2020 — 4 min read
By Nick Brdar
Tagged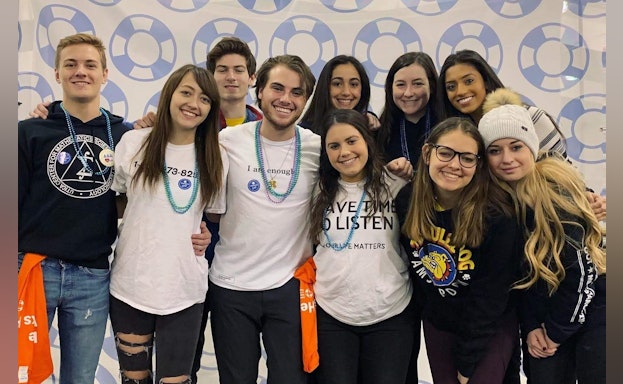 For information about upcoming Out of the Darkness Campus Walks, click here.
May 1, 2020 - Infinitely grateful for a second chance at life following my suicide attempt, I decided to put my efforts into the cause of suicide prevention, knowing it could save lives in the same way it saved mine. Throughout the past couple of years, it has never been a challenge for me to be vocal about my life experiences. I used my story to inspire others to change the way we, as a society, view suicide. As an eager freshman, when I heard about the American Foundation for Suicide Prevention's Out of the Darkness Campus Walk at the University of Michigan, it was a no-brainer to get involved. Although we had only been friends for a few months, I felt confident inviting my new friends in college to join my team for the walk and support suicide prevention and awareness on our campus, nonetheless. The walk was a great success, and it meant so much to be surrounded by people who cared that I was still alive and spent a day promoting that sentiment to our community.
So, when the planning for the Out of the Darkness Walk started up again my sophomore year, I expanded my reach and decided to partner with a few student organizations in which I am involved. My team grew even larger, and more people were happy to be involved and support me. Even at the risk of coming off as pushy with my constant group messages and fundraising reminders, I continued to share my story of survival with more and more people, and each time it got easier and easier. I found that my story was helping other people in my community feel comfortable to share how suicide has impacted their lives and encourage their own friends to join. Before I knew it, I had gathered a team of 52 Michigan students. I was so excited to gather on the day of the walk as a whole group, especially considering there were some team members I had never even met. "Proud" didn't even begin to describe my feelings.
Then, everything changed in the blink of an eye as a result of the COVID-19 pandemic. After the initial celebration of classes being cancelled for a few days, I suddenly realized that the university's policy to cancel all events with over 100 attendees for the remainder of the semester meant that our Out of the Darkness Campus Walk, originally scheduled for April 5th, would no longer be possible. I was devastated. It felt like all the work I had done fundraising, all the strength I had used sharing my story, and all the connections I had made within my team had been for nothing. I was at a loss for words, so I reached out to our Walk Chair, Kim. Kim reassured me that the walk would still go on somehow. She reminded me that even in the face of a global pandemic, our efforts towards suicide prevention would persist. We would host a virtual event, encouraging people to still get outside and take a walk, no matter where they were. We would share stories of hope and hope through an Honor Bead video, and we would even host a live opening ceremony on Facebook. While this would be new and different, I was glad we were still doing something.
For the first time, however, I found myself struggling to continue to tell my story. My experiences, my passions, and my hopes felt so small compared to what was happening in the world around me. It felt inconsiderate to ask my team members to continue to post fundraisers on social media when people all around the country were losing their jobs, losing connection with their friends, and possibly even mourning the loss of loved ones. How could I continue to use my story to express how important this walk was to me when it was no longer physically happening on our campus? It was hard, but I remembered Kim's words of hope: "Even in the face of a global pandemic, suicide prevention will not stop." So, neither did I.
As I continued to promote the now-virtual event, I realized that this walk was needed now, perhaps more than ever. Friends from across the country reached out to me to thank me for continuing to post suicide prevention resources, as social isolation was seriously taking a toll on their mental wellbeing. Colleagues continued to donate to my Walk Page, reminding me that people still cared to contribute to the cause. In addition to my volunteer work with AFSP, I also worked shifts as a counselor for the Crisis Text Line, and seeing the increase in the volume of texters reminded me that the huge life adjustment caused by COVID-19 was leading many to temporarily go back to unhealthy, and possibly even triggering, environments. Most importantly, my Campus Walk team members continued to reaffirm to me that, even though we wouldn't be able to gather together in Ann Arbor, our team would still be walking on April 5th. They reminded me that all my hard work was not for nothing. They inspired me to look at the example we were setting, that hope can walk anywhere. We still care about the life of the student who returned home to a toxic family dynamic. We still care about the lonely teenager cut off from all her friends. We still valued the life in each and every member of our community, and we set an example that nothing could ever stop us from doing that.
Simply put, the University of Michigan's Virtual Out of the Darkness Campus Walk made a statement to our community and beyond that suicide prevention is important today, tomorrow, and forever. Although it was initially unclear how this would happen, the work we did to host our walk virtually proved to be worth it in the end. From our social media posts to our Facebook Live Event to our Honor Bead video, I am confident the work we did for this virtual walk still raised awareness and potentially saved lives. To me, it was worth it.