Ten Years of Walking Out of the Darkness
4 May 2018 — 3 min read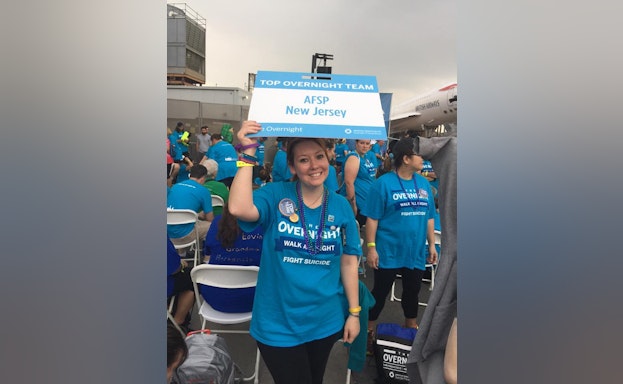 May 4, 2018- This year will be the 10-year anniversary of my first Out of the Darkness Overnight Walk in New York City – a 20-mile walk through the night that completely changed my life.
I was first introduced to the American Foundation for Suicide Prevention in 2008 when the CEO of the company I was working for organized a team for the Overnight Walk. He and his wife were walking in memory of their 19-year-old niece who died by suicide. I immediately connected with the cause because I had survived a suicide attempt at the age of 19.
At that time, only very close family and friends knew about my suicide attempt. It wasn't something I shared with anyone, especially my co-workers. I went to the NYC Overnight Walk thinking I was there to support my CEO. I had no intentions of letting what I considered my dark secret see the light of day.
When I reached the registration area that day, everything changed. I was so taken back at how supportive and encouraging everyone was. I quickly realized that this walk was not simply about mourning the loss of individuals, or in my case, the loss of parts of myself. It was a celebration of battles won and a mutual fight for a cause that was affecting so many people and taking lives. I immediately felt a shared bond, a belonging, and an acceptance that most people outside of this group could not comprehend. The walk was a safe place for all of us to come together for support, free of stigma and judgment.
That night, I walked 20 miles, sharing my story and listening to others' stories. At times I walked alongside a co-worker, at other times with complete strangers. Throughout the night, we laughed, cried, talked and hugged. We shared dark parts of our stories, but also stories that gave each other hope. Not only were we fully supported by each other, we were supported by the community. As we made our way around NYC, we passed through cheering stations where groups of people gathered to cheer us on and motivated us to keep going. Sometimes, we would pass random strangers who were curious about the cause and asked what we were walking for. Other times, we walked past restaurants and bars where the patrons would cheer as we passed by. We walked over the Brooklyn Bridge and through the middle of Times Square. Our presence was known, it was felt and it was welcomed!
In the early hours of the following day, as we came to the end of the 20-mile walk, I felt tired like I had never been before in my entire life. I had neglected to train for the walk, but pushed myself to finish the entire 20-mile journey. At the end, I collapsed on the lawn feeling like I might never recover from the physical pain and exhaustion I was feeling. At that moment, I remembered another time in my life I had felt completely broken, and as though I might never recover from the pain I was feeling – the time of my suicide attempt. This time it was different, though. This time, I had a community of people supporting me, cheering me on and motivating me to keep going.
Over the last 10 years, the Overnight Walk has become a place where I could completely be myself. When I'm there, I don't feel like I need to hide parts of myself or modify my story into a more acceptable version. I can be open and honest about who I am and what my experiences have been. Some years I have felt strong and as though I could be a source of strength for others; some years I needed to lean on my friends and fellow walkers; and other years I felt the weight of another pair of honor beads, representing a different type of loss, around my neck.
No matter how I felt going into each one of these walks, I have always felt the same way when I finished – inspired and dedicated to fighting for a world without suicide.