Thanksgiving When You Don't Feel Thankful: Reclaiming Tradition After a Suicide Loss
15 Nov 2022 — 4 min read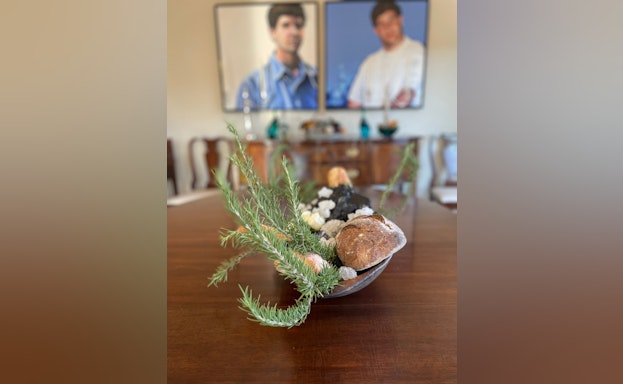 In 1998, my family faced our first Thanksgiving without my son Mark, who had died by suicide 18 days earlier. When a priest asked me to pray, "Thanks Be to God," after the memorial service, I wanted to yell, "How can you possibly think I'm thankful today?" Sorrow and anger had replaced the usual joys in my heart. The possibility of ever healing from his loss seemed unlikely.
My younger son Luke was the reason I wanted to devise a plan for the holiday –– despite feeling anything but thankful. Luke had always been a steadfast support for Mark and me. The two of us suspected Mark had chosen to take his own life before Thanksgiving because he knew it was our family's favorite holiday, and he didn't want to ruin it. He had incorrectly calculated that we'd be done with our grief in just a week or two. It broke my heart even more deeply to sense how little he thought of his own importance to us and to the world, at least in the moments of pain leading up to his death.
Still reeling from the loss, I felt Luke deserved the joys of the holiday, and an unbroken mother.
I simply didn't have it in me to prepare an entire feast or make decisions about where place cards should go in order to best foster lively conversation. I couldn't even say the words "Mark" or "suicide" without crumpling. Getting ready for that day felt like it would take more energy than I might ever have again.
The thought of cooking my usual feast reminded me too much of Mark and the foods he would have piled onto his plate. But I still hoped to participate in Thanksgiving somehow. I wanted to help my heart begin the unfathomable process of healing so that I could be a good mother for Luke, even if a shattered one.
Wondering how I could begin to heal, I thought of the saying I first learned in Sunday School that "It is better to give than to receive." It reminded me how I had been receiving so much support from friends and family, but (in my own estimation) I had been giving little back except appreciation. Generally, in my experience, the more I gave, the more I received; and thus, the more I had to give. I realized that through the act of giving, perhaps my heart would start to feel full again: enough to share with Luke and others.
This realization made me think back to a Celtic blessing and arrangement I had learned from a friend's mother when I had visited their home one Thanksgiving, back when we were college sophomores:
Coal May you have warmth in your hearth,
Bread Bread in your belly, and
Herbs Variety in your life
It had resonated with me because I loved how it used symbolism to highlight the beauty of unusual things. It was such a unique way to show appreciation –– and thanks –– for them.
My college friend was now one of Luke's godmothers, and both my sons had always been intrigued by the arrangement. An idea took hold. Something I could do. Something I could give.
Rather than organizing our own Thanksgiving meal, I called a few families who had been so busy the last few weeks in trying to comfort us that it occurred to me their own Thanksgiving preparations might have stalled. I offered to come to their homes and make this arrangement for their tables. They all accepted my offer.
I gathered the makings for the Celtic blessing arrangements, including one that I added when I had first begun the tradition of making the arrangement for my own family:
Sugar Sweetness and laughter
Traditions, like people, deserve the freshness of change.
As I visited each home on the eve of Thanksgiving, a lightness entered my spirit, replacing some of the weighty sorrow and loss. I still wasn't looking forward to the feast and couldn't cook Mark's favorite foods. But some part of me began to feel the warmth of the holiday. By making this arrangement for our friends, I had gathered and left behind something from our family in each bowl or basket. The giving was working. Unexpectedly, my heart began to let healing enter, too, albeit tentatively. I received that gift thankfully.
Later that night, Luke and I made a small arrangement for our own kitchen table. The next day, we attended a Thanksgiving dinner at one family's home where I'd left the Celtic blessing.
It's been 24 years since Mark left us. In a few days, I will visit Luke and his wife, Carla, for Thanksgiving. The blessing's gifts will be present in their home. We value memories and hope to make good new ones, even though Mark will always be missing from our table, wherever we are.
Thanksgiving can still be tough for me, as it is so close to the anniversary of Mark's passing. I've learned that it is important for me to develop a plan for what is a changed –– and sometimes even dreaded –– holiday. The same holds true for other days of special remembrance, such as Mark's birthday.
I now create a full agenda for these special days, though I allow myself to toss out part or all of it on the day if that is what feels right. (Sometimes I come up with a more helpful idea than "eat chocolate" or "cry for an hour!") This planning allows me to better manage, if not control, the emotions of the day, so that I can let joy in again –– though the sadness will always remain.
We each confront grief in distinctive ways, and we should: for we are not all alike. If we listen sympathetically to our own thoughts, we may well find the way that we, as individuals, will make it through these difficult, different days.