The 31st Annual Lifesavers Gala
10 May 2019 — 3 min read
By AFSP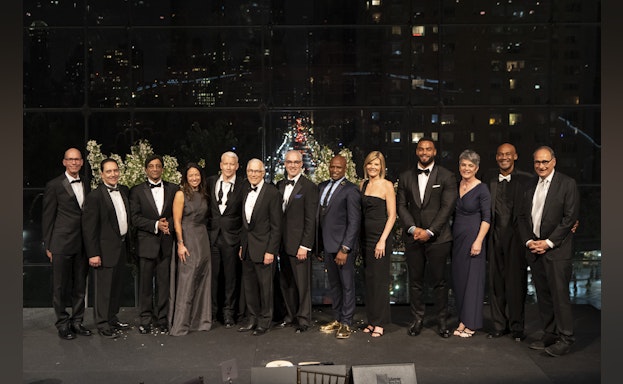 May 10, 2019 - The American Foundation for Suicide Prevention held its annual Lifesavers Gala on Tuesday, May 7, 2019 at Jazz at Lincoln Center's Appel Room. Hosted by musician Alex Boyé, the event made for an inspiring night featuring distinguished guests and honorees discussing their personal connections to the cause, and how we all have a role to play in suicide prevention.
The evening, which raised more than $600,000 for the cause, began with warm words of welcome and introductions from Gala Chair Husseini Manji, M.D., of Janssen Research and Development, LLC. Dr. Manji discussed the importance of a continuing dialogue regarding mental health, and of determined efforts in taking action against suicide.
Dr. Manji then introduced Boyé, whose suicide prevention-themed song and music video "Bend Not Break" — for which he partnered with AFSP, the Forever Young Foundation and Randy Jackson of "American Idol" — was released this past September. Boyé spoke of how important music has been to his life in relation to his mental health, peppered with much of his unique blend of positivity that has led to almost one billion views on his YouTube page. He was followed by a special performance by the Orchestra of St. Luke's.
Awards were then presented to those honorees who have done extraordinary work in the fields of mental health awareness and suicide prevention.
The Research Award was presented to Gregory Simon, M.D., MPH, an investigator at Kaiser Permanente Washington Health Research Institute, psychiatrist in Kaiser Permanente's Behavioral Health Service, and research professor at the University of Washington. Dr. Simon's research is focused on improving access and quality of mental health care, with a particular concentration towards mood disorders. He currently leads the Mental Health Research Network.
John Mann, M.D. was awarded the Research Lifetime Achievement Award. Dr. Mann is The Paul Janssen Professor of Translational Neuroscience in psychiatry and radiology at Columbia University, and the Director of Molecular Imaging and Neuropathology Division (M.I.N.D.) at New York State Psychiatric Institute. His research utilizes brain imaging, neurochemistry and molecular genetics to further learn about depression, suicide and their causes.
Senior National Correspondent & Anchor, NBC Nightly News, Sunday, Kate Snow, was presented with the Public Awareness Award for her dedication to coverage of mental health and suicide throughout her journalistic career. After the deaths of Kate Spade and Anthony Bourdain last June, Snow spoke intimately about the impact of her father-in-law's death by suicide on her family, discussing the importance of safe reporting on this sensitive topic. Snow also recorded a PSA about the importance of safe reporting on suicide for AFSP.
The Survivor of Loss Award was awarded to The Thomas Family. In 2018, the family — including San Francisco 49ers football player Solomon Thomas, and his parents, Chris and Martha — lost beloved sister and daughter, Ella, to suicide. They participated in the 2018 Dallas Out of the Darkness™ Overnight Walk, and have used both their own platform and that of the NFL to enhance the message that suicide is preventable and that help is always available, such as in an interview with ESPN which aired during "Monday Night Football."
Finally, CNN's Anderson Cooper was presented with the Public Awareness Award. An oft-celebrated and deservedly decorated reporter who has covered countless news events throughout the world since his career began in 1992, Cooper lost his brother Carter to suicide in 1988. Anderson has continuously elevated the conversation around suicide and prevention, particularly in light of the deaths of Kate Spade and his friend, Anthony Bourdain. In June of last year, he hosted a town hall-style special report titled "Finding Hope: Battling America's Suicide Crisis" on CNN, featuring AFSP's chief medical officer, Dr. Christine Moutier.
AFSP CEO Robert Gebbia then spoke to congratulate this year's honorees, highlighting the many reasons to remain hopeful for the future of suicide prevention. Legislative victories such as the passage of the National Hotline Improvement Act, as well as partnerships with organizations — such as Aetna, the National Shooting Sports Foundation, Everytown for Gun Safety and Instagram — Gebbia said, are reasons to remain optimistic that we will hit our bold goal of Project 2025, reducing the national suicide rate 20% by the year 2025. Alex Boyé then took the stage to conclude the night with an inspiring musical performance.
Overall, the 2019 Lifesavers Gala was an exciting night filled with hope. We sincerely thank all of our honorees and attendees for their continuous inspiration in helping AFSP further our mission to save lives and bring hope to those affected by suicide.