The American Foundation for Suicide Prevention Hosts Overnight Walk to Fight Suicide in San Francisco
29 May 2019 — 2 min read
By AFSP
Tagged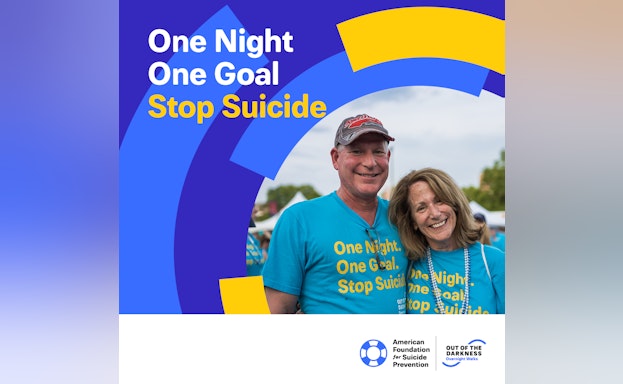 The American Foundation for Suicide Prevention Hosts Overnight Walk to Fight Suicide in San Francisco
Over 1,000 Expected to participate, raising awareness and funds to prevent 11th leading cause of death in California
NEW YORK (May 29, 2019) – The nation's largest suicide prevention organization in the United States, the American Foundation for Suicide Prevention (AFSP), will host its Out of the Darkness Overnight Walk in San Francisco, CA, on June 8, 2019.
Over 1,000 participants from around the country will walk 16 miles from sunset to sunrise to raise awareness and money for suicide prevention efforts. The funds raised from this event supports research, educational programs, public policy advocacy, and programs to help those affected by suicide.
DATE: June 8-9, 2019

TIME: 7:30 p.m. – 8:00 p.m. – Opening ceremony begins (Saturday, June 8)
8:01 p.m. – 16-mile walk begins (Saturday, June 8)
5:15 a.m. – Closing ceremony begins (Sunday, June 9)

WHERE: Fort Mason - Great Meadow Park Bay Street, San Francisco, CA 94123
WALK ROUTE: Highlights include: the shoreline of the San Francisco Bay, the Palace of Fine Arts, Chinatown, Oracle Park, Embarcadero, the Bay Bridge, and the Ferry Building.
ATTENDEES: People who have lost someone to suicide, who have attempted suicide, and those who want to prevent suicide.

RSVP: Please email aobrien@afsp.org if you would like to register to attend this event. Requests for media accreditation will be denied if applicants cannot establish they are professional journalists.

AUDIO/VISUAL: A mult box will be available on site for journalists upon request.
ADDITIONAL: The most recent California suicide statistics can be found here. Safe reporting guidelines here, and a video for any b-roll needs, here.
MEDIA CONTACT: Alexis O'Brien, AFSP Public Relations Director, aobrien@afsp.org, 347-826-3577, on-site contact 646-341-1446.
HASHTAG: #Overnightwalk
The American Foundation for Suicide Prevention is dedicated to saving lives and bringing hope to those affected by suicide. AFSP creates a culture that's smart about mental health through education and community programs, develops suicide prevention through research and advocacy, and provides support for those affected by suicide. Led by CEO Robert Gebbia and headquartered in New York, and with a public policy office in Washington, D.C., AFSP has local chapters in all 50 states with programs and events nationwide. Learn more about AFSP in its latest Annual Report, and join the conversation on suicide prevention by following AFSP on Facebook, Twitter, Instagram, and YouTube.