Feb. 5, 2019 - I will never forget the first International Survivors of Suicide Loss Day event I attended. It was over 20 years ago, not long after the suicide death of my fiancé. What I found there was a community of support and healing that has been a part of my life ever since, as I navigated the roads of suicide loss. It was a turning point in my own grief journey – one that led to my future work with other suicide loss survivors and with the organization behind the event, the American Foundation for Suicide Prevention.
That event, held in the Northeast long before AFSP had chapters in all 50 states, inspired hope in me in a way I hadn't previously thought possible. It was a gathering of loss survivors, organized by a former AFSP board member at a local university center. There were speakers who had themselves lost a loved one to suicide, and the opportunity to share in small groups. Even this many years later, I can still vividly remember the place, many of the people, and the feeling of hope I was left with following the event. I specifically remember meeting a brother and sister who had lost their other sibling, and the conversation we had that day. Even though their loss relationship was different from my own, we had experienced many similar things in trying to find support. This helped me understand that there were others like me who were trying to make sense of, and figure out how to survive, a suicide loss.
This past year, over 370 of AFSP's International Suicide Loss Survivor Day events – known colloquially as "Survivor Day" events – were held across the world, including over 30 sites outside of the United States. Suicide loss survivors in countries such as the U.S., India, Australia, Italy, Singapore and South Africa gathered for a day of healing and remembrance. For the over 6,500 people that attended these events worldwide, it may have been the beginning (or continuation) of a journey toward a community that knows intimately the challenges of living with suicide loss.
Given how this event has grown over the years, we at AFSP recently decided it was time for us to look at how the event is presented and symbolized in the physical and online materials associated with it. In past years, the logo for the event was a globe, signifying the worldwide capacity of the event. It was nice to acknowledge that there were loss survivors around the world, but in updating the look of the event, we wanted to convey the hope – and often, personal, post-traumatic growth – that these events can provide for those in attendance. For many, Survivor Day presents an opportunity to find the strength, within ourselves and with fellow suicide loss survivors, to move forward with a new depth of understanding about suicide, mental health, and grief.
In selecting a new look for Survivor Day – including a new logo, lettering, and colors – we sought to arrive at something that would warmly convey a feeling of invitation to new suicide loss survivors to find much-needed support through our events, while also validating the journeys of the many loss survivors who return to these events year after year.
After lots of thought, exploration, discussion and feedback from our national team and volunteers, I am pleased to introduce AFSP's new logo for International Survivors of Suicide Loss Day.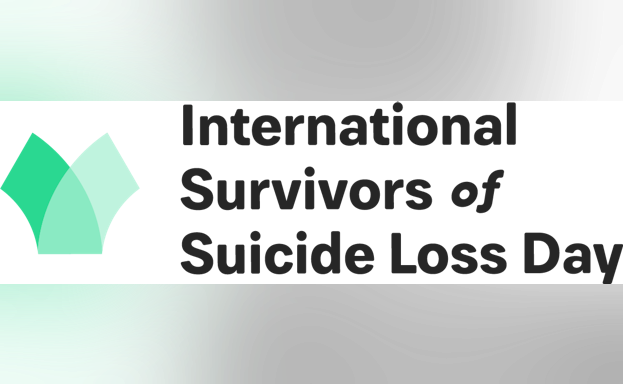 We see this new Survivor Day logo as symbolizing the growth so many of us experience thanks to these events. The image is dynamic, and conveys a sense of movement. Survivor Day is not just about the events taking place across the world, but about what happens at those events—encouraging a sense of community that helps move us toward understanding and healing. We wanted the new look of Survivor Day to feel both familiar and fresh for those attending these events, whether in person or online via our Facebook Live programming.
Whether this year's International Suicide Loss Day is your first or your twentieth, we hope you will find the new logo inviting and symbolic of the comfort and community Survivor Day represents. We hope you will join us, either at a local event or online, on November 23, 2019.
For more information on International Survivors of Suicide Loss Day, click here.