The Number 25
15 Feb 2019 — 4 min read
Tagged
Feb. 15, 2019- I was 11 years old when I last heard your voice. I was 11 years old when I last heard you cry. I was 11 years old when I last saw you.
Whether my siblings were sliding me down a staircase on a mattress when the babysitter wasn't looking, jammed into the car for family trips to Wisconsin, swimming in the pool at one of the hotels my mom worked at, or running around my dad's office on Bring Your Children to Work Day, my family was always laughing. We had what seemed an unbreakable bond. I never thought it could be broken – until Saturday, December 11th, 2004, when that very thing happened.
It was a Saturday, and I was immersed in my normal routine, sitting at the computer, trying to instant message with my friends using AIM. But the modem wasn't working. (Remember, this was 2004.) I sat there in annoyance, the sound of my older brother Bobby fighting with my dad in the background. A door slammed. I asked Bobby to come help me fix the internet. His response didn't sound like his usual sarcastic 16-year-old self. It was a deep, hard cry. He sobbed and told me to get away. And that is just what I did.
My father and I found him five minutes later. Bobby had taken his own life.
In that moment, I felt like my innocence had been stolen.
While most middle schoolers were going to fun extracurricular activities, I spent my days at group therapy: sitting, coloring, and casually talking about suicide. After Bobby passed away, my schoolwork and overall energy were poor. I never had the urgency to do any of my homework – or anything, for that matter.
The one thing I always had energy for, and exceled in, was sports. Basketball, lacrosse, soccer, volleyball, swimming – you name it, I did it. Basketball season came around in the fall of fifth grade, and my coach threw me a jersey with the number 25 on it. At the time, I was disappointed. My first choice had been 575, which corresponded to the AIM profile used by a boy I had a crush on. But one day, it hit me: the number 25 corresponded to Bobby's initials.
Now that I realized that, my number came to symbolize much more for me than just what it said on my jersey.
I began seeing the number 25 everywhere, always at a time when I needed it the most. I noticed it on license plates, buses, boats, parking spot numbers, random pieces of paper on an elevator floor, plane seats, you name it. Bobby was there.
The number gave me purpose. I often spent my nights listening to music, bawling my eyes out on the floor, clinging to a photo of the two of us together. I felt so weak in these moments. But through sports, I was someone different. Secretly wearing his initials silently on my back gave me purpose: to get up that day, get to practice, and just do it. I wanted to become better; I wanted to represent the person Bobby was, and exemplify strength, heart, and passion on a daily basis.
Until I broke.
At the age of 17, I attempted suicide, myself.
I was hospitalized for a month. It was explained to me that I had depression, anxiety, and severe PTSD as a result of having found my brother. I was known for being the most bubbly person at school. But on the inside, I could not have been more broken.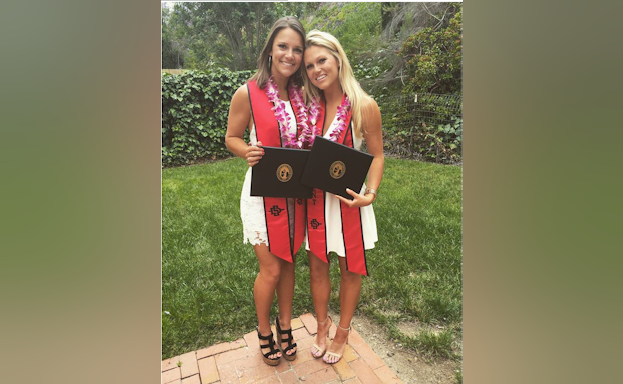 I knew I was in need of professional help. I began receiving treatment on a daily basis, and returned to lacrosse and my normal routine. That summer leading up to my senior year, my coach told me I was good enough to play Division 1 Lacrosse. I couldn't believe my ears. I ended up receiving an offer letter from San Diego State University that weekend. A one-way ticket to California for the opportunity to rewrite my story – and that is just what I did.
I am 25 years old now. That number is not lost on me. The ripple effects of death and grief are forever a part of my mind, soul, and heart.
As I reflect on the past fourteen years since I lost my brother, I reflect on all my highs and lows, and am proud of the person I am. I still battle through anxiety and depression, but I manage it just as I would my physical health, and I know that help is always available. I want to let other people know that even though someone's life may seem perfect on the outside, it can be the farthest thing from it. And that's okay.
I was 11 years old when a part of my self died with my brother Bobby. But I was also 11 when I started to find myself because of him.
So thank you, 25 – for the person you were, and the person you made me aspire to be. I'll never stop living for you, and I hope you'll never stop letting me know you're cheering me on.