Top Ten Tips for Organizing an Awesome Out of the Darkness Campus Walk at Your School
26 Mar 2019 — 3 min read
Tagged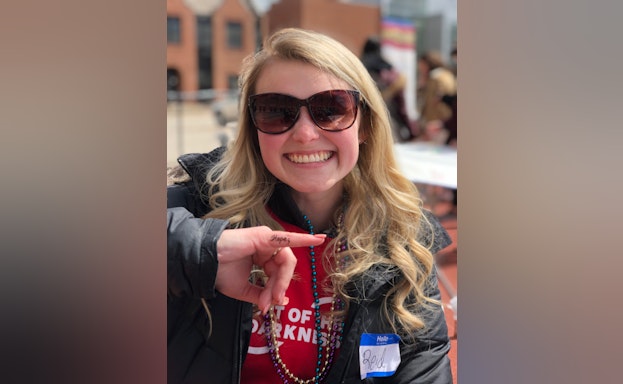 Mar. 26, 2019 - In 2017, as a student at the University of Michigan, I decided to help establish one of the American Foundation for Suicide Prevention's Out of the Darkness Campus Walks at my school. In my opinion, one of the most important aspects of AFSP's Campus Walks is that they provide an opportunity to engage with other students who may not have been personally impacted by suicide in their life, but – as we all do as human beings – have mental health. By raising awareness and informing them of the common risks and warning signs of suicide, and encouraging them to have #RealConvos about mental health with their friends – and ask directly if their intuition tells them someone is thinking about suicide – we can help save lives in the future.
The response to the event exceeded my expectations, and that year, we raised $32,000 – funds that will go toward fighting suicide through AFSP's work in research, education, advocacy, support for those affected by suicide, and more.
But we were just getting started. The Campus Walk we hosted at the University of Michigan the following year turned out to be the very first of AFSP's Campus Walks to raise over $100,000.
Here are some strategies other students can use to make their own Campus Walks more successful than they ever thought possible!
Engage student groups – we emailed many clubs/organizations/sororities and tailored our message to the particular group in inviting them to join
Regularly post on social media about the Walk. Make sure your posts are engaging by sharing photos and asking your followers questions that will get them excited
Use local AFSP chapter money to promote your posts – you can create filters to ensure students on your campus and people who live in your city see your posts
Invite as many people to your FB page as you can think of, who you and your committee personally know, to spread the word about the Walk
Reach out to different departments on campus and ask if they would include your Walk flyer and a little blurb in their weekly newsletter/emails
Asking psychology professors if you can come to their classroom and speak for 1-3 minutes about the walk
Know the facts about suicide – for example, that suicide is the second leading cause of death for people aged 15-24, which is most college students' age range
Know about, and where the funds raised will go
Reach out to local bars/restaurants to set up a fundraiser people can attend, eat/drink, and donate to the walk
Host a bake sale in a busy building on campus to spread awareness, invite people to sign up, and raise money for the Walk
By holding a Campus Walks on your campus, you're being proactive about reaching students, and preparing the next generation of adults to be more prepared to #StopSuicide. You're creating allies in this fight who can help save lives. You're also helping reach students who may be actively struggling with their own mental health, letting them know they are not alone, and showing them there is a community right where they live that cares about them and understands their experience. When we empower college students to show up for one another, we create a healthier and more inclusive campus, and ultimately, a more hopeful and supportive society.
I believe that AFSP's Out of the Darkness Campus Walks hold some of our greatest power in effecting long-term change, and I am proud to be a part of this effort.