Transforming Loss into Action in the Mental Health Field
16 Aug 2019 — 4 min read
Tagged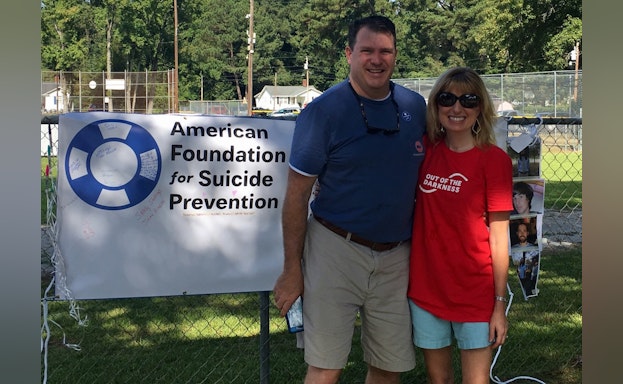 The author and her husband, John McGough, at the Tri-County OOTD Walk in Pinetops, NC.
"You can't go back and change the beginning, but you can start where you are and change the ending." C.S. Lewis
Aug. 16, 2019- Suicide became personal for me during the first semester of my graduate school training in clinical psychology.
One of my professors was teaching our class about mood disorders, including depression, right before I headed home for Thanksgiving break. I went home having no idea what was coming: that Thanksgiving Day, a friend I had known nearly my whole life would die by suicide.
Kelly was a complex and beautiful soul. He was the boy all the girls thought was cute – myself included. He was a talented athlete with a giant sense of humor. He sat across from me in fourth grade and told me about the birds and the bees. Kelly had an edge, a type of bravado, but it sat alongside a good and caring heart. When our activity bus was involved in a fatal accident in middle school, he was the person who comforted me.
Hearing of Kelly's death was shocking. My heart broke, knowing the amount of emotional pain and suffering he must have been feeling to take his own life.
I attended his funeral feeling stunned and numb, then drove back across the state to return to graduate school. That drive back was filled with phone conversations with other friends mourning Kelly's death. It was also the beginning of my journey to find some sense of understanding of this tragic loss.
Our lecture on mood disorders continued where we had left off the previous week, and as it turned out, suicide was the specific topic. Some of my classmates knew I had lost a friend to suicide over the break, but my professor delivering the lecture did not. As he discussed suicide, he mentioned that many clinicians do not treat suicidal clients, because of the liability and risks associated with this.
I was outraged to hear this. These are the people who need us the most, I thought to myself. Why wouldn't we help?
It has been 17 years since these events, and Kelly's death and my professor's comments have significantly impacted the course of my career. After finishing my master's degree, I sought out a Ph.D. program that would allow me to learn more about suicide prevention. I received training in Dialectical Behavior Therapy, a form of treatment developed by Dr. Marsha Linehan that is aimed specifically at addressing suicidal behavior, among other concerns.
I now work with adolescents who are struggling with suicide, provide trainings on suicide prevention and have focused on supporting individuals and families who have lost someone to suicide.
Not all mental health professionals receive suicide prevention training in their graduate school programs. Roughly fifty percent of those in psychology programs are educated in helping clients struggling with suicidal thoughts and actions. Only two percent of those in counselor education programs receive this training. These rates are startling and frankly, unacceptable. There needs to be a call to action to all disciplines within the mental health field to empower clinicians with the life-saving tools and strategies that are available.
Yet I am hopeful. I believe the tide is turning in regard to suicide prevention as it receives more public attention and care within our culture. The American Foundation for Suicide Prevention is part of the effort to educate and equip mental health professionals, through trainings, on how to help suicidal clients via Mental Health First Aid and Attachment-Based Family Therapy, as well as their Suicide Bereavement Clinician Training Program that teaches clinicians how to best support people who are grappling with suicide loss.
One thing I know is true: there are mental health professionals out there equipped to help those struggling with suicide — and they want to!
Last year I participated in both the largest and the smallest of AFSP's Out of the Darkness Walks in my home state of North Carolina. The smallest walk was in my tiny rural hometown where Kelly and I grew up, held in the park we played in as kids. I volunteered and walked in his honor, as well as in honor of two other friends from our area whom we also lost to suicide. These walks, held in communities and on campuses across the country, help spread awareness, provide hope, and raise much-needed funds to #StopSuicide. They also provide an opportunity for those affected by suicide to come together, and find strength through each other.
I now serve on the board of directors for AFSP's North Carolina chapter, and I'm doing it in honor of Kelly.
Suicide first touched Kelly's life when he lost his mother to suicide while in the eighth grade. To my knowledge, he didn't seek or receive professional support around this traumatic grief. It is my hope that by raising awareness of what is currently the tenth leading cause of death in the U.S., as well as common risk factors and warning signs, we can come together as communities to take action when we know someone may be struggling, and aid in connecting them to help and supporting them. In this way, we can save lives.
It will take ALL of us — trained mental health professionals included — to create a world without suicide. I look forward every day to doing my part and joining with others to make that a reality.