Walking for My Brother, and for Our Veterans
11 Jun 2019 — 2 min read
By Laci Gentry
Tagged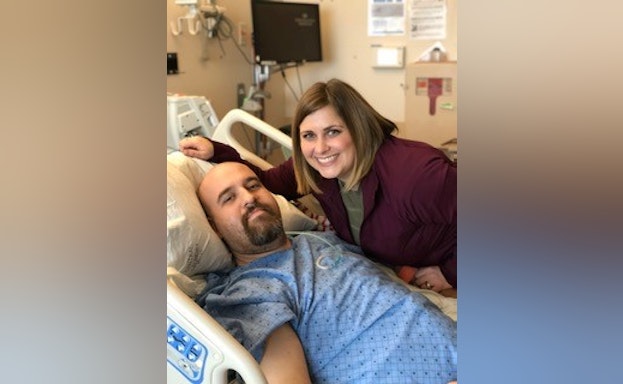 June 11, 2019 - This year, I will walk in the American Foundation for Suicide Prevention's Out of the Darkness Overnight Walk in Boston, for my brother, Stevie.
Stevie had served in Afghanistan and a couple of years later, his wife left him. He was in a dark and lonely place, and for the last year, he battled deep depression and PTSD.
I live across the country, and tried to be there for him, but he quickly became good at pushing people away. He started using alcohol to cope – which I now realize is a risk factor for suicide. This led to him feeling even angrier and more frustrated than before. On January 5th, I received a terrifying call from my mother. My brother was in the hospital after a suicide attempt. They were not sure if he was going to be okay.
I flew from Boston to Salt Lake City the next day to find my brother on life support. For a week, I slept in the hospital by my brother's side, trying to bring him comfort, and advocate for the best medical care. He was taken off his intubation, and told that he would be paralyzed from the waist down for the rest of his life. He had many complications, and spent 105 days in the hospital, and another month in rehab.
In the days since, my entire family rallied around my brother to let him know he is loved and that his life matters. Many soldiers from various units he had served with began visiting as well, providing support and letting him know he wasn't alone in what he was going through. Word spread, and he even began receiving letters from people – some he knew, and some he didn't – offering words of encouragement and thanking him for his service for his country.
All of a sudden, my brother felt less alone and overwhelmed. Instead, he felt surrounded by love.
Stevie told everyone, "I didn't feel before, but this experience had helped me feel again."
Although it's been hard, Stevie continues to fight and now has the drive and the will to live.
I'm walking in AFSP's Overnight this year because my brother will never walk again.
I am also walking for our veterans, and to spread education and awareness so that people know there are ways to reach out if they are in distress. I am walking to let people know that no matter how dark it gets, there is always light.
Click here to find out more about AFSP's Out of the Darkness Walks.