Walking for Myself
9 Jan 2018 — 3 min read
Tagged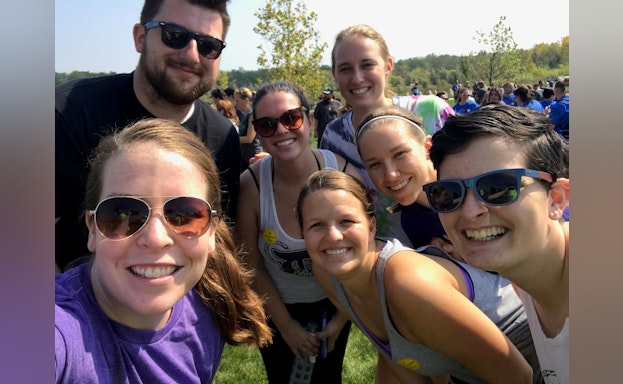 January 9, 2018 - I decided somewhat last minute that I wanted to participate in the American Foundation for Suicide Prevention's Out of the Darkness Walk in Grand Rapids, Michigan. In the week before, I managed to find a few friends who were not only willing but honored and excited to walk with me for a cause I relate to so deeply.
We raised a fair amount of money in such a short amount of time; even friends on Facebook I hardly talk to donated. The days leading up to the walk already illustrated to me the commitment of my community to care for those wrestling with mental health, and that as someone who personally struggles, I am not alone.
The day of the walk was incredibly hot. Despite that, the turnout was incredible, with over 1,000 people in attendance. The heat also served as an extra nudge for me to do something I have avoided for so long: I wore a tank top and bore my scars that have been hidden for the last year and a half. I knew I was in as safe of a place as there could be to be fully myself, with no fear of judgment. The release from shame I felt was something I haven't experienced in such a long time.
Despite the freedom I felt to be honest about my struggles, and the beauty in the community I was surrounded by, the walk was difficult for me. The event was a confrontation of the reality of suicide and the lives it has claimed; for me, it was also a reminder of my own mortality and how fragile my life can be. I was diagnosed with bipolar almost two years ago. While my condition, at present, is up in the air, my mental health continues to be a struggle.
The most challenging thing for me to process about my diagnosis was the statistic I read that says up to 20 percent of those diagnosed with bipolar die by suicide. (I've since learned that that's a high estimate.) I've attempted suicide and been suicidal before. As I stood among friends and strangers, it occurred to me that at some point, they could be walking in memory of me instead of next to me. As is tradition at Out of the Darkness Walks, people wore different color beads to signify their relation to suicide: those who had lost a spouse wore red beads; those who lost a parent wore gold, for instance. It hurt for me to imagine the people I care about wearing those very beads to signify their relation to me.
As I walked, I tried to be present with my friends. We talked about our weeks as though it were a normal stroll. I tried to focus on my gratitude for these friends who had responded with such eagerness and compassion to my invitation. I tried to remember that there are so many people in my life who care and would do just about anything to stand as a barrier between me and suicide.
Soon after the day of the walk, I told my psychiatrist about the emotions it had stirred up. She shared that she had also been there with her family, including her husband, who also struggles with suicidal ideation. She then asked me a few questions to gauge my safety and to give me some reassurance.
Do I have friends who I can talk to about my illness and who would talk to me if they had concerns? Yes.
Am I willing to take medication or be hospitalized if these are necessary interventions? Yes.
Will I continue to learn about my illness, my warning signs, and coping skills in order to stay healthy? Yes.
My complex reaction to the walk served as the perfect encapsulation of these answers. My friends had walked alongside of me, and many others had expressed their desire to be there. My community had been hugely represented, and various intervention services had presented themselves as resources. Information was available about my diagnosis including where I could find help. When I look back on that day, part of me still feels that fear and anxiety, but I also feel deep gratitude for all those present, proving to me that I am not alone and that suicide does not have to be my fate.