Walking to Raise Awareness of Veterinary Suicide
26 Nov 2019 — 3 min read
Tagged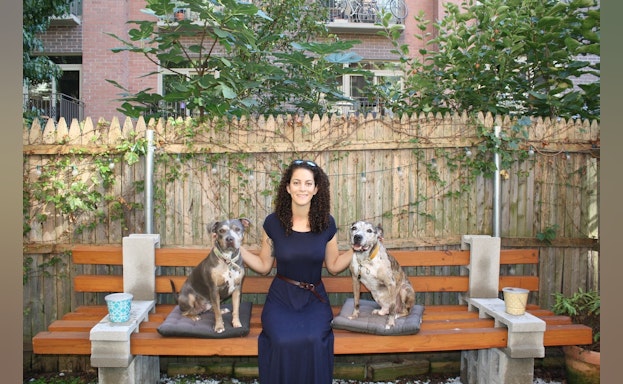 Nov. 26, 2019 - I am an overnight emergency veterinarian working in Brooklyn, New York. I elected to become the team leader for my hospital's Out of the Darkness Walk and fundraise for the American Foundation for Suicide Prevention this year. I signed up after I lost a friend and fellow veterinarian to suicide this year.
A recent Journal of American Veterinary Medical Association (AVMA) article confirmed what many of us have noticed: that veterinarians are more than twice as likely to die by suicide than the general population. Suicide is a complex health issue that comprises many factors, often including untreated and undiagnosed mental health conditions. The article noted several occupational factors that could contribute to suicide risk including, "high levels of occupational stress related to long working hours, client expectations, unexpected outcomes, communicating bad news, poor work-life balance, high workloads, rising veterinary care costs, professional isolation, student debt, and lack of senior support." Access to and knowledge of lethal means was also cited as a contributing factor. From a personal perspective, this rings true for me, as occupational factors associated with being a veterinarian, such as long work hours and high client expectations, can lead to stress, poor work-life balance, and feelings of failure.
An online community was created four years ago for veterinarians, in the hopes of reducing our suicide rate. Not One More Vet now has over 20,000 members worldwide and has built a group for conversation, community, and an emergency financial aid fund for those who may need it for treatment or help. The group is exclusively for veterinarians and anything said is meant to be kept among the members. I joined NOMV a few years ago and was overwhelmed by the posts in the community, including anything from emergent thoughts of suicide to cute dog photos. The group does local meet ups, fundraisers, and even has sub-communities for groups like veterinarian moms, and veterinary craft-makers. This group's creation and membership shows a desperate need for a response to the internal and external circumstances that contribute to those in our profession's increased risk for suicide.
The trend does not just apply to veterinarians, but all those in the veterinary field including technicians. Last year, I lost another friend, a veterinary technician whom we'll call Sarah, to suicide as well. I worked with Sarah during my veterinary internship year from 2013-2014 at Carolina Veterinary Specialists in Charlotte, North Carolina. Sarah was an overnight technician, a shift that leaves plenty of time to talk and get to know your colleagues, which I did with her.
Support staff deals with similar stressors and oftentimes deal with even more than the veterinarians: they are the ones to present estimates, take phone calls, and are the first to speak with clients. Clients can often be rude or imposing on support staff in ways they are not with the veterinarian.
After Sarah's death, veterinary technicians around the country rallied together in her memory. They started wearing royal blue on Wednesdays in her honor, and created a Facebook group to support each other. It was another huge outpouring of support for a community dealing with the impact of suicide.
It's important to me to raise awareness and funds in hopes of AFSP's Project 2025 goal of decreasing the suicide rate in the United States 20% by 2025, as suicide has become a growing concern in veterinary medicine. While putting up posters for the walk in the BluePearl Brooklyn Pet hospital, I realized that everyone has a story to share about their experience with suicide, myself included. I walk in honor of Sarah, and in honor of all those lost. That is why I decided to lead my team in the walk.
To learn more about AFSP's Out of the Darkness Walks, and find one near you, click here.
To learn more about the work AFSP is doing with the veterinary community, click here.