We Can Be Heroes: Superhero Fans Take Up the Fight for Suicide Prevention
11 Oct 2019 — 4 min read
By Mick Doyle
Tagged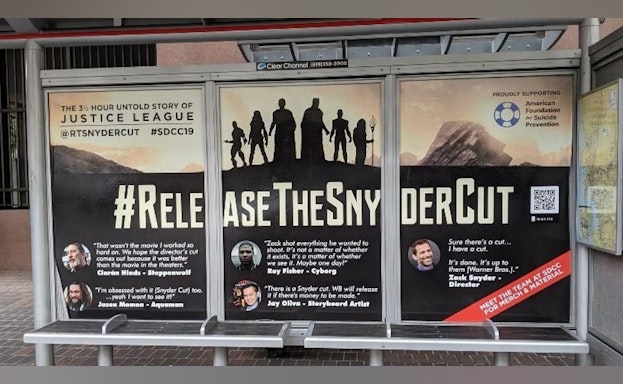 Oct. 11, 2019- Superheroes and suicide awareness are not concepts people typically associate with one another, but in the case of one community of fans, the two have become inextricably linked.
#ReleaseTheSnyderCut is a diverse, global online movement of fans of DC Comics and the visionary film director Zack Snyder. During the late stages of post-production on the film "Justice League," Snyder left the project following the tragic death of his daughter Autumn to suicide. After the theatrical release hit cinemas, the #ReleaseTheSnyderCut fan community sprung up in its wake, advocating for the realization of Zack Snyder's original edit, known as the "Snyder Cut."
However, the community has come to stand for much more than the release of the director's original cut of the movie. Zack's fans were heartbroken to learn of the news of his daughter's death and after an outpouring of sympathy was expressed across social media, Snyder responded by highlighted the importance of organizations that connect people to seek help and which work to further awareness and understanding around suicide and mental health. Snyder also acknowledged how much of a comfort the overwhelming support from fans had been to him and his family.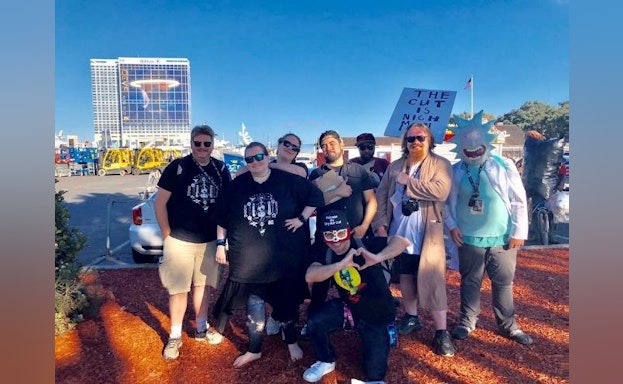 Moved to help and make a positive difference, the SnyderCut community has created a series of fundraising campaigns and awareness initiatives which have since helped to raise over $100,000 for The American Foundation for Suicide Prevention. Along with these efforts, people within the fan community also began to have open and frank discussions around mental health on social media and in online chat groups. Fans shared their own experiences with depression and other mental health conditions, finding support among one another, and realizing that most people know at least one person in their lives who has experienced a mental health condition, or who has been affected by suicide. The supportive environment that has grown out of these campaigns and conversations has given people who had not previously talked about their experiences the comfort and encouragement to express themselves. For some, it was the first time they had ever talked about it.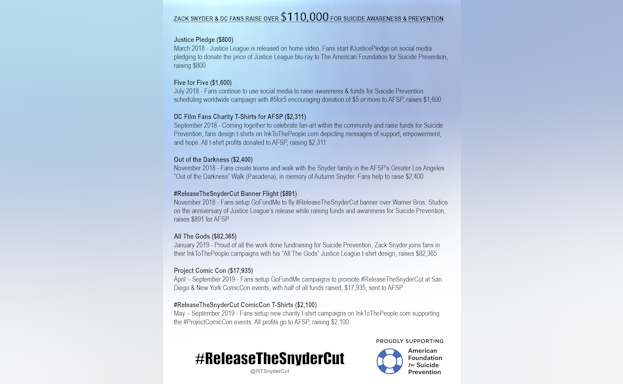 Over the past two years, the community and our campaigns have continually grown in size and scale. From modest beginnings of a series of social media hashtag campaigns, to a series of fan-art t-shirt fundraisers (later joined by Zack Snyder); to walking to raise awareness, each campaign became more organized and prominent than the previous. Our most recent campaigns, entitled "Project Comic Con," have been the most ambitious to date as they brought our awareness drives to both San Diego and New York Comic Con events: the modern-day meccas of superhero film culture. Project Comic Con has been our highest profile campaign so far, gaining national mainstream coverage for both AFSP and #ReleaseTheSnyderCut in major outlets including The Washington Post, The Hollywood Reporter, and Business Insider. Together the Comic-Con projects have raised a further $18,000 for AFSP via GoFundMe promotional campaigns, and an additional $2,000 from charity t-shirts designed specifically for the events. Through the prominence of these campaigns online and in the media, we hope to help make more people aware of the important information and services provided by organizations like AFSP, and through fundraising hope to have a direct impact on the delivery of critical life-saving services, research and education.
While the #ReleaseTheSnyderCut movement may appear to be focused primarily on the goal of releasing Zack Snyder's original "Justice League" film, the day to day focus of the fan community has always been as much about celebrating and acknowledging the power and impact of Zack's existing filmography. Throughout this journey, each of us has encountered countless other fans who have spoken about how Zack's previous works have influenced us in positive, life affirming ways. Folks who have felt undervalued or marginalized have found inspiration through the humanization of the larger-than-life heroes depicted on screen, while others have been empowered to appreciate their own sense of self-worth. Many who struggle with depression have found coping each day that much easier as they recognize the same emotional challenges that they face being experienced by their favourite heroes, who rise from situations of darkness to discover hope and inspire heroism in others. I have personally spoken to several people who have confided that Zack's art has literally helped save their lives. Powerful storytelling truly has the ability to heal, bring awareness and create change. This is why we fight.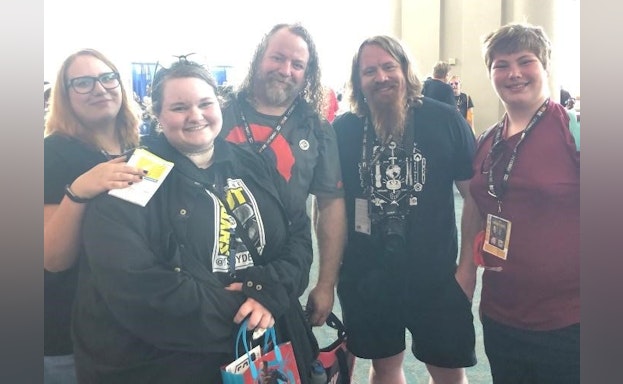 As a fan community, we will continue to advocate for the kind of powerful art that inspires as well as entertains. We look forward to supporting Zack and Deborah Snyder's future projects. And we will continue to drive awareness for causes that seek to heal and save lives.
Our hope is that readers of this article will become inspired to take their own initiatives to raise awareness, to seek help if they need it, to talk about their struggles, and to listen to others.
Every one of us who has the power to be a hero: to help light the way out of darkness.
Our next campaign this November will be to take part in the "Out of the Darkness" Greater Los Angeles Walk – Pasadena – 2019. Members of our fan community are travelling to Pasadena to take part in person, while others will fundraise as virtual walkers. Click here to learn more.