Why Wait to Make a Difference?
28 Feb 2020 — 1 min read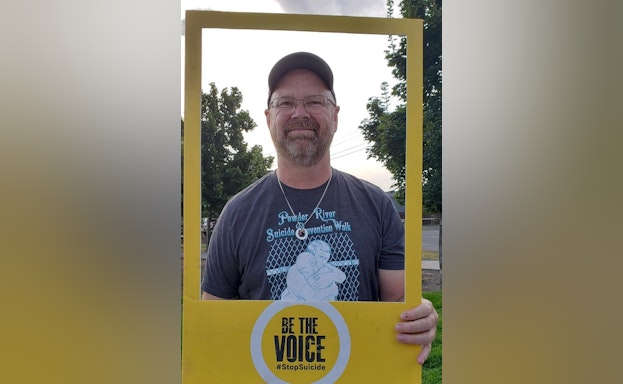 This piece originally appeared as a Volunteer Spotlight Story in AFSP's 2019 Annual Report. For other inspiring and emotional Volunteer Spotlight Stories, and to learn more about our exciting work, visit afsp.org/2019report.
Feb. 28, 2020 - As the Programs Coordinator at Santiam Correctional Institution, Dan Bielenberg knew that both his co-workers as well as the incarcerated people are particularly vulnerable to suicide, and that suicide is the leading cause of death in jails and prisons. He had also attended a Community Walk held in Salem, Oregon in 2016, and was moved by the experience of seeing so many people walking to bring suicide out of the darkness.
Describing the event to George Skurtu, a trusted adult in custody serving as a prison clerk, he inspired George to respond, "I want to do that when I get out." Dan's response to George was, "Why not do it now?"
Under Dan's guidance, the first ever Out of the Darkness Walk to take place inside a state prison was held at Santiam Correctional Institution. Thanks to Dan's initiative, six prison walks were held this year in Oregon, each one accompanied by a presentation of the Talk Saves Lives program. Building on this momentum, Dan now speaks at correctional facilities in other states, inspiring others to do the same.
To learn more about our exciting work and read other Volunteer Spotlight Stories, see our 2019 Annual Report.