You Can Have a #RealConvo with Me
15 May 2018 — 1 min read
By AFSP
Tagged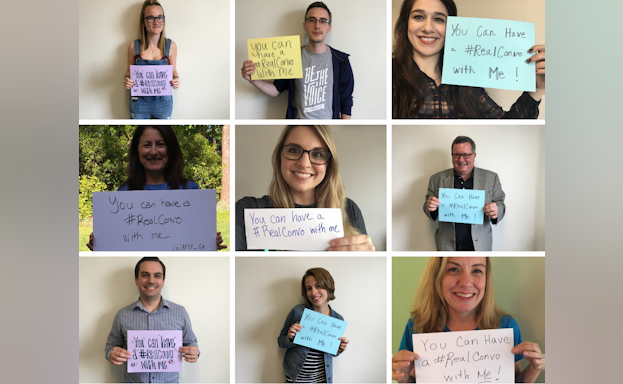 May is Mental Health Awareness Month, and this year, we are focusing our attention on having a #RealConvo about mental health. We've learned through a recent Harris Poll that 89 percent of people believe that mental health is just as important as physical health. Despite this, many people don't know how to have a conversation about it.
This May, we are launching a social media campaign encouraging people to talk about mental health.
On May 16th, we're asking for your help. Please share a picture of yourself on social media (Facebook, Twitter and/or Instagram) holding up a sign that says, "You Can Have a #RealConvo with Me." Tag @AFSPNational and use the dedicated hashtag #RealConvo.
You may also add a caption that includes a personal story of why the subject is important to you, such as:
We all have mental health. Let's have a #RealConvo about it!
I lost my best friend to suicide. It's so important to have a #RealConvo about mental health.
If you're struggling with your mental health, you can count on me to have a #RealConvo.
We hope you'll lend your voice to this important campaign. By sharing this message, and encouraging others to do so, you will make an enormous impact.
For more resources on how to have a #RealConvo, visit afsp.org/realconvo.
We can't wait to see your posts!