2022 Indiana Chapter Highlights & Awards
9 Feb 2023 — 5 min read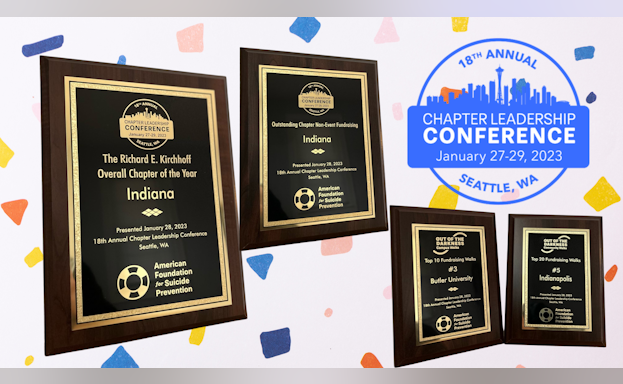 Indiana brings home Overall Chapter of the Year Award from the annual AFSP Chapter Leadership Conference
This is the first time the Indiana Chapter has received this award.
Our Hoosier communities have always been the heart of our chapter. We are proud to share the accomplishments of our hard work throughout 2022, with an expanse in leadership, volunteer participation, growth of our Project 2025 initiatives, online and social media presence, outreach to a broader region, and fundraising. We are excited by the ways our chapter has continued to take form, working to support those affected by suicide.
At the annual Chapter Leadership Conference in January 2023, the AFSP Indiana Chapter was recognized for several achievements during 2022. We were awarded: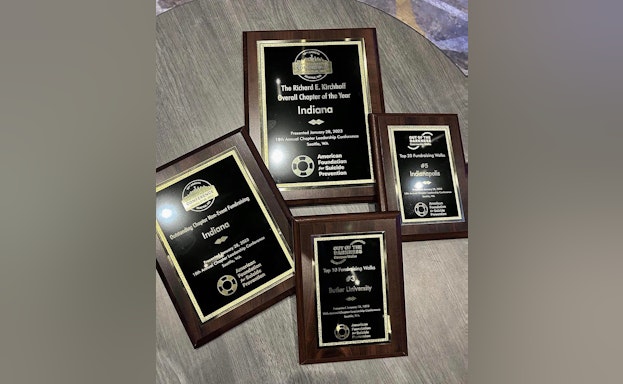 A few highlights from 2022
Project 2025 Highlight - Corrections
AFSP's Indiana Chapter co-led a system-wide implementation of the presentation with the Indiana Department of Corrections, which is now training 6,000 corrections staff per year across the state.
Led by our volunteer Project 2025 Champion, Adam Jackson, our chapter collaborated with the Indiana Department of Corrections (IDOC) with a common goal to help Save Lives. This partnership is the first of its kind in the country. Through this strategic collaboration, we are happy to share that 100+ Indiana Department of Corrections staff across Indiana have been trained to present our Talk Saves Lives- Corrections Module.
This partnership will result in 6,000 staff and new employees receiving this AFSP suicide prevention training annually. Not only will this improve the lives of the staff and the individuals under their care and supervision, but also anyone they interact with outside of the walls of the correctional facilities. Since our engagement, we have been able to connect with other chapters and share lessons learned, tips and best practices.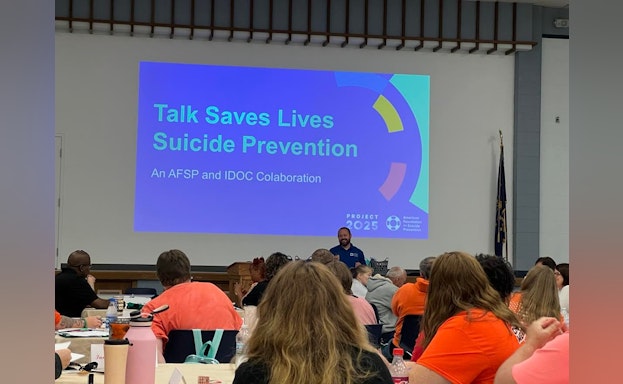 Chapter Survivor of Loss Program
Our chapter was the first to host Support Group Facilitator Trainings once the opportunity opened back up after 2 years on pause - we hosted both the Adult and Child/Teen workshops in February 2022 in Indianapolis. We were the only chapter in the country to offer this during the first part of the year and were pleased with the amount of new support groups that have bloomed from this opportunity.
We hosted two Suicide Bereavement Clinician Trainings virtually and trained almost 200 clinicians across Indiana! Following the training, we connected with attendees and mailed them AFSP literature to have for their offices, practices and general community.
Every November, our chapter hosts AFSP's signature event, International Survivors of Suicide Loss Day. We were excited to have 11 sites throughout the State on Saturday November 19, 2022 in collaboration with our local Survivor Day site volunteers. It was a day for survivors of suicide loss to come together to find connection, understanding, and hope through their shared experience.
Throughout 2022 we continued our outreach to funeral homes across the state. Over the last two years, we had volunteers put together kits specifically for funeral homes to have on hand for anyone impacted by suicide. This outreach and effort to connect is ongoing.
In addition to our funeral home project, we also have had 16 Healing Conversations visits for 2022. This was an increase from 2020 and 2021. While supporting our own loss survivors, we also assisted other chapters who needed Healing Conversations volunteers to help with their visits throughout 2022.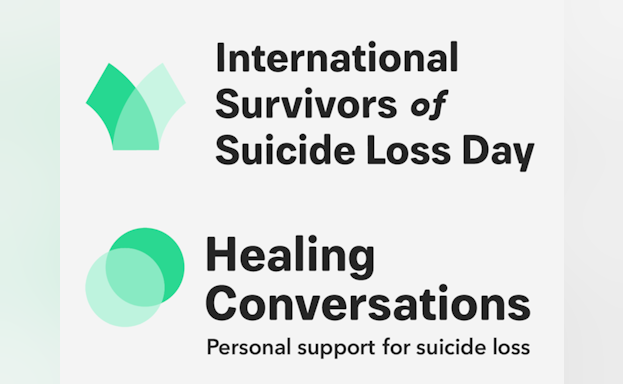 AFSP License Plates
Indiana was the first state to have an AFSP license plate. The license plate initiative started off as a passion project. After getting such positive response and feedback from our month long bus tail campaign in 2018 and also hearing from walkers and volunteers that they love the stop suicide magnets but they don't stay on their car through the car wash- the chapter board worked to get an AFSP plate. With the sale of each AFSP license plate, the Indiana Chapter gets $25.
As of December 31, 2022, 5,345 AFSP plates have been sold in Indiana raising a total of $133,625!!! We set an internal goal each year for plate sales and continue to exceed the goal annually. We exceeded our 2,200 plate sale goal for 2022, raising over $51,350 for the year, which is the highest since starting the plate. (We raised $37,750 in 2021, $29,175 in 2020, and $15,350 in 2019).
While we recognize that there are other fundraisers that generate more funds than the license plate, we also see this project as something more than simply a fundraiser. We have the numbers of people who have purchased the plate, but we don't have the numbers for the people who were able to get connected to resources because of this plate. Our hope is that someone walking through a parking lot, someone zooming on the interstate, or someone parked at a traffic light takes a moment to glance at the tail end of the car in front of them and see the American Foundation for Suicide plate and know that there are resources out there- that they don't have to grieve in silence or struggle alone.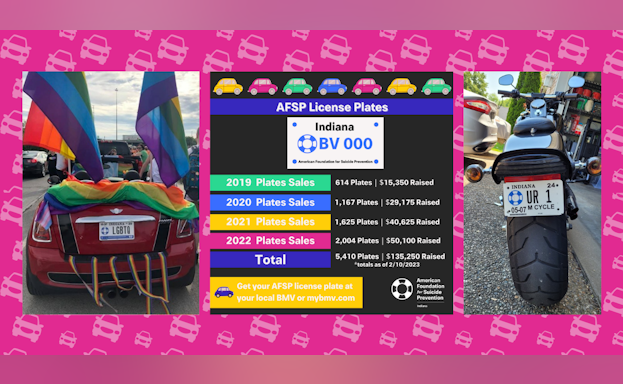 Chapter Programs
The Education Committee established a new leadership structure to enable more frequent volunteer trainings and subsequently, increase educational program presentations. Our chapter participates in tabling opportunities to raise awareness and share resources with the community, and also presents AFSP's core educational programs: Talk Saves Lives (standard module, LGBTQ module, Corrections module and Workplace module, It's Real: Teens and Mental Health and It's Real: College Students and Mental Health).
Along with the collaboration with the Indiana Department of Corrections (mentioned above under project 2025), and other programs/workshops like safeTALK, ASIST, Youth Mental Health First Aid, Attachment-Based Family Therapy Workshop, and Suicide Bereavement Clinican Training- we have a significant engagement with the community. Conservative estimates reveal a collective reach of more than 9,000 people that have received resources and education from our 40+ program presentations throughout 2022. All of our programs we offer are at a reduced rate (and often times free) thanks to the funds from our Hoosier Out of the Darkness Walks and Indiana Circle of Hope.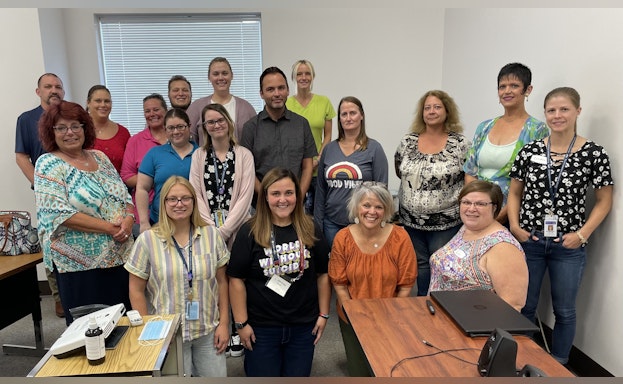 Your Support Made This Possible
Thank you to our many wonderful supporters, walkers, sponsors, donors and volunteers! From Out of the Darkness Walk participants and team captains to our Advocacy Field Advocates, Circle of Hope Members, Healing Conversations volunteers, and our community partners and corporate sponsors -- we thank you for your shared commitment to saving lives and bringing hope to those affected by suicide throughout Indiana. It is because of you that we are able to deliver our educational, advocacy, and loss survivor support resources and programming to the community at no cost. And thank you to the hundreds of dedicated volunteers who have turned your generous gifts into action across our Hoosier Communities.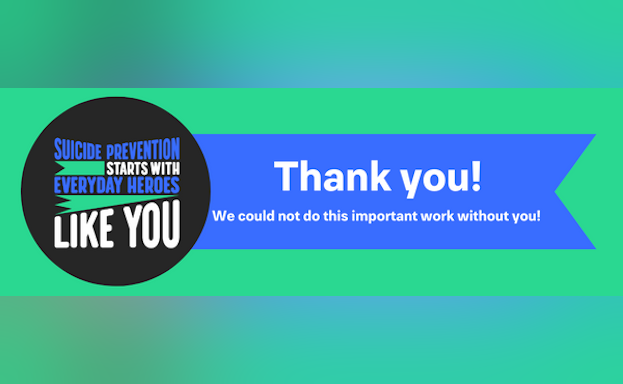 Past Indiana Chapter Awards:
March 2022 AFSP Chapter Leadership Conference
#2 Out of the Darkness Campus Walk: Butler University

#5 Out of the Darkness Community Walk: Indianapolis

Mid-Size Chapter of the Year
January 2021 AFSP Chapter Leadership Conference:
#4 Out of the Darkness Walk: Indianapolis

Mid-Size Chapter of the Year
January 2020 AFSP Chapter Leadership Conference
Outstanding International Survivors of Suicide Loss Day Event

Outstanding Chapter Non-Event Fundraising: License Plate Initiative

Outstanding Chapter Prevention Education Program

#7 Out of the Darkness Community Walk: Indianapolis

#3 Out of the Darkness Campus Walk: Butler
January 2019 AFSP Chapter Leadership Conference:
#12 Out of the Darkness Community Walk: Indianapolis

#3 Out of the Darkness Campus Walk: Butler

#10 Out of the Darkness Campus Walk: Purdue

Pacesetter Award for Consistent Overall Achievement by a Chapter