Advocates call on Missouri lawmakers to address suicide
23 Feb 2023 — 5 min read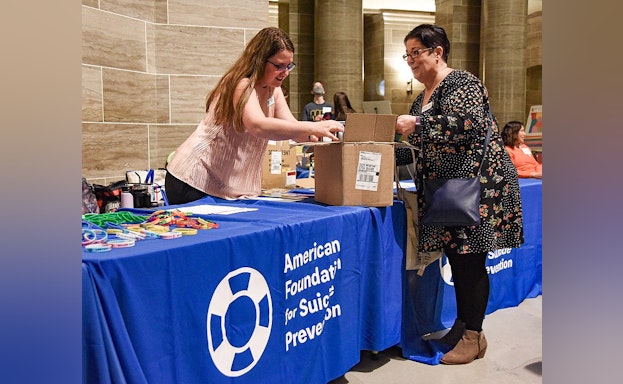 Advocates call on Missouri lawmakers to address suicide
by

Ryan Pivoney

| February 23, 2023 at 4:01 a.m.

Julie Smith/News Tribune photo: Lauren Ross, left, and Pat Harkins prepare to distribute information about the American Foundation for Suicide Prevention Missouri Chapter Wednesday during a visit to the Capitol for a rally and visit with state legislators. Ross is a board member and advocate and chair of Advocacy Day at the Missouri Capitol. Harkins is also a board member and on her way to see legislators to disseminate information about the program and the need for funding for it.
After two consecutive years of declines, preliminary data suggests the nation's suicide rate is back on the rise.
An estimated 47,646 Americans died by suicide in 2021, according to provisional data from the Centers for Disease Control and Prevention. It's an increase of 3.6 percent from the 45,979 people who died by suicide in 2020.
Suicide was the nation's 12th leading cause of death and Missouri's 11th leading cause of death in 2020. Approximately 1,125 Missourians died by suicide in 2020, a rate of more than 18 per 100,000 people. Missouri is tied for having the 14th highest suicide rate in the country.
While some state lawmakers have wholeheartedly embraced mental health concerns, advocates say others aren't as receptive.
"We get pushback on funding because they don't think it's necessary and mental health is just not talked about," said Lauren Ross, advocacy chair for the Missouri Chapter of the American Foundation for Suicide Prevention. "Even when it happens in their community, it still seems like it is just pushed off. It's not an issue that is talked about as much as it should be."
Ross organized about 50 advocates to meet Wednesday with Missouri lawmakers at the Capitol and voice support for several legislative efforts. They brought fact sheets and nearly a dozen display boards with photos of lost loved ones.
American Foundation for Suicide Prevention, the nation's largest suicide prevention organization, hosts an advocacy day at the Missouri Capitol each year. Ross said it's a good way to humanize the statistics and "put a face to the mental health crisis and suicide crisis."
Ross said some of the pushback she's received is rooted in a lack of understanding of how widespread mental health concerns and suicide are.
"They oftentimes think it should be dealt with at the local health department level," she said, "but it's much easier if there's something passed at the state level that mandates things statewide."
The rate of suicide grew 30 percent between 2000 and 2018, and the CDC considers it a leading cause of death in the United States. Suicide is the ninth leading cause of death for people ages 10-64 and the second leading cause of death for children ages 10-14 and adults ages 25-34.
Someone died by suicide every 11 minutes in 2020, according to the CDC.
Ross and the American Foundation for Suicide Prevention advocated Wednesday for more funding for 988 crisis call centers and passage of bills supporting veteran suicide prevention, creation of a therapy task force and a ban on conversion therapy. The group advocated against bills seeking to ban gender-affirming care for minors.
The American Foundation for Suicide Prevention scored a major victory last year when lawmakers funded implementation of the 988 Suicide & Crisis Lifeline and call centers throughout the state.
Those experiencing mental health, substance use or suicide crises can call the number to rapidly connect with trained crisis specialists and behavioral health support.
"Getting a three-digit number was a huge deal," Ross said. "We got it passed, we got it signed, now we're working to get continued funding for the crisis centers and call centers that take those calls."
Ross recalled advocating for the number to be printed on student IDs last session and the pushback she received from lawmakers before it was signed into law. Some, she said, were concerned about the cost to school districts.
"We had a lot of legislators saying, 'Well my district's not going to do that because we don't have the funding for student ID cards,'" Ross said.
With the program up and running, Ross said she was hopeful lawmakers would be receptive to discussing its funding further.
Rep. Dave Griffith's bill on veteran suicide prevention was among the bills the group advocated for. Veterans die by suicide at a rate 1.5 times higher than the rest of the country, according to the CDC.
HB 132 would require the Missouri Veterans Commission to review a federal veteran suicide prevention law from 2019 and adopt programs and treatment options in conjunction with the Missouri Department of Mental Health. The bill also requires the veterans commission to file an annual progress report with the General Assembly and Missouri Department of Public Safety starting in 2024.
Griffith, R-Jefferson City, filed the same bill last year, and it was passed out of the House but died in the Senate. He's not expecting it to meet the same fate this year.
Griffith said he is preparing to pass the bill out of his committee Tuesday and out of the House chamber before the legislative spring break the second week of March. He anticipates the bill will garner only favorable votes as it did last year.
"The numbers are not going in the right direction," said Griffith, a veteran himself. "I'm hearing of attempted suicides monthly, if not more often than that. And it's touching all lives."
"This kind of awareness day that we have is probably one of the best things that can happen for suicide prevention and making sure all lawmakers in both the House and Senate know the issues we've got," he added.
Griffith said he hasn't run into significant pushback advocating for mental health resources.
"I think we realize we're in a mental health crisis right now," he said of his fellow lawmakers.
But there are a number of ideas lawmakers are considering, with some being more popular than others. For example, addressing the state's suicide rate by looking at guns, the leading method of suicide in Missouri according to testimony from the Missouri Foundation for Health, is less popular than looking at overdoses, Griffith said.
Guns account for about 61 percent of suicides in Missouri, Jennifer Dochler, director of government affairs, testified on behalf of the Missouri Foundation for Health. Despite their frequency, she said strategies to address firearm suicide are missing or underdeveloped in statewide and community-based suicide-prevention plans.
Griffith said reducing the state's suicide rate will take individuals to "step up and have hard conversations" with those having suicidal thoughts.
Ross said the state could do more to fund mental health care and expand veteran access to it.
"It's just something that we really feel needs to be addressed because it's often just kind of swept under the rug," she said.
HB 132: Tasks the Missouri Veterans Commission with expanding its efforts to prevent veteran suicide