Alaska Brings Home the Award for Outstanding Support of Diversity Equity and Inclusion
1 Feb 2023 — 1 min read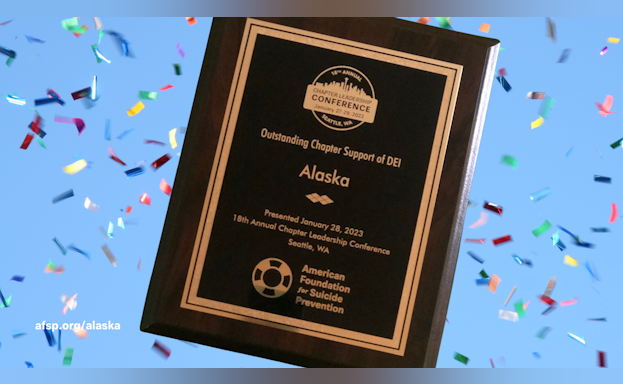 Alaska Brings Home the Award for Outstanding Support of Diversity Equity and Inclusion
Alaska – The American Foundation for Suicide Prevention (AFSP) Alaska Chapter is proud to announce it received the Outstanding Chapter Support of Diversity Equity and Inclusion award during AFSP's 18th Annual Chapter Leadership Conference, held in Seattle last week. The award is given in recognition of the collaborative efforts being made to create and deliver culturally competent suicide prevention and education programs in Alaska, including a statewide land acknowledgment, Talk Saves Lives: An Introduction to Suicide Prevention Among Alaska Native Communities, integration of Alaska Native culture during community events, and collaborative efforts among Alaska Native stakeholders and ally agencies working to prevent suicide and raise awareness.
Members of the BIPOC (Black, Indigenous, and People of Color) communities and other minority groups often face disproportionate inequities in care, support, or mental health services in the U.S. Systemic racism and historical barriers and inequities have left ethnic, racial, and minoritized populations facing trauma, loss, bias, social disparities, and other unique challenges that have gone unsupported and largely unaddressed. AFSP is committed to rectifying this by working with diverse communities, organizations, and policymakers to ensure that mental health resources that are culturally relevant are equitably available across the nation.
"The Alaska Chapter has been breaking ground and leading by example in this space since it was first chartered in 2011," said Dustin Morris, AFSP Alaska Statewide Area Director. "We are honored to receive this national award and share it with all our community supporters and volunteers who made this possible. Our work is far from complete, and more help is needed. We look forward to the next steps in bringing a community-based, science-informed program to Alaskans everywhere."
This is the first time the Alaska Chapter has received this award and the first time AFSP has presented an award for DEI efforts.