East Central Division Programs
30 Sep 2021 — 5 min read
Tagged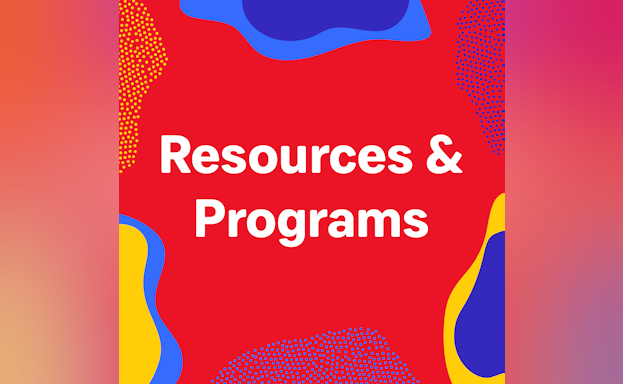 East Central Division Programs
AFSP's East Central Division is made up of 11 chapters – Kentucky, Indiana, Wisconsin, Ohio, Michigan, Eastern Pennsylvania, Western Pennsylvania, Greater Philadelphia, Virginia, West Virginia, and the National Capital Area.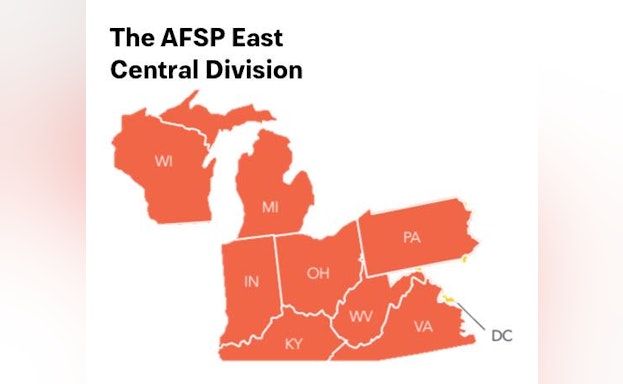 Talk Saves Lives is AFSP's standardized, ~45-60 minute education program for ages 18+ that provides participants with a clear understanding of this leading cause of death, including the most up-to-date research on suicide prevention, and what they can do in their communities to save lives.
Participants will learn common risk factors and warning signs associated with suicide, and how to keep themselves and others safe. Different modules are available including the Standard, Seniors, LGBTQ+, Workplace Setting, and Firearm Owners modules. The Standard & Seniors modules are available in Spanish. All modules are available to presented online or in-person.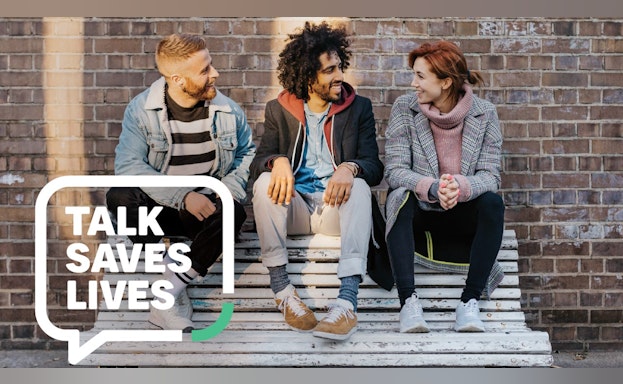 More Than Sad has taught over a million students and educators how to be smarter about mental health. There are 3 modules of this program available that are described below. All modules are available to presented online or in-person.
High school students
More Than Sad: Teen Depression is an approximately 75-minute program that teaches teens to recognize the signs of depression in themselves and others; challenges existing stigma surrounding depression; and demystifies the treatment process. This program focuses on high school students.
Parents
More Than Sad: Parent Education is an approximately 90-minute program that teaches parents how to recognize signs of depression and other mental health problems; initiate a conversation about mental health with their child; and get help. This program focuses on parents and guardians of teen youth. This presentation is also available in Spanish.
Teachers
More Than Sad: Suicide Prevention Education for Teachers and Other School Personnel is an approximately 120-minute program that teaches educators to recognize signs of mental health distress in students and refer them for help. This suicide prevention program complies with the requirements for teacher education training in many states. This program focuses on high school teachers and other school personnel.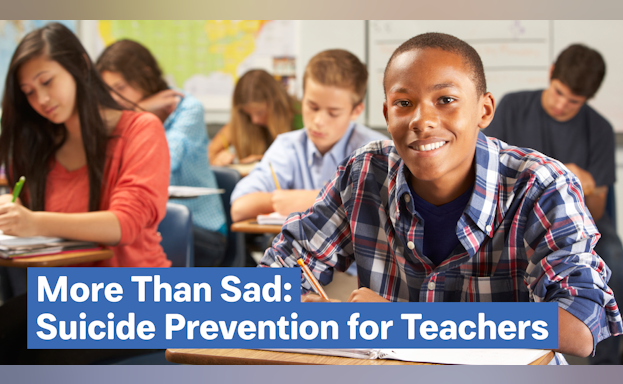 It's Real: Teens & Mental Health
It's Real: Teens and Mental Health provides youth with general mental health information and resources. The presentation defines mental health and includes guidance on starting a conversation about mental health and engaging in self-care. This program is appropriate for students, parents, and faculty for ages 14+.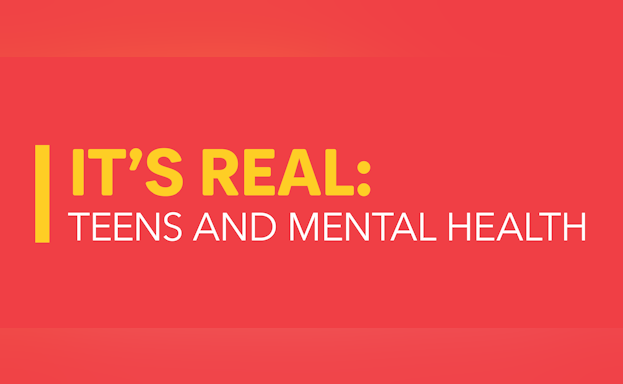 It's Real: College Students & Mental Health
This 17-minute film follows the journey of six students who wrestled with mental health concerns, sought treatment, made well being a top priority, and found their own sense of balance. It encourages students to be mindful of the state of their mental health, to acknowledge and recognize when they are struggling, and to take steps to seek help. The film is accompanied by a group discussion. This program is appropriate for ages 16+.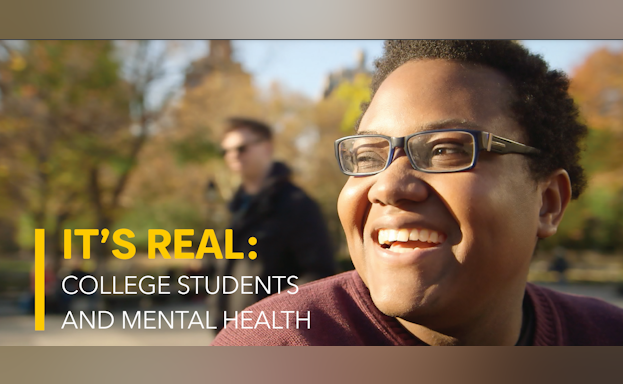 Introduction to Supporting Those at Risk
This program is intended for loved ones, caregivers, and supporters of those with lived experience of suicide attempts and/or ideations who are 18+. This presentation provides information and resources on how to support someone in your life with lived experience, while also taking care of your own mental health.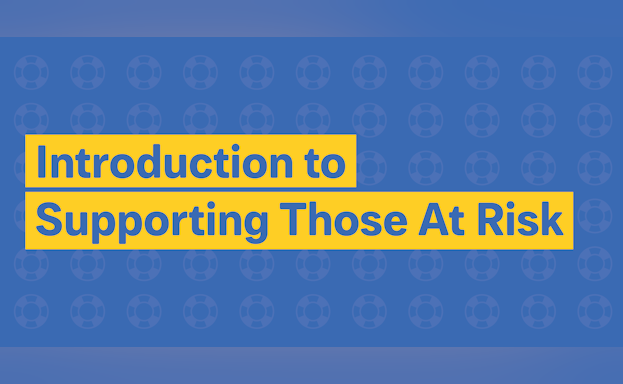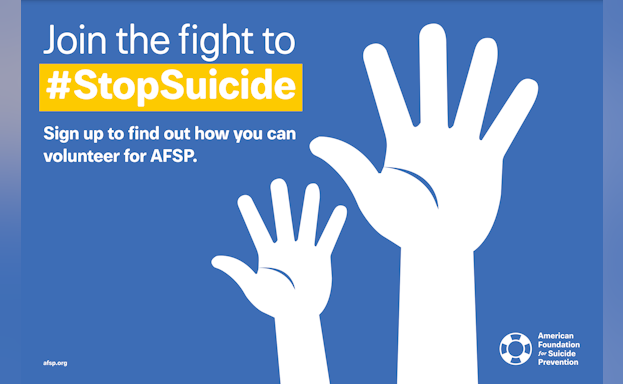 Spanish Programs
The following programs are available in Spanish in some chapters:
Talk Saves Lives: Standard Module
Talk Saves Lives: Senior Module
Enhancing Mental Health During Covid-19
More Than Sad: Parents Module
3rd Party Programs offered
AFSP is able to offer a number of programs from 3rd party partners. While not every chapter is able to offer these programs, we will do our best to meet your needs! Please be advised that third party programs may have an affiliated cost.
Gizmo's Pawsome Guide to Mental Health
Gizmo's guide to mental health seeks to introduce mental health and wellness to children ages 5-11 and their trusted adult. This interactive read-along program goes over how to care for one's mental health in a nonthreatening way. It encourages the self-identification of warning signs and when to apply the use of internal and external healthy coping strategies to help reduce risk. It introduces the characteristics of trusted adults, who may be one, how to practice talking with a trusted adult, and promotes proactive communication. It gives youth the opportunity to create a personal mental health plan (of action) that they can use daily, and in a time of need that can help them avert crisis.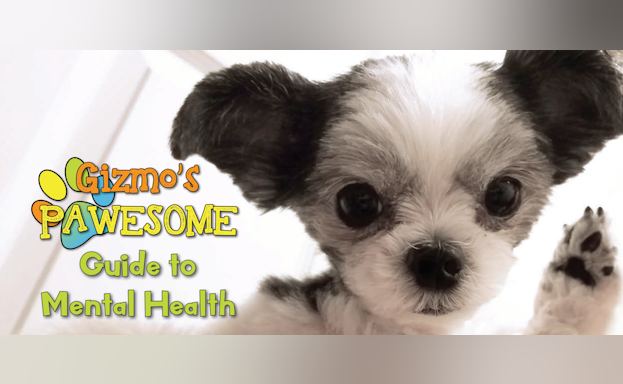 At a LivingWorks safeTALK workshop, you'll learn how to prevent suicide by recognizing signs, engaging someone, and connecting them to an intervention resource for further support.
LivingWorks ASIST (Applied Suicide Intervention Skills Training) is a two-day face-to-face workshop featuring powerful audiovisuals, discussions, and simulations.
LivingWorks Start is an online training in which participants learn a four-step model to keep someone safe from suicide and have opportunities to practice the model through simulations.
Mental Health First Aid is a course that teaches you how to identify, understand and respond to signs of mental illnesses and substance use disorders. The training gives you the skills you need to reach out and provide initial help and support to someone who may be developing a mental health or substance use problem or experiencing a crisis. Youth and Adult version are available.
Soul Shop workshop designed to familiarize participants with the incidence and impact
of suicide on their faith communities, and train them to address issues related to suicide.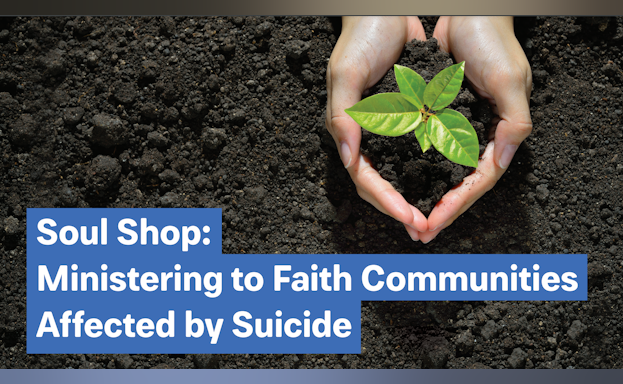 Tabling Events
AFSP is always happy to bring resources to our communities! We partner with businesses looking to offer resources to their employees, churches and other groups wanting to offer mental health and healing resources, events that reach the community (i.e. health fairs, state and county fairs, Pride events, concerts and festivals, farmers markets, veteran events, etc.), and more!
Upcoming public programs
With many of our programs taking place virtually, you might be able to find an upcoming program from any AFSP to attend! Click here for our national calendar.
Everyone has a role to play in the fight to stop suicide! Bring an education program to your work, school, club, group, or church or have AFSP table with resources at an event!