Meet Our Board Members: Danyel Lieberman
15 Feb 2021 — 2 min read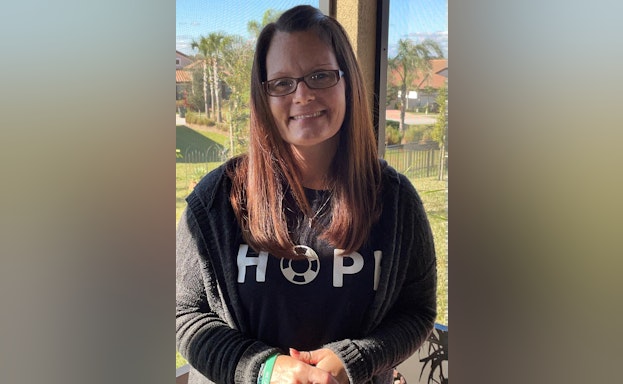 Name and Board Title
Danyel Lieberman- Central Florida Board member and Treasurer, Healing Conversations Coordinator, Advocate.
Tell us a little bit about your background – personal and/or professional.
I'm happily married and have 4 beautiful children and one amazing granddaughter. I cherish each and every moment with them. I work from home for a pharmaceutical company and I love volunteering at church, with our HOA and AFSP. I'm so blessed.
What city do you call home?
Lakeland, Florida
Where did you grow up?
I was born in Upstate NY, in a small town called Marcy. I lived there most of my life but moved to Florida about 16 years ago, No more snow!!
What are some of your favorite hobbies?
I love spending time with my family and making memories! I love traveling (and the planning that leads up to it!) and I love Disney!
What might someone be surprised to learn about you?
I was "All American Cheerleader" in high school and was in The Macy's Thanksgiving Day Parade!
Why did you become involved with AFSP-CFL?
I lost my brother Shaun to suicide in 2011 and like most suicide loss survivors, I felt alone and didn't know how to move forward. I needed support, understanding and someone to show me that there is hope for better days ahead. Volunteering with AFSP has helped me so much along my healing journey and I feel blessed to be able to share my story to help and support other loss survivors as well.
What was your first introduction to AFSP?
About a year after my brother passed, I was looking for something my family could do in his honor and I found the Orlando Out of the Darkness Walk. That day changed my life and helped me realize I wasn't alone.
What is one of the most important things you would share with the community about AFSP?
Whether you've struggled with your own mental health or have lost a loved one to suicide you are not alone. Suicide affects millions of people each year and AFSP can provide resources to help.
Anything else you'd like to share?
AFSP's Healing Conversations Program is really amazing! (I know I'm a bit partial since I'm a coordinator but it's so true!) Being able to speak with other loss survivors who truly understand can make all the difference.
What are three unexpected items on your desk?
I share my desk with my husband because we both work from home, but in my personal space, you will find… 1) my essential oil diffuser, 2) peppermint lifesavers and 3) my phone!
My Personal Favorites:
Animal- giraffe
App- Remember The Milk
Book- The Boy in the Striped Pajamas
Color- Yellow
Food- Sushi
Hobby- Traveling
Movie- The Shack
Sport- Baseball
Weekend Activity- Relaxing!
Boards, committees and councils