Volunteer With Us!
2 min read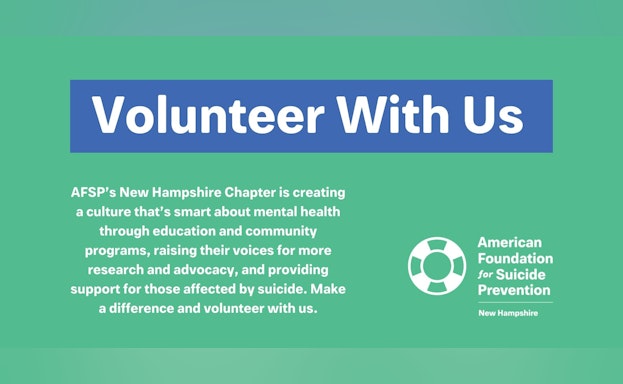 View Our
Volunteer Calendar
to See Day-Of Volunteer Opportunities and Sign-Up to Help #StopSuicide.
Click on any of the calendar events to view more details. If you are available to help, please follow the link to provide more information about your volunteer abilities.
New to volunteering with us?
Complete our New Volunteer Application to provide more details of interest. Once you submit the application, our Special Events Manager will email you to schedule a Zoom where you will learn more about the chapter and we will work to find the right place to get you started!
Looking to volunteer regularly?
Join one of our chapter committees! Read about our chapter committees and what they do here.
What do AFSP New Hampshire volunteers do?
There are many different ways volunteers can support AFSP's mission to save lives and bring hope to those affected by suicide. Volunteers can do everything from helping with pre-event or day-of event support and community events, to serving on chapter committees or even leading them!
Tips for Getting Started
With so many options for getting involved, it can be a little bit overwhelming to decide what you want to do first. Let's go through a few steps we suggest to help you learn more about AFSP, suicide prevention, and finding your best fit!
Connect
Complete our

New Volunteer Application - Be sure to check your email afterward for a message from our Volunteer Chair ([email protected]) who will reach out to you directly
Sign up as a

Field Advocate
Follow us on social media and share our posts:

Learn
Engage
Sign up to

Volunteer Day-of at an Event
Register for an Out of the Darkness Walk:
Portsmouth
Nashua
Concord
Browse the

chapter committee information to see which committees are working on initiatives that align with your personal volunteer goals, then pick one to join!
Engage your personal network in suicide prevention! Tell them about AFSP and explore what resources they are looking for, then make introductions with chapter leaders