Tennessee Advocates meet with Legislators at annual State Capitol Day
23 Feb 2023 — 1 min read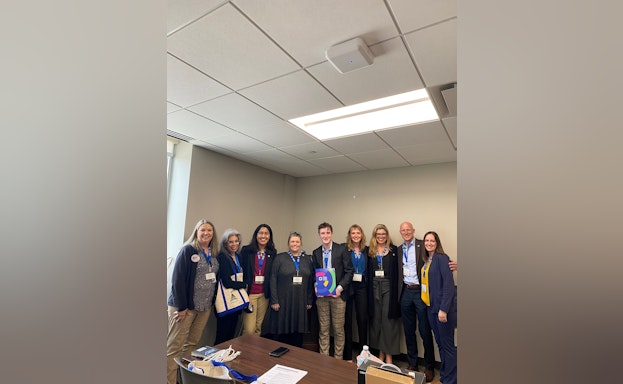 On Wednesday, February 15, 2023, AFSP Tennessee Advocates visited state lawmakers for our annual State Capitol Day. Advocates from Chattanooga, Columbia, Franklin, Hurricane Mills, Jasper, Memphis, Murfreesboro, Nashville, Sewanee, and White House traveled to the capitol to champion policies that are smart about mental health.
The 22 AFSP Tennessee Advocates spent the morning learning more about AFSP Tennessee, our programming, and how to safely talk about suicide. Field Advocate and Vanderbilt University student Joseph Sexton shared an overview of current research related to suicide risk and prevention in the LGBTQ+ community and Public Policy Committee Chair Mark Patterson provided our advocates with a basic introduction to advocating and meeting with legislators.
And then they were off! AFSP Tennessee Advocates met with over 40 legislators to share life-saving suicide prevention resources and discuss current mental health and suicide prevention legislation. We are grateful to each Legislator who took time to meet with us and learn more about how they can support life-saving bills in our state.
In the afternoon, advocates attended the Senate Education Committee Hearing where the Save Tennessee Students Act was presented for consideration by Senator Heidi Campbell. This bill would require all public institutions of higher education who print new student ID cards to include the 988 Suicide & Crisis Line number on the back of the card. The bill would also require public colleges and universities to post the Suicide & Crisis Lifeline information around campus, and to create and feature a webpage on the institution's website or mobile application that contains information dedicated solely to the mental health resources available to the institution's students. We are delighted to say that the bill passed through the committee with a unanimous vote and now awaits scheduling on the Senate floor. This is advocacy in action and we are grateful to all legislators who have supported the bill.
If you would like to get more involved with Advocacy and Public Policy in Tennessee, please email Area Director Meghan Gwaltney at [email protected]