Volunteer Spotlight: Dennis Lasley, AFSP-Alaska's Longest Serving Board Chair
10 Sep 2021 — 2 min read
Tagged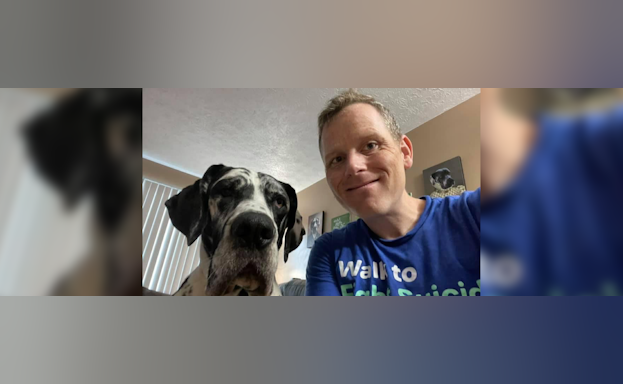 Volunteer Spotlight: Dennis Lasley, AFSP-Alaska's Longest Serving Board Chair
Trace the roots of the American Foundation for Suicide Prevention's Alaska Chapter back to its beginning and one ends up in Boston. Four-time zones and more than 4,500 miles away in the summer of 2010 Dennis Lasley participated in his first Overnight Out of the Darkness Walk. "I was amazed at how healing the event was." Lasley, who lost one of his best friends to suicide two years earlier, walked alongside other survivors of suicide loss, raising awareness, and growing from strangers to friends by the end of the more than 20-mile event.
Lasley is AFSP-Alaska's longest-serving Board Chair, with an unprecedented 10 plus years in the voluntary position and one of the chapter's founding members. "The Chapter started as a Board of nine volunteers. In the last 10 years we have grown to represent well over 500 volunteers across the state," he said.
It's been ten years since Anchorage's first Out of the Darkness Walk launched with 126 registered participants. By 2019, the walk grew to more than 1,000 participants and raised more than $100,000 dollars. "The community response has been tremendous," he said. When a late snow fell the night before the 2013 walk, Lasley recalls the inclement weather prevented tents, tables, and toilets from being delivered. "We still had over 300 Alaskans brave the weather and support the event. Many came up and told us this was the most 'Alaskan' event they have been a part of and loved every aspect of it."
While the walks are one-way AFSP-Alaska connects communities, Lasley says the International Survivors of Suicide Loss Day (ISOSLD) in Toksook Bay is truly remarkable.
Jim Biela, also a founding member for AFSP-Alaska is based in Bethel and is integral in helping the region facilitate its ISOSLD program. "With approval from the village elders, the youth have taken this event and turned it into a week-long remembrance event," Lasley said.
ISOSLD is traditionally held in November around the globe, but for the community of Toksook Bay, the event is held in the spring. "There are community potlucks, educational presentations, traditional dances, and drumming and the event ends with an awareness walk," Lasley describes photos of the ceremony as breathtaking.
After a decade of dedication, Lasley stepped down as Board Chair in July 2021 but continues to volunteer with the organization on both local and national levels. Fueled by his passion to save lives and conquer new challenges, in 2022, Lasley will push himself toward his biggest feat yet when he competes in the Alaska Ironman Triathlon, using his training and experience as a fundraiser for AFSP-Alaska.