Being Who I Needed When I Was Younger
11 Nov 2021 — 4 min read
Tagged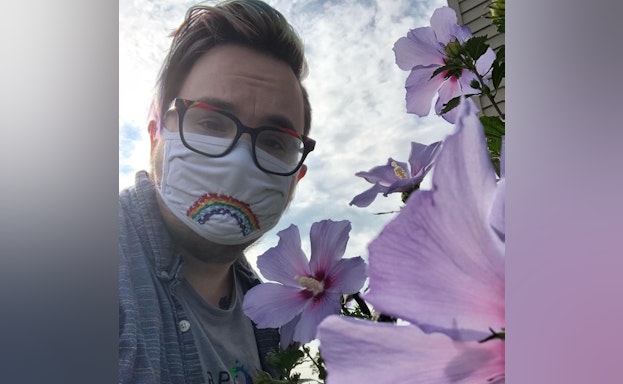 Since beginning my full time work as Program Coordinator for the Lesbian, Gay, Bisexual, Transgender, Queer & Questioning (LGBTQ) Program of Family Counseling Service of the Finger Lakes, Inc., I've taken up dying my hair funky colors again. After I'd had it blue in college, I'd been working around the country in various roles where I hadn't felt comfortable doing so. But I'm here now! Right now, it's purple for Spirit Day and Domestic Violence Awareness. It's been all sorts of hues across the time I've been in this position, where I feel I can be my authentic self. I keep it this way not just for myself, but because it's an easy way for me to be spotted by the LGBTQ youth and adults in the local community.
"Be who you needed when you were younger" has been the motto of my career as an advocate and as someone who identifies as a bisexual transgender man. Every time I visit a school to provide support as a crime victim advocate, or to run an educational program that teaches about LGBTQ+ topics in an age appropriate way (including history, using pronouns, gender, etc.), I think about the difference it would have made for me to have an adult from the LGBTQ community in my life to talk to when I was younger, isolated and depressed. Seeing an adult unapologetically rocking their true colors is a special kind of empowering, and a privilege I did not have just ten years ago when I was a teen, myself. Students routinely tell me that it means the world to see someone who looks like them, grown up, happy, and present here. That's my goal for all of them.
Research consistently tells us that youth who identify within the LGBTQ Community are four times more likely to think about, make a plan for, and attempt suicide than their cisgender and heterosexual peers. We know that affirming care and treatment for LGBTQ youth and adults is the strongest tool for reducing the risk of a reattempt. We also can pretty safely estimate, based on census data and a 2021 Gallup Poll that roughly 1 in 25 people will self-identify as LGBTQ here in New York State.
I encourage educators to think of it as though in every classroom they enter, there is at least one student who needs affirmation and validation from allies and LGBTQ peers. The same can be said of every waiting room, every office building, every yoga class: anywhere people gather. There is no community or school district that doesn't have people needing to hear the specific message that it is okay to be who they are, and have that be backed up by a willingness to connect them to truly affirming services that meet their needs for mental health care, medical care, housing, advocacy, and more.
While the risk of suicide is high, we also know that the presence of one affirming adult in an LGBTQ young person's life lowers the risk of a suicide attempt by a staggering 40%. For me, in middle school, it was my home economics teacher and tutor, Mrs. M-T. Then, my person was my high school Spanish teacher, Profe, who supported me in founding the first LGBTQ Student Club at my school, which still runs today and fills my heart every time I visit. Even in college, through my early transition and the very worst of my mental health struggle, it was through the support of my academic advisor, Melissa, and my college chaplain, Eric, that I was able to land on my feet.
Allies make a huge difference, but there's something special that happens when LGBTQ people are able to connect with other LGBTQ people. Every week I facilitate a peer support group called You Are Not Alone, or YANA for short, for LGBTQ youth between the ages of 10-18. Twice a month, I also hold space for the Trans and Gender Expansive Coalition, a peer group of adults of many gender identities – it had been a lifeline for me years ago, prior to my becoming the facilitator. In these groups, attendees share their stories, struggles, and accomplishments with one another. We strive to maintain a space that is brave, safe and empowering. Most important is that that space stays consistently available. Hope is ignited every time someone can say, "I'll be here to help you get through it," and back that up with consistent presence.
I'll soon be taking my purple hair, my fall boots, and my presence back to the school I once attended, as well as other places in the future as an advocate. In my own journey, I've found strength in my chosen family, as well as connections fostered with other advocates around the country through Centerlink, the National Network of LGBTQ Resource Centers. While I cannot be everywhere, try as I might, I emphasize education and commitment to learning. Anyone can make a difference in the life of an LGBTQ person. The willingness to listen without judgement is all you need to get started.
Learn more about LGBTQ mental health and suicide prevention.