Bringing LGBTQ+ Suicide Prevention to Little Rock
29 Mar 2018 — 1 min read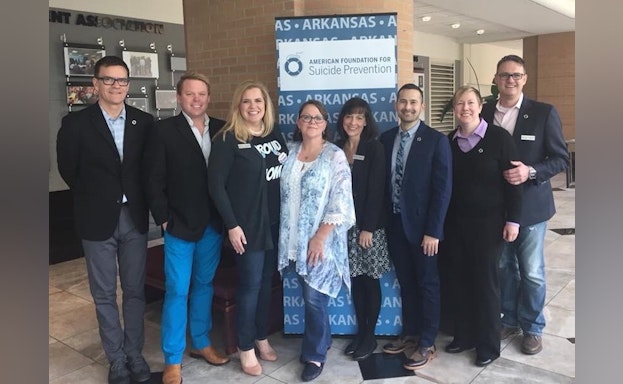 Mar 29, 2018- According to a study done by the National Action Alliance for Suicide Prevention, the LGBTQ+ population is at higher risk for suicide than the general population. Most mental health professionals, however, are not trained to understand the unique discriminatory experiences that can contribute to an increased risk for suicide in this population. To address this need, the Arkansas chapter of the American Foundation for Suicide Prevention decided to host Stronger Communities: LBGTQ+ Suicide Prevention, a full-day conference to teach local mental health providers how to address suicide risk in the LGBTQ+ community.
This one day conference, held at the University of Arkansas at Little Rock on Saturday, March 10, 2018, offered attendees an opportunity to hear from leading national and local experts on suicide prevention and the LGBTQ+ population. The purpose of the conference was to raise awareness about LGBTQ+ suicide risk, bring research findings to the attention of professionals and the public, and explore strategies for LGBTQ+ suicide prevention in the community.
National speakers included Stephen T. Russell, Ph.D., Jody Herman, Ph.D., John Blosnich, Ph.D., and special lunch speaker Kimberly Shappley, who shared her personal story of raising her transgender daughter Kai. The program featured presentations on topics including: Understanding and Preventing Suicide in LGBTQ+ Communities; Suicide Risk and Prevention Among Transgender People; and Questions of Life and Death: Seeking Answers about Suicide Deaths Among Lesbian, Gay, Bisexual and Transgender People. Local presenters included Mary Meacham, Jon Mourot, Katy Allison, and Dr. Janet Cathey.
"Unfortunately, accurate information is not always readily available to the public when it comes to the LGBTQ+ community and suicide prevention. We therefore thought it was important to bring this conference to the state in order to give attendees the information and tools they need to turn the numbers around," said Arkansas chapter board vice-chair Christopher Epperson. "Suicide is preventable, and we need to educate professionals and the public of the increased risk of suicide among the LGBTQ+ community."
The conference was made possible by funds raised at AFSP's Out of the Darkness Walks and other local fundraisers. Based on feedback from attendees, the event was a huge success, with many participants commenting that they were leaving feeling better prepared to address this challenge in their community. It is our hope that more conferences like this, across the country, will help reduce the suicide rate among the LGBTQ+ community.