Conference in Alabama Spotlights Suicide Prevention for the LGBTQ+ Community
12 Jun 2018 — 3 min read
Tagged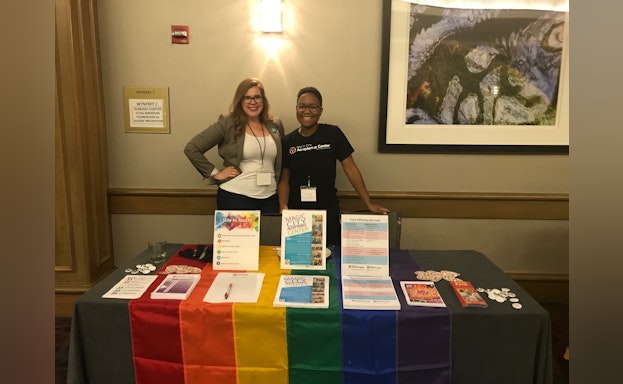 Jun. 12, 2018- On May 5th, attendees of the Stronger Communities: LGBTQ+ Suicide Prevention Conference in Birmingham, Alabama came from across the state to take part in the day-long program hosted by the Alabama chapter of the American Foundation for Suicide Prevention. Over 60 members of the local community, including students, parents, educators, and mental health clinicians, attended the event. Speakers included three nationally recognized experts in the field of LGBTQ+ populations and suicide prevention, as well as six local speakers sharing their knowledge on local resources available to the community.
Dr. Ilan Meyer, a Williams Distinguished Senior Scholar of Public Policy at The Williams Institute, UCLA School of Law, shared findings on several research studies published on suicide risk and attempts in LGBT individuals. His presentation, Minority Stress and Suicide Risk in Sexual Minorities: What We Know and What We Need to Know, focused on LGBT youth's experience of prejudice and lack of support in their social environment. His findings concluded that this prejudice leads to a much higher risk of mental health problems and suicide compared to cisgender heterosexual peers.
Ashby Dodge, LCSW, Chief Clinical Officer at The Trevor Project – the leading national organization providing crisis intervention and suicide prevention services to LGBTQ youth under the age of 25 – presented Connect, Accept, Respond, Empower: How to Support LGBTQ Youth, speaking on how LGBTQ youth can be supported by their communities in various areas of their lives. Sharing videos from support services available through The Trevor Project, as well as the importance of using preferred pronouns (such as "she," "they," etc.), Ms. Dodge's presentation focused on supporting youth by following their cues. "Young people are the experts of their own life. They know their life best, and we need to follow their lead." This theme continued as she explained ways to promote resiliency in all youth by teaching self-care and focusing on the strengths of each individual.
Dr. Caitlin Ryan, Director of the Family Acceptance Project at San Francisco State University, spoke on her research in her presentation Critical Role of Family Support in Preventing Suicide and Promoting Well-Being for LGBT Youth. Her presentation highlighted the development of an evidence-based family intervention approach to protect LGBT youth from depression and suicide risk. Dr. Ryan explained how the program, The Family Acceptance Project, utilizes the strengths of each family, including ethnic and religious diversity, to prevent rejecting behaviors among the family unit and lower suicide risk for LGBT youth. The results from her research showed that this intervention protects against serious health concerns for LGBT youth, including suicidality, depression, substance abuse and STDs.
Attendees were also given the option to learn from different breakout sessions highlighting local resources available to them in the community. Amanda Keller, founding director of the Magic City Acceptance Center (MCAC), a project of Birmingham AIDS Outreach, shared the various direct services available to LGBTQ youth at MCAC, including: drop-in hours, art programs, HIV/STI testing and education, support groups, free counseling, and Queer Prom. Since 2014, MCAC has served 650 LGBTQ youth ages 13-24 in Birmingham.
In a state where mental health needs are great and lack of resources is common, the Stronger Communities conference offered a place for LGBTQ+ identifying individuals and allies to meet and learn more about how to support this population. Over an abundant Cinco de Mayo lunch buffet, participants were encouraged to network with each other over casual conversation and delicious food. The atmosphere created a space where everyone was welcome to share their experiences and learn from each other, something that needs to happen to meet the needs of LGBTQ+ individuals and prevent suicide in the future.
Marissa Grayson, the Stronger Communities Conference Chair for the AFSP Alabama Chapter, said, "The conference provided an invaluable opportunity for over 60 health care professionals, educators, students, activists, and community members to learn more about improving and supporting the mental health of the LGBTQ+ community in the state. Through keynote and breakout speaker sessions, networking opportunities, and shared resources from local organizations, individuals learned important skills and resources to stop suicide."