Local Walk Raised $1M to Fight Suicide
18 Oct 2018 — 3 min read
By AFSP
Tagged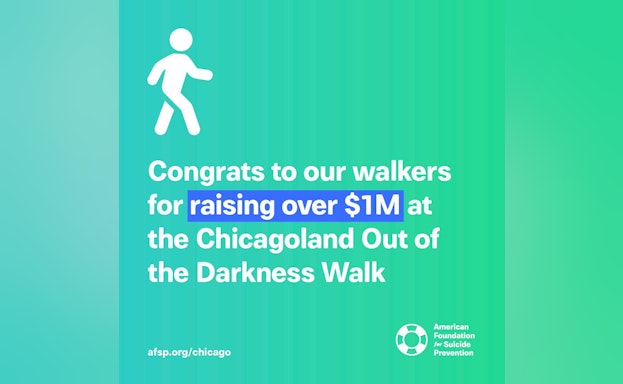 Contact: Courtney Collins, AFSP Illinois Area Director, ccollins@afsp.org; 312-802-9714
LOCAL WALK RAISED $1M TO FIGHT SUICIDE

Chicago First Out of the Darkness Community Walk to Raise Over $1M
CHICAGO (OCTOBER 18, 2018) – Over 7,000 people gathered in Chicago from across neighborhoods all over the city and suburbs to raise money to prevent suicide this past month. On September 22, suicide loss survivors and those who struggle with thoughts of suicide joined together to bring awareness to this important health issue. When the walk was finished, these warriors raised over $1M for suicide prevention. This was the first Out of the Darkness Walk to raise this much money. Overall, Out of the Darkness Community Walks are up this year over last year, a clear indication that the nation is ready to talk about suicide openly and invest in lowering the national suicide rate.
"When we started our walks program 15 years ago, some were skeptical that people would walk for suicide prevention. Today, we know that nothing could be farther from the truth. Our walks have raised significant awareness and funds for suicide prevention research and programs, and they have involved millions of people in our cause. This year alone, over 275,000 people will walk in a community walk and over one million will donate in support of a walker. And we have our first million dollar Community Walk. Congratulations to our Illinois AFSP Chapter and to everyone in Chicago for reaching this amazing milestone and proving that suicide is a problem people care deeply about and are ready to join in the fight to prevent it," said Robert Gebbia, AFSP CEO.
The Out of the Darkness Chicagoland Walk is one of more than 420 Out of the Darkness Community Walks being held nationwide this year. The walks unite people affected by suicide, their friends and families and all those who care about this issue, and they raise millions for suicide prevention efforts. This year the Chicagoland Walk had 7,206 participants.
"My involvement in AFSP and with the Illinois chapter has provided me with a place of belonging and a sense of purpose after losing both my sister and my dad to suicide. Becoming active in AFSP has validated that I am not alone in my grief or personal struggles. It has awakened a realization that I am part of a greater movement in how suicide and those affected by it are perceived in our society," said Erika Barber, AFSP volunteer board member with the AFSP Illinois chapter. "The impact of this notable increase in funds will not only further our reach within Illinois to underserved populations it will also empower us to offer even more free trainings and educational programs. This incredible $1M milestone is a testament to the heart of the Chicagoland community, to their passion for suicide prevention and to their collective belief in the mission of AFSP. This truly is the embodiment of what can be realized through the power of connection."
Local sponsors for the Out of the Darkness Chicagoland Walk included: 100.3 She Chicago, Ageless Arts Tattoo, the Bruce C. Abrams Foundation, the Clarity Clinic, the Dylan Balogh Foundation, the Gift of Hope Tissue Network, John Burns Construction Company, the Jake Vineyard Foundation, the Kiran Bavikatte Foundation, Northern Trust Military Appreciation and Assistance Resource Council, Razorfish Health, Riveredge Hospital, Salsa 17 Mexican Grill, Skyline Media Group Inc., Spiritist Society of Chicago, Turtle Wax, the University of Illinois Center on Depression and Resilience, and Yellowbrick.
Walk donations are accepted until December 31. Photos from the walk can be found here.
The American Foundation for Suicide Prevention is dedicated to saving lives and bringing hope to those affected by suicide. AFSP creates a culture that's smart about mental health through education and community programs, develops suicide prevention through research and advocacy, and provides support for those affected by suicide. Led by CEO Robert Gebbia and headquartered in New York, and with a public policy office in Washington, D.C., AFSP has local chapters in all 50 states with programs and events nationwide. Learn more about AFSP in its latest Annual Report, and join the conversation on suicide prevention by following AFSP on Facebook, Twitter, Instagram, and YouTube.
###