Making International Survivors of Suicide Loss Day Accessible to the Deaf Community
November 16, 2023 – 4 min read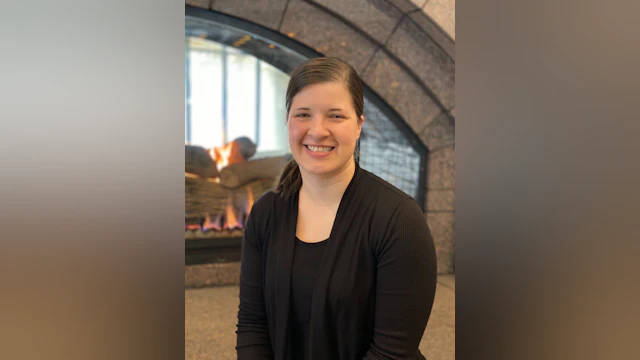 For almost 20 years, my identity has been linked to my career: I'm an American Sign Language (ASL) interpreter. I've spent more than half my life in the Deaf Community, and am forever grateful they've allowed me to be part of their world. On March 31st, 2017, I gained a new identity: a Sibling Suicide Loss Survivor. My 18-year-old brother Logan died by suicide, only two months before graduating high school. Born and raised in a wealthy suburb of Minnesota, we always thought suicide was an "other people" problem; we learned quickly that wasn't the case.
What I definitely didn't know back then, was just *how many* people have been affected by suicide. So many, in fact, that there's a day called International Survivors of Suicide Loss Day, which takes place each year on the Saturday before Thanksgiving. It was founded in 1999 by Senator Harry Reid after his father's death by suicide. Also known as "Survivor Day," this is a yearly event sponsored by the American Foundation for Suicide Prevention (AFSP), and is hosted all around the world. I remember going to my first Survivor Day a mere eight months after my brother died and was shocked by how many people were just like me; it was painfully beautiful, and it jumpstarted my healing journey.  
It was such a benefit, emotionally and mentally, to gather every year with people who truly "get it." I started thinking about the Deaf Community though, and wondered if Deaf survivors had a similar place to gather. Well, it turns out they didn't. So, when COVID-19 hit and many formerly in-person Survivor Day events were temporarily transferred to Zoom in 2020, it gave me an idea: Why not host a virtual Survivor Day event specifically for the Deaf Community and those who are fluent in American Sign Language? I reached out to my local Minnesota AFSP Chapter and the immediate answer was yes! 
November 20, 2021, was the first ASL-only Survivors of Suicide Loss Day event on Zoom, and we had 60 attendees!  
I set up breakout rooms in which suicide loss survivors with similar connections to their lost loved one could speak together, i.e., parents who lost children in one room, adult children who lost parents in another, siblings, spouses, close friends, etc. In the breakout rooms, these different groups could talk openly about the specific considerations related to their loss. The unique part about this Survivor Day event was that there was no need for interpreters; everyone was fluent in ASL. 
Deaf people often don't have many places they can go where everyone will understand their language without the use of interpreters. Deaf survivors of suicide loss face even more challenges. Many of their families don't know ASL; volunteer/peer-run support groups don't have money to pay for interpreters; there aren't enough Deaf/sign-fluent therapists (especially those who may also be suicide loss survivors and truly "get it"); and there aren't enough interpreters who know about suicide well enough to be able to accurately interpret the content without unintentionally causing more harm to the Deaf survivor. All of these reasons factored into my feeling that a special Survivor Day ASL event was needed. 
The response to this event that first year was positive and eye-opening. It was the first time many of the Deaf survivors were able to talk about their loss without that extra barrier of having to work through an interpreter, or without having to use pen and paper to communicate painful details related to their loss. Many commented that their grief had been 'delayed' due to lack of access to communication even amongst their own family.
Being in a space in which everyone knew ASL felt like a breath of fresh air. Many Deaf attendees finally felt validated that their pain and grief looked different than that of everyone else in the world who can hear. When you don't have communication barriers, you can attend any support group or therapist anytime you want; Deaf suicide loss survivors don't have that luxury. 
We held this special Survivor Day ASL event again in November of 2022. In addition to welcoming new attendees, it became a sort of 'homecoming' for participants who had attended in 2021 — a place they could reconnect and share how their healing journey had been that year.
This year, we had an incredible turnout for Survivor Day ASL on November 18, 2023. It was my third year hosting this special event with AFSP's Minnesota Chapter, and I can't wait to do it again next year. The event is open to anyone fluent in ASL who has experienced the loss of a loved one to suicide: Deaf community, interpreters, codas (children of Deaf adults), parents, teachers, etc.
If you missed this year's event, we look forward to having you join us in November of 2024. To learn more about International Survivors of Suicide Loss Day, also called Survivor Day, click here.