Multi-Platinum Artists Brent Smith and Zach Myers of Shinedown to Join Suicide Prevention Walk in Washington, D.C.
16 Oct 2018 — 3 min read
By AFSP
Tagged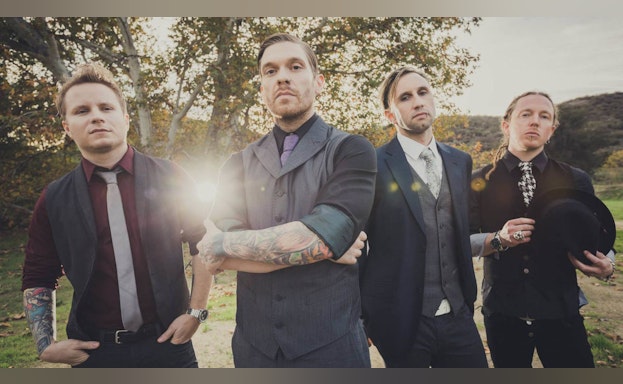 American Foundation for Suicide Prevention Contact:
Alexis O'Brien; aobrien@afsp.org; 347-826-3577
Shinedown Contact:
Carla Senft; carla@pressherepublicity.com
Multi-Platinum Artists Brent Smith & Zach Myers of Shinedown to Join Suicide Prevention Walk in Washington, D.C.
WASHINGTON, D.C. – October 16, 2018 – Brent Smith and Zach Myers from the multi-platinum rock band Shinedown will join the DC101's One More Light walk team at the 12th Annual Washington, D.C. Out of the Darkness Community Walk to benefit the American Foundation for Suicide Prevention (AFSP). More than 2,500 people from throughout the D.C. Metro Area are expected to participate in the walk scheduled for 3 p.m., October 20 at the Lincoln Memorial. Media interested in covering this event should register by calling or emailing Alexis O'Brien, at 347-826-3577 or aobrien@afsp.org.
"People from all walks of life must be compassionate and understanding toward one another. When we do that, we can help save lives. We will walk on Saturday to show our support for our fellow brothers and sisters, and show the entire world that we recognize that mental health is just as real as physical health," said Brent Smith of Shinedown.
The 2018 Washington, D.C. Out of the Darkness Community Walk is one of more than 400 Out of the Darkness Community Walks being held nationwide this year. These walks are expected to unite more than 250,000 walkers and raise millions for suicide prevention efforts. The 2017 Washington, D.C. Out of the Darkness Community Walk hosted more than 2,000 participants and raised over $260,000. This event supports AFSP's education and advocacy programs and its bold goal to reduce the annual rate of suicide 20 percent by 2025.
"These walks are about turning hope into action," said AFSP CEO Robert Gebbia. "Suicide is a serious problem, but it's a problem we can solve. The research has shown us how to fight suicide, and if we keep up the fight the science is only going to get better, our culture will get smarter about mental health, and we'll be able to save more lives."
Shinedown's powerful new single "GET UP" (listen here) from their chart-topping album ATTENTION ATTENTION (Atlantic Records) has been moving listeners around the globe with its offer of hope, empathy and encouragement in the face of personal struggles of any kind, especially with mental health issues. Offering a light in a time of darkness is something front man Brent Smith is deeply connected to after battling his own personal demons. The beautiful, universal song "GET UP" was born out of watching his friend, Shinedown bassist Eric Bass, deal with clinical depression.
ABOUT AFSP
The American Foundation for Suicide Prevention is dedicated to saving lives and bringing hope to those affected by suicide. AFSP creates a culture that's smart about mental health through education and community programs, develops suicide prevention through research and advocacy, and provides support for those affected by suicide. Led by CEO Robert Gebbia and headquartered in New York, and with a public policy office in Washington, D.C., AFSP has local chapters in all 50 states with programs and events nationwide. Learn more about AFSP in its latest Annual Report, and join the conversation on suicide prevention by following AFSP on Facebook, Twitter, Instagram, and YouTube.
ABOUT SHINEDOWN
Leading the charge for 21st century rock, multi-platinum, record-breaking band Shinedown - Brent Smith [vocals], Zach Myers [guitar], Eric Bass [bass, production], and Barry Kerch [drums] – has sold more than 10 million albums and 10 million singles worldwide, has 11 platinum and gold singles and four platinum and gold albums, 13 #1 active rock hits, and averages more than 4 million monthly listeners on Spotify as one of the most-listened-to rock bands on the platform with over 600 million streams, contributing to their more than 1 billion total overall streams to date. Every single released throughout the band's career has hit Top 10 on the rock charts – an unparalleled feat. Shinedown's latest album ATTENTION ATTENTION simultaneously hit #1 on Billboard's Alternative, Top Rock and Hard Rock Albums Charts and debuted Top 5 on the Billboard 200 and #1 on iTunes.
# # #