Over a Thousand People to Walk Overnight in June to Prevent Suicide in San Francisco and Boston
14 Jan 2019 — 2 min read
By AFSP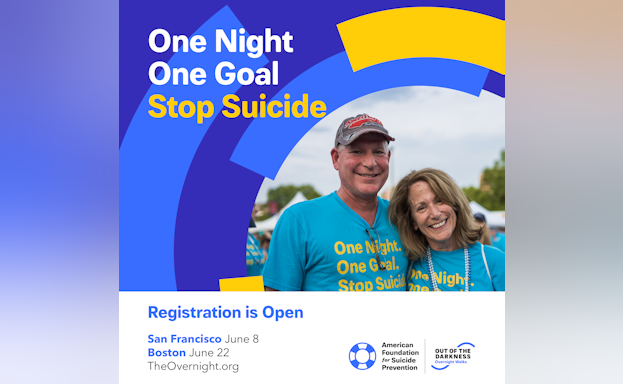 Contact: Alexis O'Brien, PR Director, 347-826-3577, [email protected]
NEW YORK (January 14, 2019) – The American Foundation for Suicide Prevention is proud to announce the 2019 Out of the Darkness Overnight Walks will be held in San Francisco on June 8-9 and in Boston on June 22-23. Participants from across the country walk more than 16 miles from sunset until sunrise to raise money and awareness for suicide prevention. Money raised from the walks support the American Foundation for Suicide Prevention. AFSP funds research, creates educational programs, advocates for public policy, and supports survivors of suicide loss.
"We must do more to prevent suicide in our country. To ensure this happens, AFSP set a bold goal to reduce the rate of suicide 20 percent by 2025, but we know that we can't do this alone," said AFSP CEO Robert Gebbia. "Because of our dedicated Overnight Walkers who walk all night to raise awareness and funds for suicide prevention, we are optimistic that we will achieve our goal and save thousands of lives."
Each Walker raises a minimum of $1,000 to participate in the Overnight walk. Students and members of the military raise $700. Last year over three thousand five hundred people participated in Dallas and Philadelphia and raised more than $3.4 million dollars. This is the fourth time the Overnight Walk has been held in San Francisco and the third time it has been held in Boston. The first Overnight Walk was held in 2002 in Washington, D.C.
Walkers wear honor beads to represent their connections to the cause. Red represents the loss of a spouse or partner; white the loss of a child; gold the loss of a parent; orange the loss of a sibling; purple represents the loss of a friend of relative; silver represents the loss of a first responder or military personnel; green represents a personal struggle; teal represents a friend or family member's struggle; blue represents support of suicide prevention and is also worn by mental health professionals.
To register for the Overnight go to theovernight.org/register.
The American Foundation for Suicide Prevention is dedicated to saving lives and bringing hope to those affected by suicide. AFSP creates a culture that's smart about mental health through education and community programs, develops suicide prevention through research and advocacy, and provides support for those affected by suicide. Led by CEO Robert Gebbia and headquartered in New York, AFSP has local chapters in all 50 states with programs and events nationwide. AFSP celebrates 30 years of service to the suicide prevention movement. Learn more about AFSP in its latest Annual Report, and join the conversation on suicide prevention by following AFSP on Facebook, Twitter, Instagram, and YouTube.