Pups and Their Peeps Raise Awareness for Suicide Prevention
12 May 2020 — 4 min read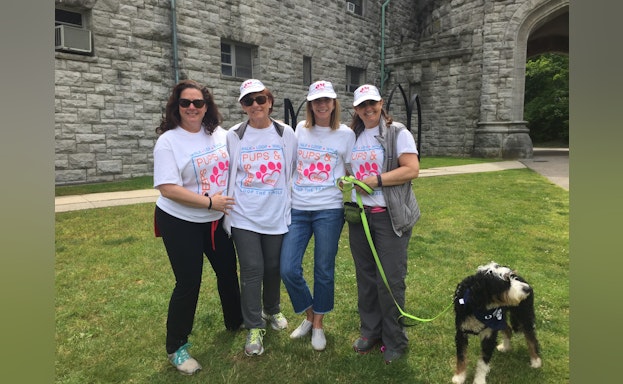 Please note that the safety of our volunteers, staff and participants is of utmost concern, and due to the uncertainty surrounding COVID-19 this year's Paws for Prevention "Pups and Peeps Loop the Trails" event scheduled in June will be held virtually. For further updates, please refer to the AFSP Long Island Chapter.
In the months after my husband Flavio died by suicide, I found comfort in the familiarity of walking our pup Jujuba along the beach in Key Biscayne, Florida, as we had so many times before. Walking together with Jujuba and spending time in nature brought a sense of calm and serenity during a very difficult time.
May 12, 2020 - A year after my husband passed, my boys and I relocated back to Long Island, New York, where we had lived some years earlier. We took full advantage of our new neighborhood and began to loop the same trails with our pup as Flavio and I had done with the boys when they were little, in the beautiful and historic Sands Point Preserve in Port Washington, Long Island. As the next anniversary of Flavio's death was approaching, I knew I wanted to do something meaningful to commemorate the light and love he shared with the world.
My family had relocated many times for my husband's career while raising our boys, and each time I realized the significance of creating ties to our new community. It was the ties that bind in the community – and the happiness and joy our pup Jujuba brought to us while looping along these scenic trails – which sparked the idea of creating a community dog walk to raise funds and awareness for suicide prevention and mental health, in memory of my husband.
After contacting the Sands Point Preserve and receiving their support for hosting an event at the location, I reached out to my local chapter of the American Foundation for Suicide Prevention to get some direction. In June 2017 the first annual "Pups and Peeps Loop the Trails" was created, a very special AFSP "Paws for Prevention" event to be held at the Sands Point Preserve. Over 70 people, many of them my own family and friends, came together to raise over $8,000 for suicide prevention programs such as education, research, advocacy, and support for those affected by this leading cause of death.
Coming together to share in the experience of looping the trails of the Preserve in memory of my husband and of all those affected by suicide, was a very powerful moment. Participants wore our "Pups and Peeps Loop the Trails" T- shirts, and our pups sported a matching bandana. The walk provided an immense sense of purpose for many as we remembered the lives and loves we once shared, and formed new friendships to be celebrated year after year.
Encouraged by the results of that inaugural effort, I knew I wanted to expand this event for the following year. I set a goal to further our promotional efforts. We began our efforts sooner this time, and I enlisted the help of my sons and local high school groups to bring together more of our local community. Our efforts paid off with over double the attendance in 2018, as 159 people registered to walk and over $16,000 raised. Our 2018 event saw not only many of my own friends and family participating, but many acquaintances from the community.
Many who have attended the event have shared that their dogs are an important aspect of their self-care and their healing journeys after a loss. It's a wonderful thing to bring together not only those in our community who have been affected by suicide, but also their beloved pets, who for many have been so crucial in their own story of hope and healing.
The Pups and Peeps "Paws for Prevention" event has continued to expand its influence in our local community, and this past year we saw over 200 attendees walking with their beloved pets and raising over $26,000 — including our first donation from a local organization — to support AFSP's mission to save lives and bring hope to those affected by suicide. Many who came to our 2019 event were new participants, sharing their own stories of loss, personal struggles, and healing. All of them spoke of how their dogs were a way to bring them, and our community, together.
This year, we've collaborated with the superintendent of schools and began discussing plans for a community art project centered on mental health, in which middle school and high school students create art pieces which could then be auctioned off at next year's event.
Since we first founded "Paws for Prevention" in 2017, the event has since expanded to other communities across the country, from Santa Fe, New Mexico, to Buffalo, New York, and many places in-between. Our Pups and Peeps Loop the Trails "Paws for Prevention" event will once again take place this summer, on June 7, 2020 at Sands Point Preserve in Port Washington, Long Island.
For my personal healing, the Pups and Peeps "Paws for Prevention" event continues to be a labor of love, an effort to spread light and love in our community, and ensure that Flavio's memory shines brightly. Side-by-side with Jujuba, I know we've brought our community closer, and that with each passing year, we will continue to make a difference.
The Sands Point Preserve Pups and Peeps "Paws for Prevention" event in Port Washington, Long Island will be held virtually on June 7, 2020
Find an event close to you – or find your local chapter and plan a "Paws for Prevention" event in your own community!