Spotlight Interview: A Conversation with Anne Deubel
16 Feb 2018 — 4 min read
By AFSP
Tagged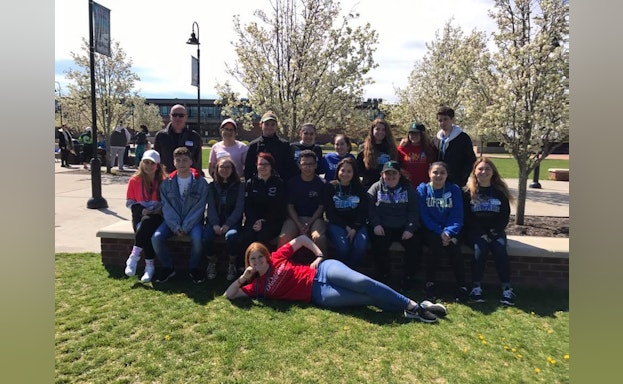 February 16, 2018 - Anne Deubel is a 20-year-old student who has been participating in AFSP's Out of the Darkness Walks since she was 14 years old. In 2017, she organized the first ever Campus Walk on Long Island.
How did you first get involved with AFSP?
I truly believe it was an act of fate. When I was 14, I received a Facebook message from a family friend who was attending the 2011 Out of the Darkness Community Walk near me in Long Island. I attended to catch up with them. I was so inspired by the experience, that I reached out to my local chapter, and joined the committee to help plan the following walk!
It was during this time, as I became more educated about mental health, that I began to identify some of the common warning signs in my own thought processes – something I had experienced since I was younger. After a conversation with an older cousin, who received her PhD in developmental psychology, I began receiving treatment and learning coping skills throughout high school and college.
How did your involvement shift from helping to organize the walks to becoming a board member of the Long Island chapter?
Two years ago, I lost my aunt to mental illness. Already being involved with AFSP, I was surrounded by understanding and support. It also infused my volunteer work for AFSP with even more meaning. So my commitment to AFSP naturally grew.
I was invited to AFSP's Chapter Leadership Conference, a once-a-year event in which volunteers and staff come together from across the country to share their experiences and learn how to have the most impact on their communities. That level of trust empowered me with confidence about my potential.
As a board member now for the Long Island chapter, my responsibilities include volunteer engagement and coordination, small third-party events, social media, and campus walks. I also speak at events sometimes as well about my own personal experience.
This past year, you organized the first ever Campus Walk on Long Island. What inspired you to make that happen?
I was in my second year as a student at Suffolk County Community College. I had done a group project for one of my classes in which I identified psychological stressors that were unique to many community college students, and needed to propose a solution. Naturally, I decided to plan an AFSP Campus Walk for my own school!
I was hoping in arranging for the Campus Walk to show other students that they are not alone in their struggle, and expose them to mental health education and help-seeking behaviors.
What actually went into setting up and organizing the walk? Were there any particular challenges?
My first step was visiting the counseling center. I knew they had an interest in helping students who struggled and encouraging positive mental health. We met once a week, figuring out which forms the campus would require: fundraising forms, speaker forms, meetings with security, approval from the grounds…it was a lot more than I was expecting! I also partnered with the Honors Club, which helped me set up training for our volunteers.
How did the event go?
We were really astounded by the turnout – over 200 walkers – and we raised over $11,000!
Being able to reach a community closer to Eastern Long Island was a big deal for us – the closest Community Walk is over an hour drive from the campus. Introducing AFSP to the community and giving a platform for suicide prevention truly was impactful.
What's next? Do you hope to organize more walks in the community?
Right now, my major goal is to focus on the Campus Walks. We have a LOT of colleges in the area, and I would love to have an event on most (dare I say all?) campuses.
What personal meaning does your work with AFSP have for you, in light of how you first became involved and anything you've experience since?
When I began volunteering, I thought it would be a thing I would do with the spare time between clubs in high school. If you asked me about suicide 10 years ago, you would have been met with a blank stare. My involvement with AFSP has allowed me to become a more empathetic person in a very cynical world. It has empowered me in regard to my own mental health. It has given me an understanding support system in the wake of loss.
I've decided this is going to be my future in some way. I'm considering going into research, particularly in the field of neurology. The brain is an astounding organ impacting so much of our quality of life – it deserves more intense research and expansion.
This story originally appeared in AFSP's 2017 online Annual Report.
High school and college students across the country help raise awareness among their peers and local communities through AFSP's Campus Walks, the fastest growing of AFSP's walk events. Nearly 30,000 people participated in Campus Walks in 2017 alone, helping to foster understanding, support and healing, and representing the future of mental health and suicide prevention.
To learn more about AFSP's Campus Walks, click here.