In July 2022, a simple dialing code, 988, will route persons in crisis directly to the National Suicide Prevention Lifeline, a 24/7 toll-free crisis line that provides immediate care and resources to millions of callers every year. As a result, calls to the Lifeline are expected to increase. The American Foundation for Suicide Prevention (AFSP) is urging all states to put sustainable funding in place from multiple sources to support statewide suicide and mental health crisis response systems.
(Please note: until July 16, 2022, please continue to dial 1-800-273-8255 to reach the Lifeline.)
The following is the second of a series of interviews conducted with AFSP volunteer Field Advocates who are personally and professionally dedicated to making their communities ready for the new 988 crisis number. See our first interview with Kirsten Krueger, an AFSP South Dakota advocate, here.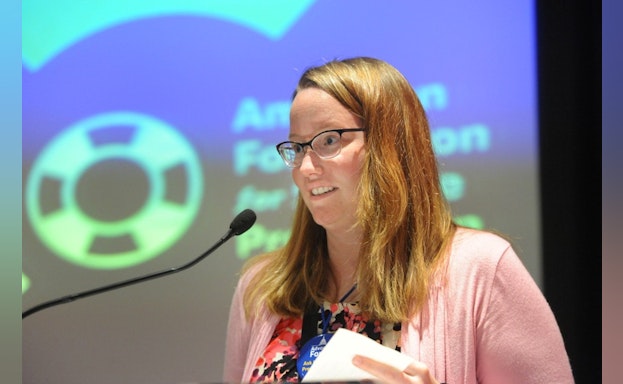 Jen Preble, MSW-LCSW, Policy Chair and board member, AFSP Montana Member, AFSP National Public Policy Council
For 15 years, Jen Preble has worked as a licensed clinical social worker in the state of Montana. Through her community health work with adults experiencing significant mental health challenges, she has served clients that often experience suicidal ideation and attempts. Sadly, she has lost clients and loved ones to suicide. But Jen believes that suicide is preventable, and she seeks to offer hope to those affected.
Jen has volunteered with AFSP for over a decade, becoming involved with AFSP advocacy activities in Montana after moving to the state capital of Helena. In 2018, Jen became a member of AFSP's National Public Policy Council and in 2020, she received AFSP's Sandy Martin Grassroots Field Advocate of the Year Award. As a National Public Policy Council member, Jen makes recommendations on federal, state, and local policy issues for AFSP, its chapters, and volunteers to support.
Jen has used her experience as a licensed social worker to advocate at the state and federal level to support 988's transition and implementation. She noted the importance of a shorter number for both those in crisis and people caring for those in crisis. "You might not have that 800 number in your contacts list – but you never know when you or someone you know might need it."
When it comes to crisis prevention and care in a region like Montana, which Jen described as one with "large spaces, large gaps," she said that finding connections and resources is vital. "It can be scary; it can be vulnerable. While it feels lonely to go through, you aren't alone. There are resources, information, and people around you who have been there. But you might not know it."
Jen said this is why raising awareness about 988 is so important. "It empowers people to use information about the signs and symptoms of people in crisis. It gives an immediate tool for an immediate response."
"This has been a labor of love for me," she said. "There's a lot of joy to see an outcome where there will be help for those who might need it."
After the federal National Suicide Hotline Designation Act passed in October of 2020, the AFSP Montana chapter undertook significant efforts to get their state ready for an increase of calls to local crisis centers. The chapter wrote testimony, attended committee hearings, and emphasized to legislators the need for sustainable funding to support crisis call centers.
The chapter also took action via a media campaign in which advocates sent letters to media outlets throughout the state, showing support for vital funding for 988 and local crisis call centers.
Jen highlighted that advocates have an important place in the legislative process. "When we are welcomed, there are planning groups at the state level for us to attend, listen, and offer guidance," she said. "We tell our legislators, we are the experts. We have the knowledge and capability. When we are involved, public officials don't have to do it alone."
Jen also acknowledged that challenges would remain after the 988 number becomes active nationwide and in her community. "I think with any change, there are growing pains. For the state and community to be in a good place, there needs to be a good plan in place. And that will only be as useful as the time and attention that goes into planning."
Educating the public will be vital to the success of the new 988 crisis number, Jen emphasized. "988 isn't a fad. It's embracing a method and tool to save lives. And 988 isn't a standalone resource. Educating people about 988 must include information and understanding behind it. You need to trust and know that you'll get accurate information to avoid tragedy."
Jen also voiced strong encouragement to those looking to become involved as AFSP volunteer Field Advocates. "If you want to get involved, there are AFSP chapters in all 50 states and D.C. There are a plethora of resources and ways to get involved. Talk to your chapter's area staff about what you're passionate about. There are amazing opportunities to help inform you. You can help inform people who make policy."
AFSP advocates make a difference through multiple grassroots advocacy activities to make their voices heard. Want to support the new 988 crisis number?