Starting in July 2022, people across the nation experiencing a suicide or mental health crisis will be able to dial just three digits – 988 – to be routed to the National Suicide Prevention Lifeline, a 24/7 toll-free crisis line that provides immediate care and resources to millions of callers every year.
(Please note: until July 16, 2022, please continue to dial 1-800-273-8255 to reach the Lifeline.)

When 988 becomes available nationwide, help for those in crisis will be closer than ever. As call volume to the Lifeline is expected to increase, it is essential that local crisis centers have appropriate funding and staffing to provide consistent, rapid, and effective support to callers. AFSP is calling on all states to put sustainable funding in place from multiple sources to support statewide suicide and mental health crisis response systems.
The American Foundation for Suicide Prevention's network of over 38,000 volunteer Field Advocates have been and continue to be essential supporters speaking out in favor of the policy solutions needed to make the 988 transition successful. During this time of year, our volunteer advocates make their voices heard and connect with their legislators about important suicide prevention policies at AFSP State Capitol Day events. Learn more about AFSP's stance on crisis lines and response systems here.
The following is the first of a series of interviews conducted with AFSP volunteer Field Advocates who are personally and professionally dedicated to making their communities ready for the new 988 crisis number.
Kirsten Krueger
Crisis Care Clinician; Secretary and board member, AFSP South Dakota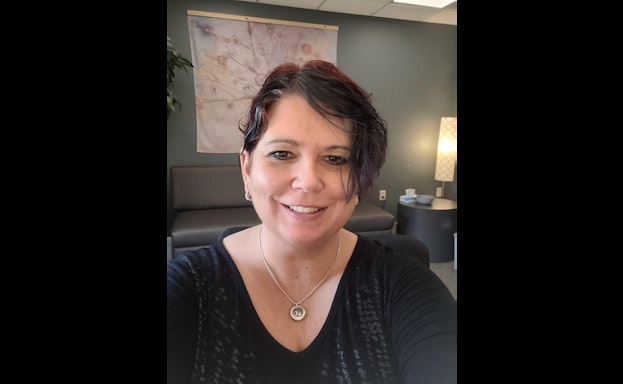 When Kirsten Krueger was growing up in Pierre, South Dakota in the 1990s, the area was experiencing a high rate of suicide, particularly among teenagers. The primary crisis care available, according to Kirsten, was through the legal system. "There was a fear that you might be put in jail and then taken to the state hospital, handcuffed in a prison van," Kirsten said, describing how this process may have deterred people from seeking help.
Kirsten experienced her community's trauma firsthand. In two years, she lost eleven friends to suicide. Years later, Kirsten struggled with her own mental health. She survived a suicide attempt and checked herself into a hospital to get help. "It's the smartest thing I've ever done."
Kirsten later pursued a career as a crisis care clinician. Today, Kirsten says, she has found her "dream job" at a crisis care center in Rapid City, South Dakota. The center's team of Masters-level educated clinicians are available 24/7 to locals in need of mental health crisis care by phone or in person. Kirsten works the overnight shift. She recalled how she has felt in times of crisis in the middle of the night. "Just finding one person to help you makes so much difference."
Kirsten first got involved with AFSP through a local Out of the Darkness Walk. Through AFSP South Dakota, she became interested in advocacy. As a result of her interests, Kirsten helped to organize AFSP South Dakota's first State Capitol Day event in 2018. On that day, AFSP South Dakota advocates were brought to the floor of the capitol building where members of both the Senate and House stood up to welcome them. Kirsten remembers the moment fondly. "It's great to see the impact that you have. You get to say, 'Wow, what we're doing matters.' That's what it's all about." AFSP State Capitol Day events have become one of Kirsten's favorite parts of being an AFSP advocate. "They're a good time for new advocates to see what's going on, to get their feet wet, and bond with each other."
Recently, Kirsten's professional experience and passion for advocacy have combined as crisis care centers and other stakeholders prepare for the National Suicide Prevention Lifeline's transition to the 988 number. Kirsten expects an increase in calls to crisis care centers like hers because of easier access.
"When you're in crisis, it's so hard to think even a little bit," Kirsten noted. "When it's the middle of the night and you're desperate, remembering an 800 number is harder. The 988 number sounds like something you call in an emergency. It's something that people will have in their heads."
She pointed out that the 988 number will have a particularly significant impact on rural communities like her own. "In parts of South Dakota, people don't have access to the internet. They can't Google what number to call. 988 is something they'll be able to remember. So, care will be more accessible. We will be providing more services because more people will have access."
In turn, the AFSP South Dakota chapter has ramped up efforts to reach out to legislators to take steps to prepare the state's crisis care infrastructure for the expected increase in crisis calls. "As a small state, personal connections with legislators really matters," Kirsten said, "We're a small board running a new and rural chapter. But we've had success because of those connections we've made with public officials. And as we grow, there's power in numbers."
One thing we can all do to support the Lifeline's transition to 988? "Put this number in your phone. You or someone else might need it. Educate people that it exists and what it is. Getting access to knowledge will help. And get excited! Excitement is contagious on the grassroots level. It makes a difference."
AFSP advocates make a difference through multiple grassroots advocacy activities to make their voices heard. Want to support the new 988 crisis number?