Suicide Prevention Advocates Raise Their Voices for Expanded Mental Health Services
8 Apr 2019 — 2 min read
By AFSP
Tagged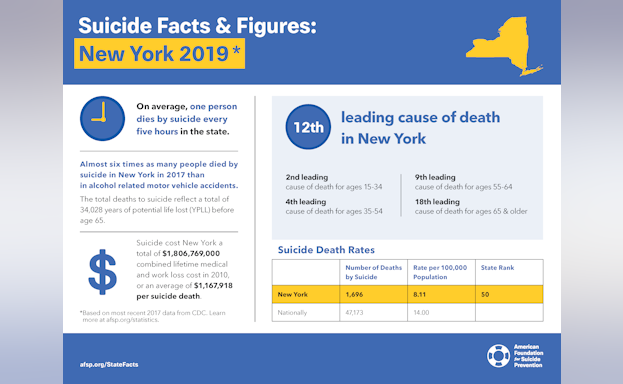 Contact: Missy Stolfi (mstolfi@afsp.org)
ALBANY, NY (April 8, 2019) – Suicide is the tenth leading cause of death in the United States and the 12th leading cause of death in New York. On Tuesday, April 9, advocates from the American Foundation for Suicide Prevention (AFSP), the largest suicide prevention organization in the United States, will arrive at the state capitol to urge lawmakers to prioritize suicide prevention initiatives for all New Yorkers, including support of S 4375 requiring colleges to inform incoming students about available suicide prevention and mental health services, and S 2070/A 6007 creating the rural suicide prevention council to examine and provide recommendations on ways to reduce suicides in rural communities. Advocates will also be seeking to expand the mental health care workforce through support of S 1429/A 2892 providing loan forgiveness for mental health nurses practicing in rural areas, and A 4383 establishing a pathway for current and future licensed mental health counselors and psychoanalysts to diagnose mental and behavioral disorders.
"The New York State Capitol Day is a perfect example of the AFSP tagline #BeTheVoice in action. It's nothing short of inspiring to witness passionate advocates from across the Empire State volunteer their time and energy to bring this life-saving issue to the attention of our lawmakers in Albany. We are grateful for their dedication year in and year out to make this day a success," said Missy Stolfi, AFSP Western & Central New York Area Director.
The AFSP New York State Capitol Day is a special day for all who have a connection with or a personal story around the topic of suicide. Volunteers will meet with their state legislators and share their stories about why they participate in this advocacy effort, giving a human face to this important public health problem. Advocates hope that by sharing their stories, they will help legislators understand that state investments in mental health and suicide prevention can save lives.
AFSP New York advocates are part of a larger national movement of AFSP volunteer advocates who will be visiting over 40 state capitols across the United States in 2019 to bring best practices in suicide prevention to state legislators and their staff. To learn more about AFSP's advocacy efforts, visit here: https://afsp.org/our-work/advocacy/
On average, 129 Americans died by suicide each day in 2017, and 90% of those individuals had a diagnosable mental health condition at the time of their death. AFSP volunteers will urge state lawmakers to be the voice for the thousands of New York residents affected by suicide each year.
The American Foundation for Suicide Prevention is dedicated to saving lives and bringing hope to those affected by suicide. AFSP creates a culture that's smart about mental health through education and community programs, develops suicide prevention through research and advocacy, and provides support for those affected by suicide. Led by CEO Robert Gebbia and headquartered in New York, with a Public Policy Office in Washington, D.C. AFSP has local chapters in all 50 states with programs and events nationwide. Learn more about AFSP in its latest Annual Report, and join the conversation on suicide prevention by following AFSP on Facebook, Twitter, Instagram, and YouTube.