Suicide Prevention in Alaska: A Spotlight Interview with Jim Biela
23 Feb 2018 — 5 min read
By AFSP
Tagged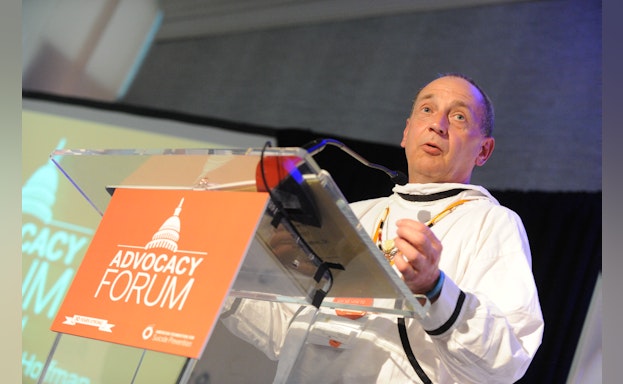 February 23, 2018 - Jim Biela works as a school social worker in rural Native Alaskan villages. He has been involved with AFSP since 2009. In 2017, he brought advocates to Juneau for Alaska's first AFSP State Capitol Day, a three-day-long event which included individual meetings with legislators, the governor and lieutenant governor, as well as a presentation of AFSP's Talk Saves Lives™ education program, which was broadcast across the state. He was named AFSP's Field Advocate of the Year.
Here, he tells us about his remarkable efforts to bring suicide prevention to his unique community.
When did you first move to Alaska?
I moved to Bethel, Alaska in 2003. Bethel is located in the southwest part of Alaska – 400 air miles from Anchorage. We measure by air miles because the only way to get to Bethel is by air. There are no roads to the southwest. Bethel is the hub village of 56 surrounding villages where populations range from 100 to 700 Alaskan Natives – also known as Yupik. The school district I work for as an itinerant school social worker has 26 villages and is roughly the size of West Virginia. I am assigned to six remote villages, on different islands, five of which are on the coast of the Bering Sea.
The only way to the villages is by air. Once the plane lands on the dirt airstrip, I get into either a boat, snow machine, or ATV to get to the school. I am usually in the villages for a period of four to six days. There are no hotels, so I live in the schools. I purchased a sleeping bag and cot for each of my sites.
Winters can be bad here. The coldest winter was -70 with wind-chill. The snow was so high that if you walked outside, you would be walking on top of houses. The schools are the only buildings in the village that have running water or hot showers. Most of the villagers will come to take a maqii (hot steam).
I have worked in these communities long enough that I get invited to people's homes for native food, which includes seal soup, moose stew, bird soup, and reindeer chili. The folks here are dependent on subsistence hunting, so fresh meat from moose, caribou, reindeer, seal, or even whale is often served. I have grown to love the food.
I attend tribal meetings to give updates on issues the tribal leaders may not know of. I also hold village gatherings to present on topics that the community would like to hear. Most of the time it is a suicide prevention presentation.
How did you first get involved in AFSP?
On April 28, 2009 my friend Cang died by suicide. After his death I wanted to do more for suicide prevention. I started an AFSP chapter here in Alaska. In March of 2010, I was invited to attend my first AFSP Advocacy Forum in Washington D.C. While at the event, I was able to mingle and talk to lawmakers about the large number of suicides here in Alaska.
What kind of special considerations come into play for suicide prevention in Alaska?
Since Bethel is the hub of 56 villages, the hospital is here. The villages have clinics, but budget cuts have forced them to lay off most of the behavioral health aides. There are no mental health workers in the villages. Insurance for mental health is complicated. We do referrals, but the person has to fly into Bethel for the initial intake, and neither Medicaid nor the local Denali insurance will cover the first trip.
When prescribed medication has run out in the village, it can take up to 7-14 days to get them refilled and sent by air. In addition, the Native culture does not believe in medication for mental health, and often parents take their children off the medication upon their return.
Could you give us a brief overview of your work for AFSP in Alaska?
Our district is unique; the school board had mandated for social workers to present to all 7-12th graders on suicide prevention every year. I was able to adjust that to twice a year. We alternate between different AFSP education presentations, such as Talk Saves Lives™ and More Than Sad.
I invited AFSP's Vice President of Research, Dr. Jill Harkavy-Friedman to come to Alaska. She was introduced to families who talked to her about mental health in rural Alaska. She learned a lot of what a village in rural Alaska is like and the obstacles we face out here.
I started the first Survivor Day event here in Toksook Bay 2013. The outpouring of help from the student government was great. I advised them that I wanted to honor their culture and traditions while getting across a message of hope and healing. The student government made up posters by hand and put them up at the post office and the two small stores we have in the village. Letters were hand-delivered to each home in both English and Yupik. The day of the event, we flew in an interpreter for the elders.
The event followed a memorial feast, where families brought in food for the buffet – salmon, seal soup, walrus, bird soup, moose stew, akutaq (Yupik ice cream)…in addition to pizza and spaghetti.
Following the memorial feast, traditional dancers performed Yuraq, a traditional Eskimo-style dancing performed to songs in Yupik. The dance is performed as a way of celebrating life.
After that first year, we have continued to host the annual Survivor Day event in Toksook Bay, and it has now spread to other villages. We have even arranged for Yugtun (Yupik language) closed-captioning for AFSP's Survivor Day film, The Journey. This is difficult, since some English words do not exist in Yugtun.
Tell us about your advocacy efforts.
Shortly after establishing the AFSP chapter here, I was one of several people who pushed for the SB137 (Jason Flatt Act) in Alaska, under which all teachers are required to have annual suicide prevention training. As a field ambassador, I write letters-to-the-editor of our local newspaper that gets sent to over 56 villages. I also stay in touch with Senator Murkowski, Senator Sullivan, and Representative Young about suicide prevention in rural Alaska.
Currently I am watching what happens to the Affordable Care Act. Cutting Medicaid would be a disaster for the native population. I would like to see more funding for mental health in rural Alaska. We need more clinicians to travel to the villages. I would like to see more school districts mandate suicide prevention training to all 6-12 graders. Young people talk to each other more than they do to their elders – we need them to be more aware of the warning signs for suicide.
What are your hopes for the future, when it comes to suicide prevention in Alaska?
On average, there is a suicide every other day here. I would like to see no suicides.
I have been with AFSP for seven years now. Each year, the meaning of my work has grown. Joining AFSP has been like joining a family with one goal and mission. The advocacy work I do, and my close relationship with our state and federal officials, is vital to this mission.
For information on becoming an AFSP advocate, click here.