Suicide Prevention in Iraq: Turning Loss into Action
3 min read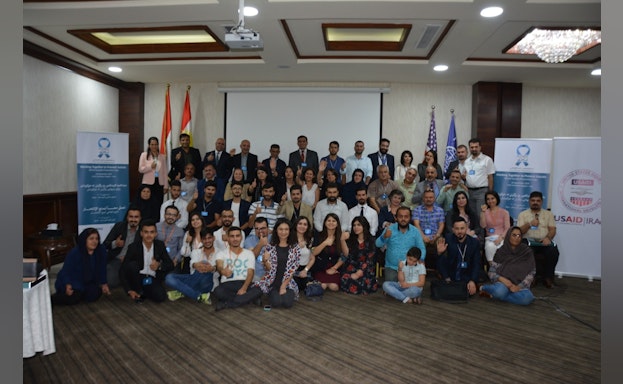 International Survivors of Suicide Loss Day, also known as Survivor Day, takes place each year on the Saturday before American Thanksgiving, with virtual and in-person events in communities everywhere. Learn more and find an event near you.
Suicide is still a taboo issue in the Iraqi society. Many in Iraq still feel shame in admitting that they lost a loved one to suicide, or that they've experienced difficulties in their own mental health, for fear of societal stigmatization. With a lack of understanding about mental illness, it can be even more difficult for professionals to treat mental health issues properly; the cultural norms that stigmatize suicide create obstacles that discourage, or even prevent, people from reaching out for help.
Two years ago, at 16 years and eight months old, my son Taba, a young and talented boy, took his own life.
To us and those around him, he always looked so full of life and hope, smiling all the time and joking nonstop. So why, then, did he feel his suffering so profoundly that he felt as if he couldn't endure life anymore? We are left filled with sorrow and many unanswered questions.
I believe that time, and the actions we take in that time, can help us to heal from loss. In my grief, I decided I wanted to do my best to support others who have suffered like me, after the loss of a loved one to suicide. My son's story ended, but mine did not.
Taba's death transformed me completely. I realized that sharing our own experience could help those who have experienced a similar loss to not feel alone, and possibly even help save the lives of others. I chose to make meaning of my grief, and become a suicide prevention advocate. I also founded Azhee, a non-profit and non-governmental organization (NGO) that operates in the Kurdish Region of Iraq (KRI), focused on reducing the loss of life by suicide and offering support to survivors of suicide loss.
Suicide is the third leading cause of death among those aged 15 – 24, and the second leading cause of death among college students. About 90% of these people had a diagnosable and treatable mental health condition at the time of their death. However, many in our society remain unaware that suicide is a national health and social problem.
To address these underlying issues, I have advocated for the understanding and prevention of suicide, and to offer support those who have been affected by it through initiatives such as fostering the connection of a network of families, all of whom have experienced a suicide loss, across the KRI.
We need to remember that behind every statistical data point with regards to suicide, there is a real human being, and loved ones experiencing the grief of their loss. That's why on September 10th of this past year – World Suicide Prevention Day – we worked to organize the first International Survivors of Suicide Loss Day event in Iraq, where survivors of suicide loss in our local community could come together with professionals, academics and both government and international NGO officials from all over the country to raise awareness and bring understanding to those affected by this leading cause of death.
In hosting our Survivor Day event, we aimed to destigmatize the issue of suicide in our community, pushing against cultural norms and breaking the silence around this topic. The event was a great opportunity for those who participated to hear from and learn about suicide from those who have been directly affected.
For me personally, it opened space to interact with others who shared a similar experience. I advocate for Taba and countless others because it can save lives. I share my grief as a reminder that others are not alone. As we work to bring the topic of suicide out of the taboo in our society, I'm reminded that I am not alone in my own grief, as well.
As we continue to expand our outreach for our community in Iraq, I know that it is just the start of what we can achieve together. We still have much work to be done to bring the topic of suicide out from the taboo, but we will continue to work each day to make our society smarter about mental health, in the name of love.
Whether you have experienced a suicide loss, have lived experience with suicide, or are an advocate for suicide prevention with no personal experience, I'd encourage everyone to speak out, break the silence, and create space for your community to share their own experiences, offer support to each other, and heal together.
Hundreds of large and small International Survivors of Suicide Loss Day events take place each November in communities around the world. To get involved year-round, find your local chapter!