The American Foundation for Suicide Prevention Launches Phase II of Project 2025
15 Jan 2019 — 2 min read
By AFSP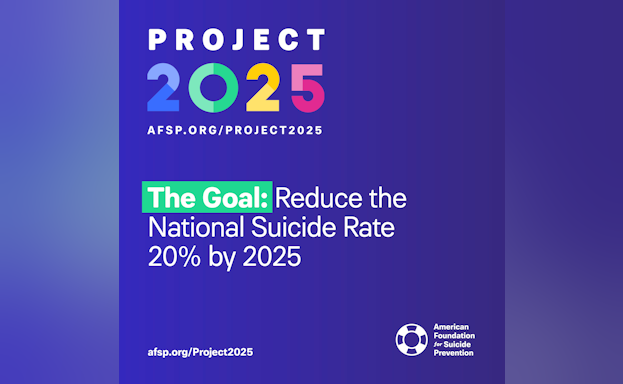 Contact: Alexis O'Brien, PR Director, 347-826-3577, [email protected]
The American Foundation for Suicide Prevention Launches Phase II of Project 2025
Project 2025 Supports the Bold Goal to Reduce the Annual Suicide Rate 20 Percent by 2025
NEW YORK (January 15, 2019) – The nation's largest suicide prevention organization, the American Foundation for Suicide Prevention, launched Phase II of Project 2025, including the debut of a new interactive website to tell the story of the work and show progress made over time. Launched in October 2015, Project 2025 is a nationwide initiative to reduce the annual rate of suicide in the U.S. 20 percent by 2025.
"With guidance from leading advisors in the field and dynamic data modeling, we've been able to determine the programs, policies and interventions that will save the most lives in the shortest amount of time. Project 2025 is a collaborative effort to implement and take to scale nationwide these suicide prevention strategies," said AFSP CEO Robert Gebbia. "We know that we can't do it alone so we are working closely with industry leaders to bring down the rates which have been on the rise for nearly two decades."
AFSP has formed partnerships with organizations such as Aetna, a CVS Health business, the American College of Emergency Physicians, the Coalition on Psychiatric Emergencies, Colorado National Collaborative, the National Commission on Correctional Health Care, the National Sports Shooting Foundation, SafeSide Prevention, and the U.S. Department of Veterans Affairs (VA) with plans to launch other partnerships in 2019. The National Action Alliance for Suicide Prevention, the public-private partnership – working with more than 250 public-private organizations to advance the National Strategy for Suicide Prevention – united with AFSP in 2017 to progress and elevate this unified national goal.
More about Project 2025
Using a dynamic systems model approach based on what the evidence tells us about suicide, AFSP has determined a series of actions and critical areas to help reach this unprecedented goal. With this approach, the organization will reach across all demographic and sociological groups to have the greatest impact for suicide prevention, and the potential to save thousands of lives by the year 2025.
From the model built for Project 2025, AFSP shares examples of how many lives could be saved at a national level if scaled up and made strategic investments, while applying the collective resources necessary to support these prevention areas. The model has revealed four areas for critical action including: (1) firearms and suicide prevention, (2) healthcare systems, (3) emergency departments, and (4) corrections system.
The American Foundation for Suicide Prevention is dedicated to saving lives and bringing hope to those affected by suicide. AFSP creates a culture that's smart about mental health through education and community programs, develops suicide prevention through research and advocacy, and provides support for those affected by suicide. Led by CEO Robert Gebbia and headquartered in New York, AFSP has local chapters in all 50 states with programs and events nationwide. Learn more about AFSP in its latest Annual Report, and join the conversation on suicide prevention by following AFSP on Facebook, Twitter, Instagram, and YouTube.