The American Foundation for Suicide Prevention Shines Light on Reducing Mental Health and Suicide Stigma in Latinx and Hispanic Communities
September 12, 2023 – 4 min read
By AFSP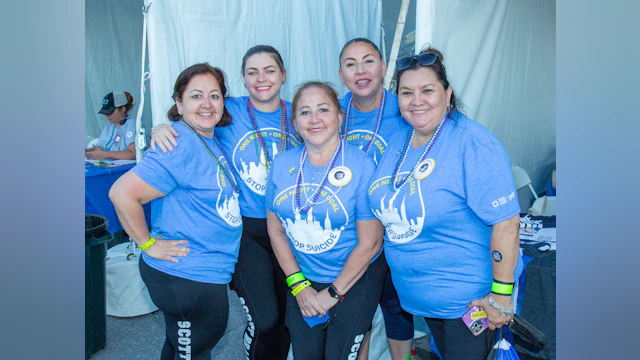 NEW YORK (Sept. 12, 2023) – The American Foundation for Suicide Prevention (AFSP), a leading suicide prevention organization in the U.S., is continuing to advance health equity by increasing access to suicide prevention resources for Hispanic and Latinx communities. In recognition of National Hispanic Heritage Month, the organization is highlighting important ways to take action within the Latinx community to deepen awareness and conversations about mental health and suicide prevention, and support those who may be struggling to find the help they need. 
As suicide trends move upward in Hispanic communities with an increase of nearly 7% in suicide rates nationally from 2018-2021, it's important to encourage an understanding that mental health conditions that contribute to suicide are treatable and to normalize conversations to encourage seeking help when needed.
"We know that religious beliefs and cultural stigma may be contributing factors that make talking about mental health and suicide prevention more difficult or taboo in Latino communities," says Denisse Centeno Lamas, a licensed therapist, AFSP national board member and AFSP Central Florida Chapter member." As a result, a suicide death, attempt, or ideation, can elicit shame in families to disclose or talk openly about it. The notion that having a mental health condition can attract a label of "loco/a" (crazy) deepens the aversion to sharing struggles and seeking help."
AFSP is dedicated to raising community awareness of mental health and suicide prevention through community-led events and increasing access to bilingual-bicultural prevention and mental health education and training opportunities. Suicide can be prevented and with knowledge and action, lives can be saved. That's why AFSP encourages the following three actions to help prevent suicide this Hispanic Heritage Month:
1. Sign up. Register yourself, your family, or your group (e.g., church, community center, colleagues, etc.) for a Talk Saves Lives Latinx presentation. Check out our program calendar to find any upcoming Talk Saves Lives™ events in your area or contact your local AFSP chapter to request a presentation in English or Spanish for your community.
"Talk Saves Lives™ (TSL): An Introduction to Suicide Prevention for Latinx and Hispanic Communities, a bilingual community presentation focused on providing a basic understanding of suicide risk factors and how to help through the lens of Latinx communities. AFSP Latinx volunteers and advocates are contributing their expertise and time to offer this presentation across the country. Gabi Vargas, a volunteer with AFSP's Chicago chapter, is one of those extraordinary presenters.
"People line up after every presentation I do to let me know how suicide and mental health has impacted their life. The word that always comes to mind at that moment is 'breakthrough.' It truly is amazing to see how one conversation can change your life in an instant. It resonates with me because I am a suicide attempt and loss survivor. It allows me to give back and also speak on my experience as an immigrant," says Gabi.
2. Talk. Get familiar with our #RealConvo guide to having authentic conversations around mental health and suicide with the people in your life. This how-to resource, available in English and Spanish, includes suggested dialogue around reaching out for help if you are struggling or want to help someone who is. Talking about suicide may feel taboo in the Hispanic culture, but these guides can help overcome the fear of taking the first step to bring mental health and suicide out in the open.
3. Walk. Participate in an 'Out of the Darkness' awareness walk in your community. These walks are held in hundreds of cities across the country to bring hope to those affected by suicide and foster a culture that's smarter, and more open about discussing mental health and suicide prevention. 
There are other ways that AFSP provides support to those in Latinx and Hispanic communities who have been touched by suicide. AFSP's Healing Conversations program is available in Spanish and offers those who have lost a loved one to suicide a one-time conversation with an experienced volunteer who is also a survivor of loss. The goal is to provide survivors with support, connection and resources. AFSP also provides guidance in Spanish for adults and children who have lost someone to suicide. General resources to access help and information are also here.
We are learning more about how suicide affects Hispanic communities and what can help. AFSP has set a research priority on grants to study suicide in marginalized populations and by researchers from these populations. Through this work, we aim to deepen our understanding and prevention of suicide in these communities. Currently, 40% of studies awarded AFSP grants either study a marginalized ethnic/racial group or are being conducted by a person from a marginalized ethnic/racial group. Learn about some of our Hispanic AFSP-funded researchers here.
AFSP recognizes that true diversity, equity, and inclusion require sustained efforts. It also means building programs for and by the community. Growing staff diversity overall and specifically with Hispanic employees is a priority for the organization. Hispanic staff have increased from 6.7% in 2019 to 11% in 2023 of a total of 171 employees. Interested in joining our staff? Explore our career opportunities here.
Learn more at afsp.org and afsp.org/talkawaythedark.
For safe reporting, consult our safe reporting guidelines for journalists. When reporting on suicide, please include the Suicide and Crisis Lifeline number 9-8-8, which provides 24/7, free and confidential support, or the Crisis Text Line (text TALK or AYUDA to 741741).
###
The American Foundation for Suicide Prevention is dedicated to saving lives and bringing hope to those affected by suicide, including those who have experienced a loss. AFSP creates a culture that's smart about mental health through public education and community programs, develops suicide prevention through research and advocacy, and provides support for those affected by suicide. Led by CEO Robert Gebbia and headquartered in New York, with a public policy office in Washington, DC, AFSP has local chapters in all 50 states, DC and Puerto Rico, with programs and events nationwide. Learn more about AFSP in its latest Annual Report and join the conversation on suicide prevention by following AFSP on Facebook, Twitter, Instagram, and YouTube.
Media Contact:
PR manager, [email protected]