Transforming Loss into Action
22 Feb 2019 — 1 min read
By AFSP
Tagged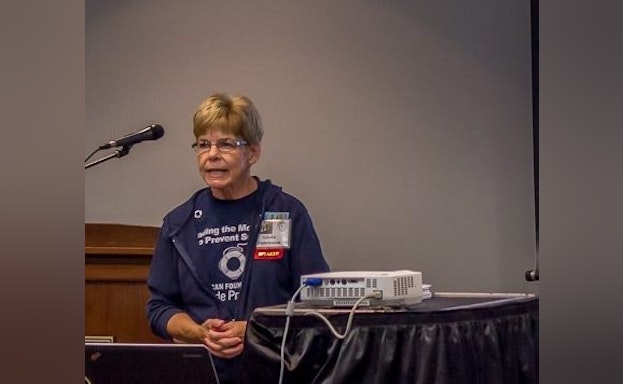 Feb. 22, 2019 - Linda Fehrmann, who lost her son Joel to suicide, is president of AFSP's Eastern Missouri Chapter. She serves as her chapter's advocacy committee chair and is often called on to testify in support of state legislation that would further AFSP's public policy priorities, such as suicide prevention legislation for schools, and requirements for suicide prevention training for mental health professionals. This year, she worked with State Senator Jill Schupp and State Representative Marsha Haefner to pass HB 1719, which requires certain mental health professionals to complete two hours of suicide prevention training as a condition of licensure.
In addition to these duties, she is survivor outreach coordinator for her chapter, making sure that suicide loss survivors in the area get the support they need through Healing Conversations.
"I became a 'survivor of suicide loss' in 2000 when I lost my 23-year-old son, Joel, to suicide. At the time, I didn't know how I could be called a 'survivor,' when I wasn't so sure I would survive. Today, I lead a support group for parents who have lost a child to suicide. It is humbling and heartbreaking to sit with these parents in their pain. I advocate in the hope that we can save lives and fewer parents will have to experience this devastating loss."
Linda has also worked tirelessly this past year speaking at community events about suicide prevention and firearms, and working with local organizations on AFSP's Firearms and Suicide Prevention program with the National Shooting Sports Foundation, which supplies lifesaving education to firearms-owners through retailers and shooting ranges.
"My son died by firearm, so I found that approaching shooting ranges and providing resource tables at gun shows really forced me to step outside of my comfort zone," Linda reflects. "But it also allowed me to grow tremendously as an advocate, as well as in my own healing journey. I am proud to be part of AFSP's Eastern Missouri chapter, and proud to work to honor the memory of my son."
This piece originally appeared as a Volunteer Spotlight Story in AFSP's 2018 Annual Report. For other inspiring and emotional Volunteer Spotlight Stories, and to learn more about our exciting work, visit afsp.org/2018report.