Walking with a Purpose
24 May 2018 — 3 min read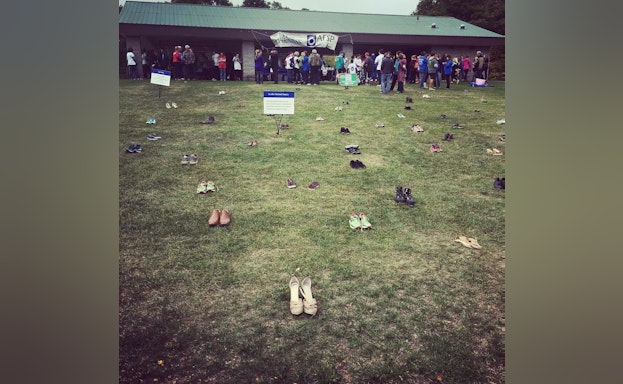 May 24, 2018- I have lived with depression and anxiety since my early teens. It wasn't until I started college in 2010 that suicidal thoughts presented themselves. They then got progressively worse.
However, I can recall being a young child, just eight years old, when my uncle took his life. I didn't understand it then – especially since my family chose not to explain it to me – but the event came to make more sense in my mind as I grew into an adult myself.
In the spring of 2014, I attended my first American Foundation for Suicide Prevention Out of the Darkness Campus Walk, in Plattsburgh, New York. This first walk lit a spark inside of me. What I found through the event was a safe space to talk about my depression with others who were going through the same sort of thing. I had discovered a place, and a community, through which I could raise awareness for a cause that would help other people get the help they need, and educate those who may not understand. I suddenly knew that I could be a part of something greater, and – for the first time in a very long time – that everything was going to be alright.
I now knew that I could advocate for myself.
Something that I never knew existed became a driving force in my life. Fundraising for the walks not only gave me a sense of purpose during a very dark time in my life, but allowed me to get excited about something and feel important. I was able to generate real energy and vitality, from the constant fatigue and lack of motivation my depression had been making me feel. I finally felt like I was doing some good, after feeling unimportant and hopeless for so long.
I was finally able to heal, by doing my part to help others heal.
Last spring, I attended the Lake Placid, New York Out of The Darkness Walk with my mother, aunt and cousins. I was just coming out of a dark place with my depression and starting to heal. A speaker at the event told a story that really resonated with me, about her struggle with bipolar disorder and her suicide attempt. She spoke of being hospitalized – as I had been – and then of her recovery. As I listened to her story, I cried tears of relief. I had felt hopeless for so long. I had felt like recovering from depression was impossible, but she was telling a story of hope.
During her speech, she also introduced me to the field of peer support. Peer specialists are people with lived experience of suicide, who have recovered from a mental health condition like depression or bipolar disorder, and who then work with others trying to recover from their own mental health conditions. I am working toward getting my own certificate in peer support now, so I can help others recover as I have since then.
I've learned that recovery is an ongoing process, but it is possible for anyone.
Each time I have attended a walk, I have been inspired in unique ways. Since beginning my journey with AFSP at the SUNY Plattsburgh Campus Walk in 2014, I have attended three campus walks in addition to the Community Walk in Lake Placid and one in Burlington, Vermont. I continue to volunteer and fundraise for AFSP each year.
The Out of the Darkness Walks have given me a community, and a sense of purpose. Each time I attend a walk it feels healing to be within a community of people who understand and are there to support one another. I've lived with depression, suicidal thoughts and I've lost a loved one to suicide. These walks allow me to advocate for myself, others who are struggling, and those we have lost.
They have given me strength I never knew I had.
Click here to learn more about attending a Campus or Community Walk near you.